So there I was, strapped into a seaplane gearing up my camera as the engines began puttering to a start. Only minutes before we were all in the dark about what "surprise" our parents had planned for us.
Now, It was just my family and I filling the charter as we all buckled up for the adventure. I was seated on the starboard side, right behind the co-pilots seat. Continue Reading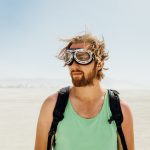 Most claim that this captivating young adventurer made his first appearance in the travel industry at the tender age of five, working diligently to become the most efficient brochure boxer this side of the Atlantic, all the while running up and down the office halls in-between projects. Always following his father around the office throughout the years, Ian began to learn the ropes and become more engaged with the company and travel industry. As Ian grew older, his knowledge and skill set were outpaced only by his passion for travel and desire to see the world, venturing to destinations across the globe from Australia to Africa,. After four years of study, and a few years working within the hotel industry, Ian began his official career much like it started, with a wide-eyed enthusiasm and tireless work.