Wonder is never in short supply when traveling to Southeast Asia. On my most recent trip there, I tried to pin down what makes the region so unique and memorable. Here is what I found.
Bali
My journey began in the Indonesian island province of Bali. World renowned for its beaches, Bali crackles with an energy reflective of its people. It's cuisine is no different. I took an traditional Indonesian cooking class and learned how to make delicious curries, sambals, and other traditional dishes. Afterward, I set out to see some Bali's fantastic sights. I explored Nusa Penida, an island community known for its world class diving locations and its sweeping panoramas of the Badung Strait. The next day, I saw the spectacular Tanah Lot Temple. One of seven sea temples set off the Balinese coast, Tanah Lot is a breathtaking representation of historic Balinese culture.
Komodo Island
Appropriately named for its most famous inhabitants, Komodo Island is home to the Komodo Dragon. Weighing up to 200 pounds and measuring out at nearly eight and half feet in length, these lizards are modern day dinosaurs. Yet, the natural landscape of Komodo Island is just as striking as its residents. The island is 240 miles of lush greenery, rugged terrain, and picturesque beaches. Komodo Island also features a pink sand beach, one of only seven that exist in the entire world. After snapping some pictures with some new friends, I had the opportunity to eat lunch on the pink beach.
Yogyakarta and Borobudur
After my adventure in Komodo Island, the trip took me next to the Indonesian city of Yogyakarta. I visited the UNESCO World Heritage-listed site Prambanan Temple, the largest Hindu temple in all of Indonesia. Next was the Taman Sari, a renonwned water castle that was built in the mid-18th century. The next morning, I left the hotel at 4:30am to watch the sunrise at the Borobudur. Another UNESCO World Heritage-listed site, the Borobudur is a ninth-century Buddhist Temple that is also the world's largest. Watching the sun rise over the spires and arches was magical and sight that I will never forget.
Singapore
The last stop of my journey brought me to the immaculate country of Singapore. I embarked on the Heritage Foodalicious Tour and got to visit a local market, taste some samples, and learn about a family-run soy sauce business. After, I visited the Gardens by the Bay, a stunning nature park that runs adjacent to the marina resevoir. I ended my trip and my night with a laser light show under the "trees" in the park. Colorful, electric, and beautiful, it was a fitting end to the trip.
Southeast Asia evokes wonder because it is a world unto itself. From the sea temples of Bali to the Komodo Dragons of Komodo Island, Southeast Asia is a wonder land worth visiting more than once.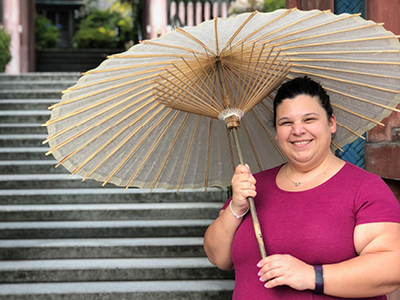 My passion for international travel began in high school when I traveled to Europe as a People to People Student Ambassador. The adventure continued in college when I studied abroad for the year in Belgium. This allowed me to travel more extensively throughout Europe. Five days after graduating from college, I moved to Bangkok, Thailand to teach English to middle school students. This is when and where I fell in love with Asia. Upon returning to my hometown of Philadelphia, I wanted to share my enthusiasm and experience with others. My desire to travel has not waned over the years and, to date, I have visited over 30 countries with plans to add to this list each year.