Queensland, also known as Australia's "sunshine state," is home to a 110-million-year-old rainforest—Daintree National Park. The park is a World Heritage-listed site and nestled on the edge is Silky Oaks Lodge. This lodge blends casual and contemporary design, amongst the most tranquil surrounds.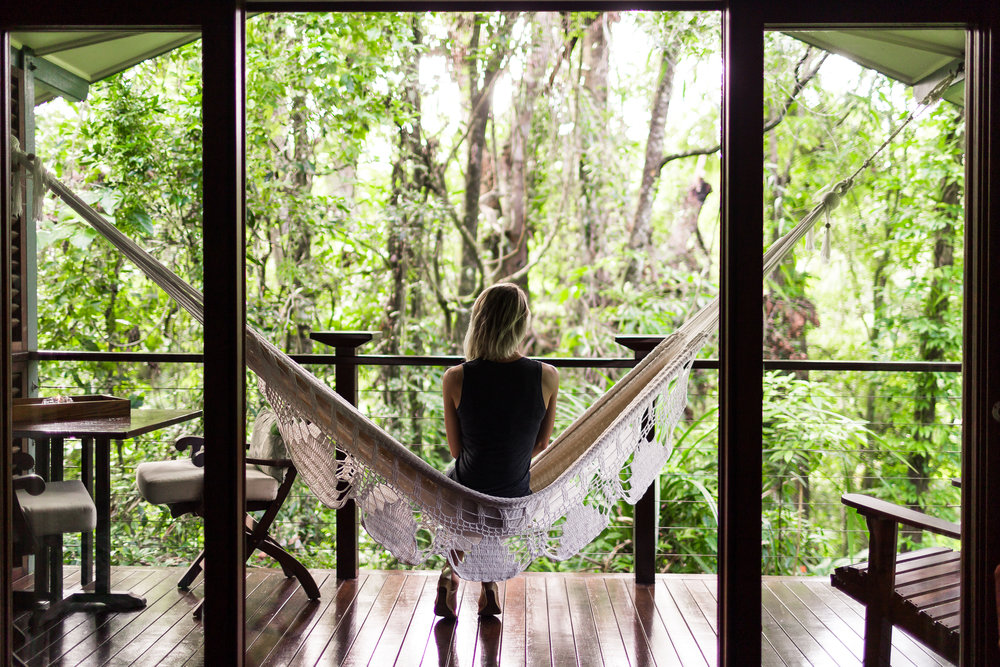 Getting There
Located 90 minutes north of Cairns and just 20 minutes from Port Douglas, Silky Oaks Lodge is in the heart of the Daintree Rainforest.  The drive is easy and beautiful, as Captain Cook highway leads the way up the coast.  Set on the Mossman River, this lodge provides an immersive rainforest experience while still pampering you with the finest luxury amenities.  Upon arrival, my partner and I were greeted with welcome cocktails at a table for two. While overlooking the Mossman River, we went over our itinerary for the next two days.  We enjoyed our welcome cocktails while our treehouse was being prepared.  Chilled wine, a handwritten note, lit candles, and soft music greeted us as we walked in, and a sense of peace immediately flooded us.  Each treehouse has a large outdoor porch with a hammock, and all the amenities you could wish for.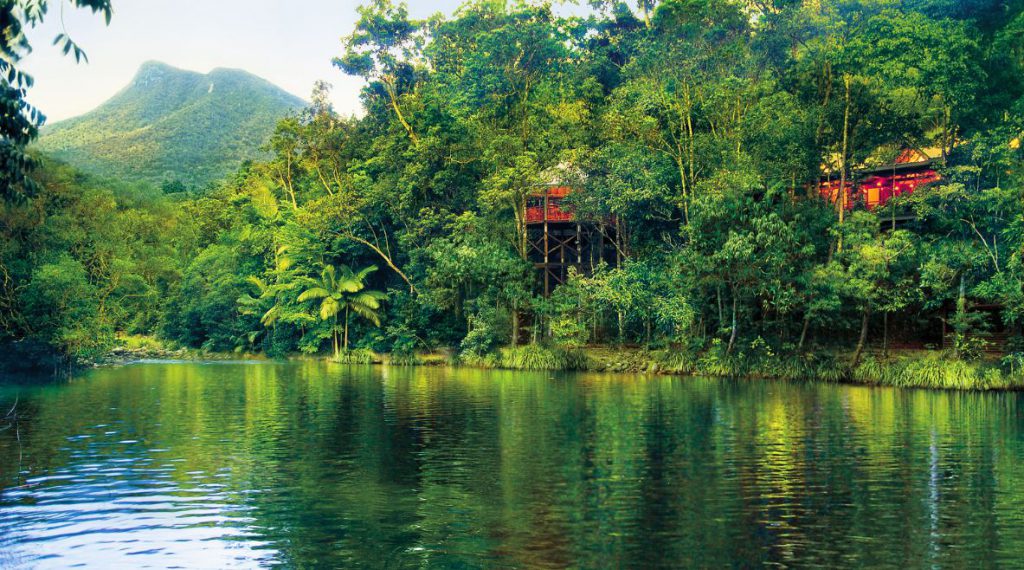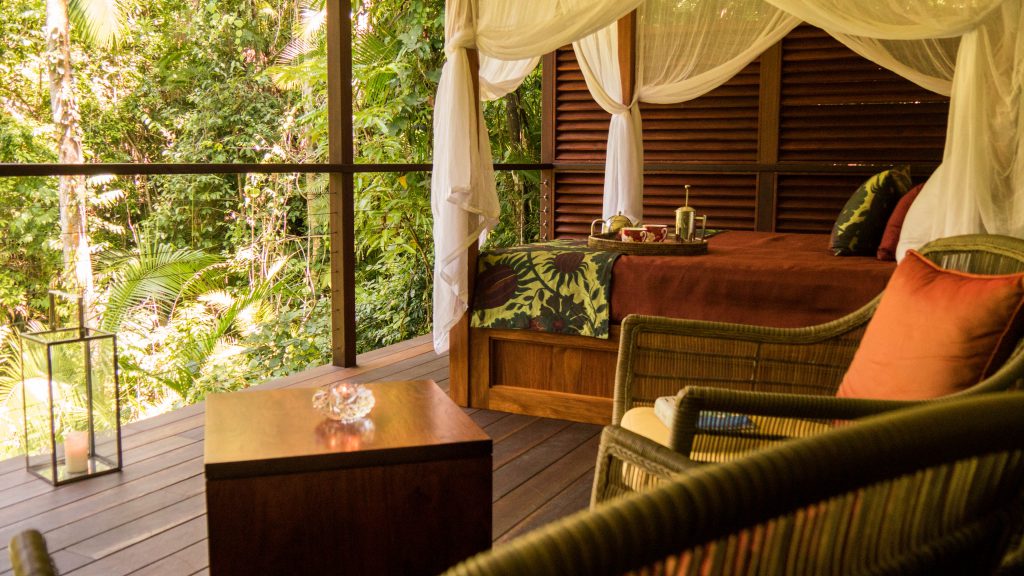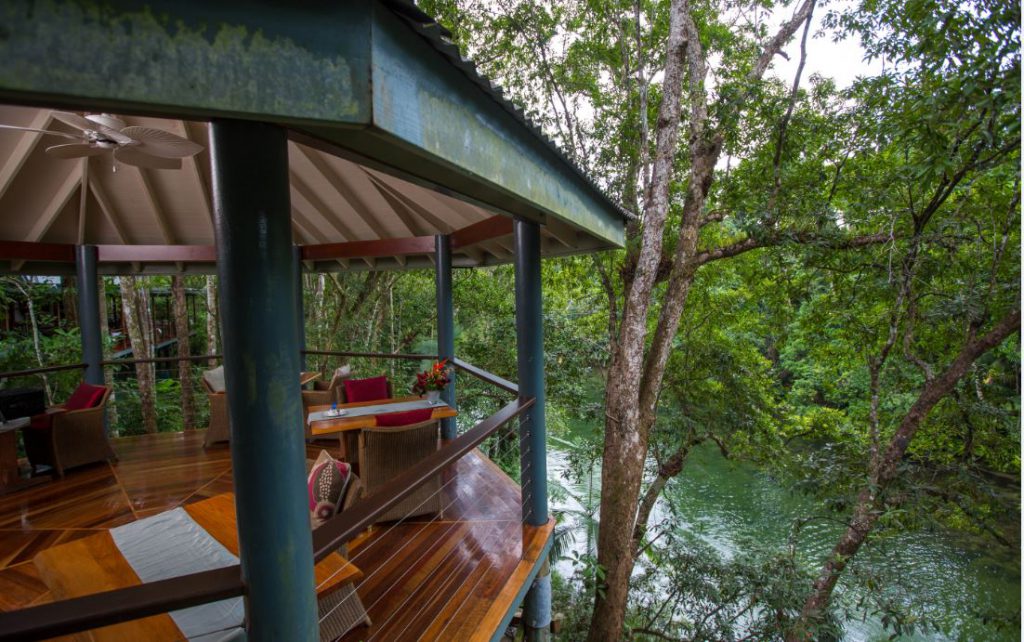 Activities Outside the Lodge
We spent nearly all of our time outside, taking advantage of every recreational activity the lodge had to offer.  First, we got a picnic backpack from the kitchens and hiked a gorgeous trail that ended at a huge flat rock with a rope swing into the river. Then we kayaked and swam in the natural-looking outdoor heated stone pool. We also went on a sunset bike ride through the corn fields outside of the rainforest.  You name it, Silky Oaks has it.  After the end of an active day, we made our way back to the main lodge for dinner.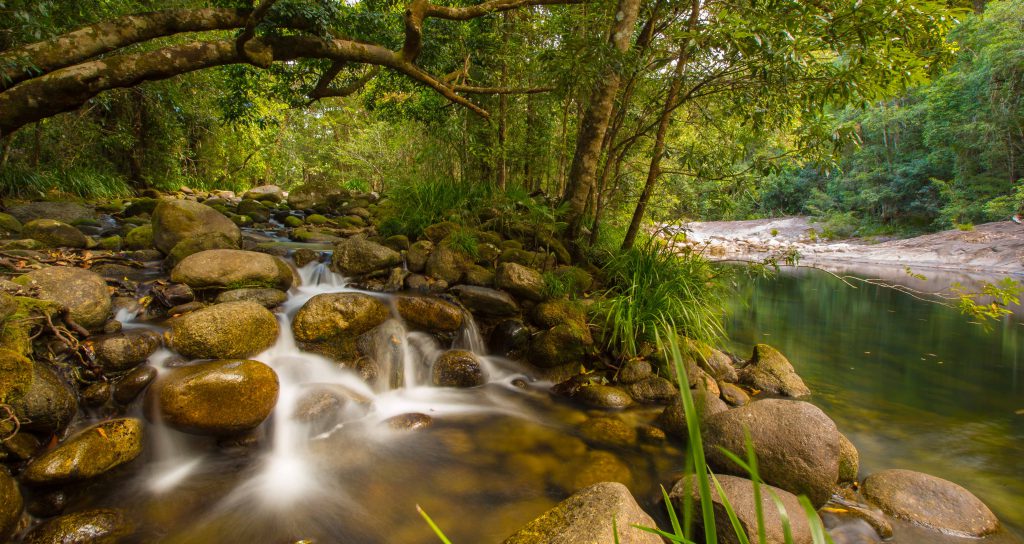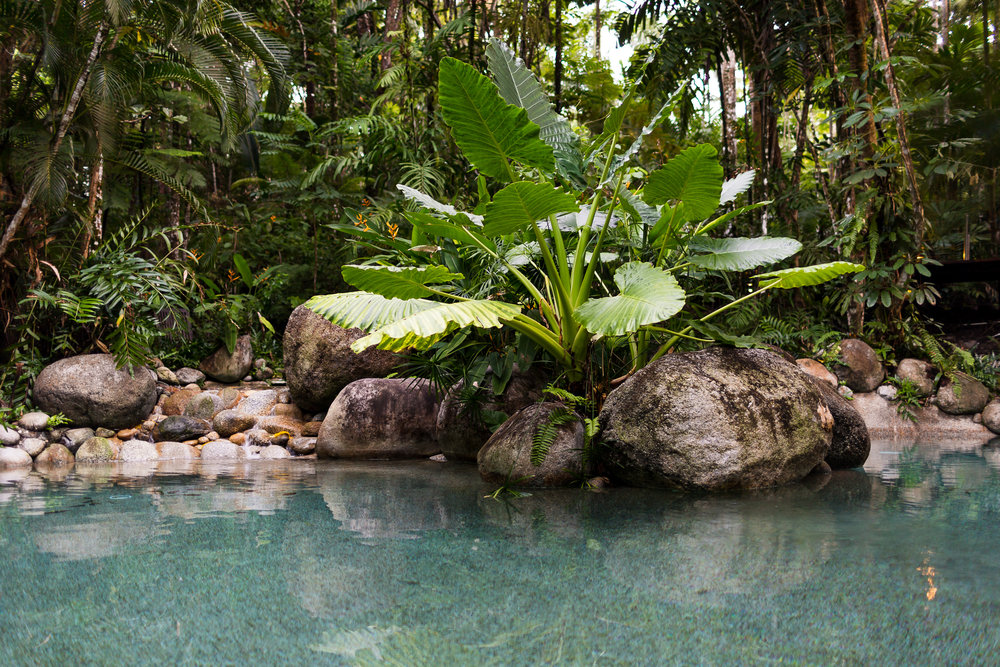 Unforgettable Dining Experience
The Treehouse Restaurant – one of Northern Queensland's premier dining experiences, is a unique open-sided restaurant that features unobstructed rainforest and river views set above the trees.  The food was exceptional, focusing on seafood given its close proximity to the ocean.  The menu showcases the freshest local produce and Australian wines.  There are a-la-carte options, or you can pre-book your dinner for a two or three course option.  I highly recommend booking at least the two course option, as you'll want to take advantage of the world-class food the lodge has to offer.  After dinner, it was time to turn-in for the night, falling asleep to the sounds of the rainforest and flowing river.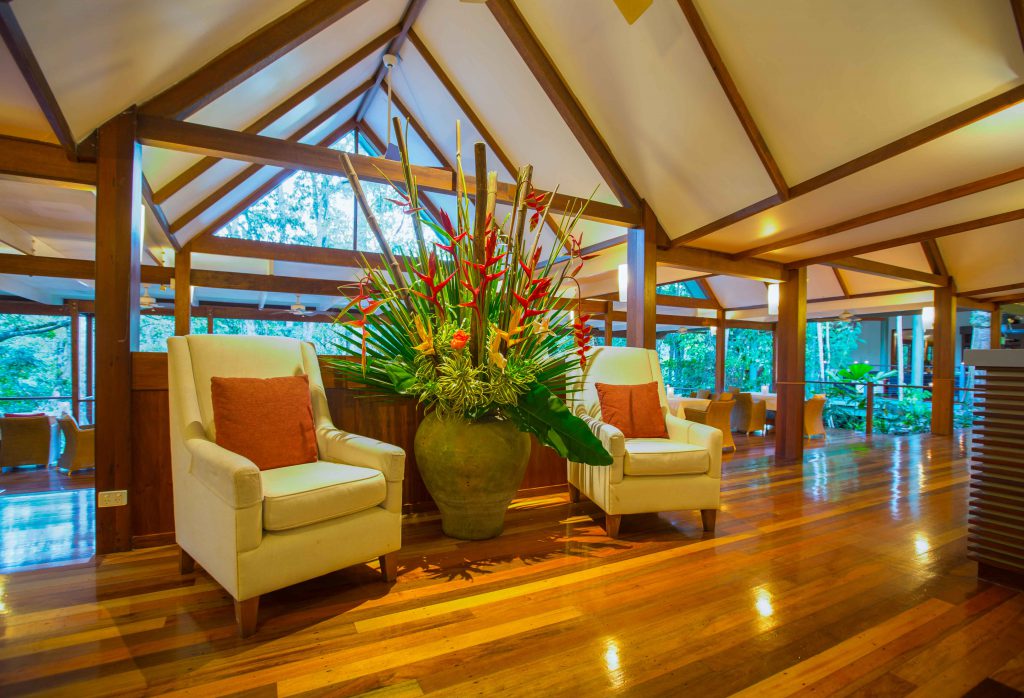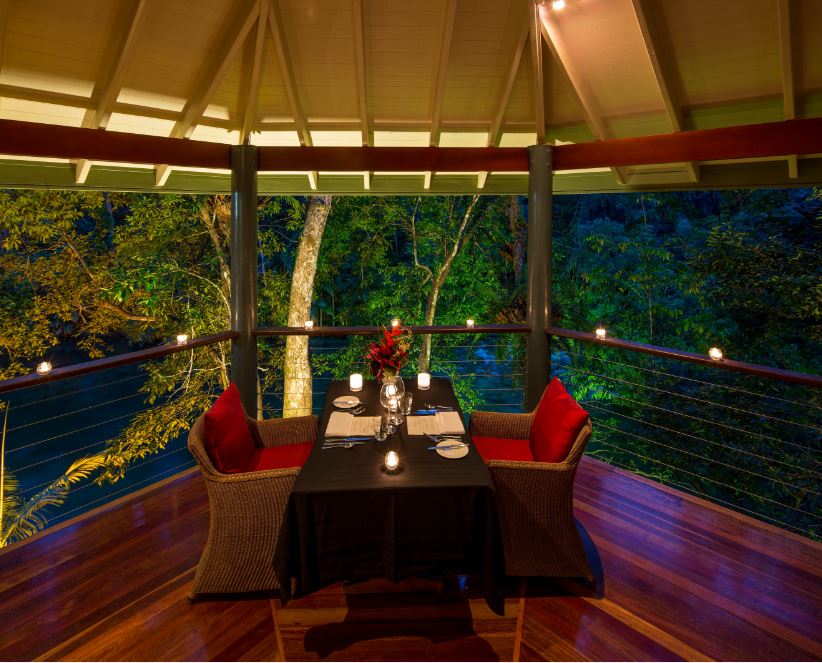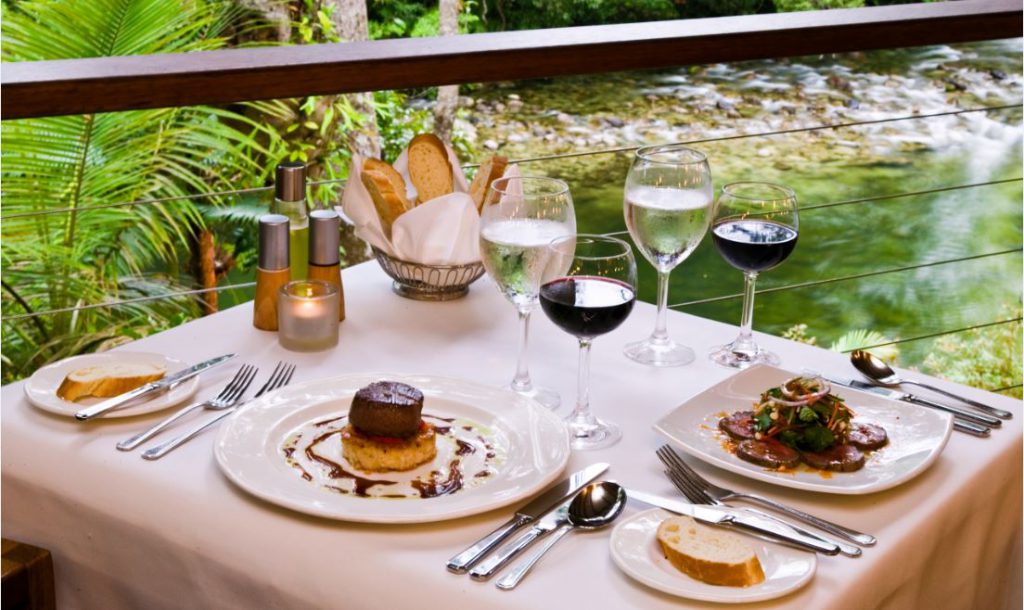 Lodge Features:
50 treehouses and riverhouses with a balcony and hammock, outdoor table and chairs
Restaurant with sensational rainforest and river views
Spa offering rejuvenation through healing waters
Outdoor, natural-looking, heated stone pool
Jungle Perch positioned over the Mossman River, providing views of the Daintree Rainforest
Air conditioning, ceiling fans, fully stocked mini bar and a turn-down service every night