Cities: Outback South Australia, Lord Howe Island
Flinders Ranges, Australia May 2010
After record rainfall in the Outback of South Australia, the ranges were bursting with lush plant life. Far from the usual red desert, abundance of green was evident, and only enhanced the dramatic scenery of the Flinders Ranges and the National Park.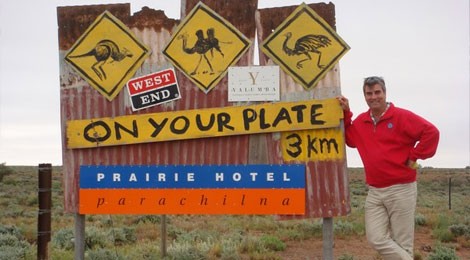 My first stop, and first-time visit, was Rawnsley Park Station, overlooking the southern side of Wilpena Pound. The Eco Villas are a great option – set on a hilltop a short walk from The Woolshed Restaurant, these large villas command excellent views all around and are comfortably furnished. With easy access to Wilpena Pound, this is a great option for those looking for a good 4-star 'bush' experience.
My next stop was another first for me – Charlie Carlow's refurbished Arkaba Station. As usual Charlie has outdone himself restoring this 1850's farmhouse to a warm, yet rustic place with a welcoming feel. With 5 bedrooms and a lodge-like atmosphere, an experience on this 60,000 acre station is not to be missed. I suggest a 3 night stay here with an option to take the two night private safari where you 'camp out' on specially prepared beds and swags and sleep under the stars! Dramatic views are all around you and Charlie's team enhances your time here with beautiful drives and unique dining experiences. Plus, there are lots of local Aussie animals to complete this bush encounter.
For a real Aussie Pub experience, The Prairie Hotel at Parachilna is the place to be! Walking out of the front door, looking west, all you see is flat land – for thousands of miles! The food and service is excellent and there's a real local Aussie vibe and friendly hospitality to soak in around the small bar area.
Suddenly there's a thunderous roar and we rush outside to watch the Coal Train – a mile and a half long – travel past us en route to Port Augusta on the coast. This daily occurrence takes about 10 minutes to pass by the small station and is certainly an interesting sight. The owners Ross and Jane add so much to your stay here with their personality and history. A visit to their station, Nilpena and the Woolshed is a treat!
Right in the entrance to the pound is Wilpena Pound Resort, recently acquired by Grant Hunt and his Anthology group. Grant has been around tourism in Australia for many years and is quite masterful in bringing outback experiences to life through his properties. He has great plans for this resort and over the next 24 months it will no doubt transform into an even better experience.
There are several ways to see "the pound" – from hiking to the top of St Mary's peak for the most wonderful view, to traveling down through the valley. A scenic flight is an incredible way to try and comprehend the sheer size of the pound.
A great way to experience this region, along with South Australia's other fine areas, would be to land in Adelaide, drive to the Barossa Valley and spend a couple of nights at The Louise and sample the fine Aussie wines of the region. From there a short flight to the Flinders Ranges and a 4 night stay at Arkaba, followed by another short flight to Kangaroo Island and of course 3 nights at James and Hayley Baillie's Southern Ocean Lodge with private touring from Craig Wickham, and Exceptional Kangaroo Island.
Lord Howe Island, Australia 2010
Rising out of the Pacific Ocean about 500 miles slightly to the north east of Sydney is one of Mother Nature's hidden jewels. Lord Howe Island is truly a special place, and the island's energy could be felt the moment I stepped off my QANTAS flight. You just know you're in a completely unique place; it feels 'other-worldly' yet friendly and casual. A short drive to Capella Lodge and there we were with incredible views of the coastline and lagoon.
Capella was James and Hayley Baillie's first project as part of their Baillie Lodges portfolio, which now also encompasses Southern Ocean Lodge on Kangaroo Island in South Australia, and the pipeline project of Remarkable Lodge scheduled for launch in late 2012.
This property is sensational with a very exclusive yet comfortable ambiance that takes full advantage of its wonderful location. There are only nine suites, along with a large general area with dining room, living room and fabulous patio area. Most of the suites are configured with the bedroom upstairs (providing stunning mountain and ocean views) and living area downstairs. Bikes are available for all guests and for the ultimate stay in the Lidgbird Pavilion, there's also a private plunge pool and a golf cart provided to explore the island.
There are two high peaks at either end of the island, perfect for hiking enthusiasts – with rewarding vistas of the Pacific Ocean from the top. There's also plenty of plant and bird life here, many pieces unique to Lord Howe Island. For those not so keen to don a pair of hiking boots, take a stroll down to Ned's Beach, and with some bread in tow, walk into the water to about 2 feet deep and all of a sudden you are surrounded by whiting, mullet and king fish. Some are as long at 3 feet, and they'll happily swim in between your legs and grapple for the bread! A delicious Aussie BBQ is the perfect way to end the day – the Capella team will make preparations and deliver great food to the barbecue area; you just have to cook and eat!
Being surrounded by a fringing reef, the coral fish and reef are as colorful as their friends to the north and Pro Dive has a great shop there with great equipment for you to dive with. Charter a boat and fish either inside or outside the reef for some fresh dinner. An 18-hole golf course (well 9 greens and 18 tees) is surprisingly very well manicured – and challenging. Enjoy a pleasant stroll through lush rainforest to get to the next tee!
Check out the museum, with Curator Ian Hutton in residence. This is a wonderful way to learn not only about the geographical history of the island but also about the early settlers and how their descendents still reside on the island today!
No mass tourism here! There are only 400 visitors permitted on the island at any time, ensuring that overcrowding is never an issue. And with the population of locals and residents being about 350, this truly is quite a cozy place.
Lord Howe Island is part of the state of New South Wales, and I think a perfect way to include this destination in your travel plans would be to fly to Sydney, and drive to Wolgan Valley Resort & Spa in the Blue Mountains. Spend 3 or 4 nights here enjoying the area's pristine wilderness. Next, drive to Sydney for a few nights – stay at the Four Seasons in a Premier Harbour View room, then spend 4 nights (or more!) at Capella before heading back to Sydney for a night before returning to the USA.
[nggallery id=10]