South Africa is a country defined by transformation. Its cities such as Cape Town and Johannesburg are diverse hubs of culture and tradition and in the southwest, the world famous Cape Winelands produce some of the best wines in the world. And then there is the wildlife. Witness the big five--lions, leopards, rhinoceroses, elephants, and Cape buffaloes--on unforgettable safaris into the bush, bringing you face to face with these iconic creatures.

Here is what Swain Destinations offers:

The counsel of our expert Travel Consultants who have either lived in or traveled extensively within Africa.
From wine-tasting to big game safaris to conservation experiences, we will build a fully customized itinerary that will include any unforgettable, Africa travel experience of your dreams.
Access to our 24/7 support team located in-country.
Whatever dream you have, we can build. Our reviews are a testament to this and the itineraries below are just a sample of what we offer. Get in touch with one of our expert Travel Consultants to bring that dream to life.
Featured Sample Itinerary
Swain's Southern Africa
10 nights
from

$3,240 p/p
per person
A ten-night immersion into the best that South Africa has to offer. The first three nights are spent in Cape Town, touring the iconic Table Mountain and seeing the African penguins at Cape Peninsula National Park. Next, the trip moves to Kapama Private Game Reserve where you will see the renowned Big Five--lions, leopards, rhinos, buffalo, and elephants--in their natural habitat. Watch lions stalk the plains and elephants bathe in watering holes. Afterward, spend a night in Johannesburg, the "City of Gold," taking in the eclectic, local culture. Conclude your journey by visiting the thunderous Victoria Falls--one of the Seven Natural World Wonders.
Details
Roundtrip airport transfers
3 nights Cape Town
Cape Town City tour
Cape Peninsula tour
3 nights Kapama Private Game Reserve
Game viewing
2 nights Johannesburg
Soweto Tour
2 nights Victoria Falls
Tour of Victoria Falls
Meals: 9 breakfasts 2 lunches 4 dinners
See More Details
Day by Day
Day 1 – USA to Cape Town (Via Johannesburg)
Arrive in Johannesburg for your connecting flight to spectacular Cape Town, You will be met at the airport and transferred to your hotel. The afternoon is at leisure to soak up the atmosphere of Cape Town and the waterfront area. South Africa's "Mother City" is indescribably beautiful, steeped in fascinating history and pulsating to a heady African rhythm. Indeed, few urban centers anywhere can match its setting along the mountainous Cape Peninsula spine, which slides into the Atlantic Ocean. A ride in a cable car to the top of Table Mountain, a ferry journey to Robben Island, or a meandering tour through the Winelands will leave you in no doubt that this place is an absolute highlight on any vacation to Africa. South Africa boasts incredibly good weather, gorgeous scenery and fantastic beaches and is one of the most diverse and enchanting countries in the world. Exotic combinations of landscapes, people, history and culture offer visitors a unique and inspiring experience.

Starting Accommodation: The Onyx Apartment Hotel
Day 2 – Cape Town City Tour
Today enjoy the ultimate 'Mother City' experience, designed to orientate and give you a full-color insight into the extraordinary magic of Cape Town which includes iconic buildings, snatches of its history, and experiences unique to this City. First up, it's the cable car to the summit of the legendary Table Mountain - weather permitting - and from there, you'll be able to see to the end of our world, including the City and surrounding layout of this southernmost tip of Africa (own account). Next visit the country's oldest building, The Castle (closed Sundays), and a short distance away, the Company Gardens, both historically fascinating and well conserved. The drive continues past Parliament Buildings, City Hall and the Slave Lodge, and you'll sense the depth of history via their distinctive architecture. Colonial then changes to colorful, as you move up the cobblestoned hills to the Malay Quarter, and marvel at the ice-cream colors of the quaint Bo-Kaap homes. Enjoy an afternoon exploring Cape Town at your leisure.

Starting Accommodation: The Onyx Apartment Hotel (B)
Day 3 – Cape Peninsula Tour
Travel along the Atlantic Seaboard, to Hout Bay. From Hout Bay, travel to Noordhoek and through Ou Kaapse Weg. Proceed to the Cape Point Nature Reserve, where you are able to ride the Funicular (for your own account) to the viewpoint where the Indian and Atlantic Oceans meet. The Cape Peninsula is the thin finger of land in the southwestern most corner of Africa with the city of Cape Town at its head. As you travel south towards Cape Point and the Cape of Good Hope, the land gets narrower until the great Indian and Atlantic Oceans combine into one vast southern ocean, with nothing beyond except Antarctica.

In 1578 Sir Francis Drake described it as 'The fairest cape in the whole circumference of the globe,' and it still is. The Peninsula can be divided into the Atlantic coast on the west (including the City of Cape Town) and the False Bay coast on the east. With nothing but water all around the peninsula, the weather can be a little unpredictable and the wind can whip itself up into a fury. Luckily when it is howling on one side it is normally quiet on the other, so you can always find a sheltered spot. On leaving the Nature Reserve, proceed to Simonstown, where you stop for lunch (for your own account), as well as a short stop at Boulders Beach. Nestled in historic Simon's Town in South Africa, Boulders Penguin Colony is part of the Cape Peninsula National Park. Almost 3000 African (jackass) penguins, so called because their call resembles the bray of a donkey, reign supreme amidst rounded rocks and fish-filled False Bay. These endangered, flightless birds are free to roam the seas and return to their private haven - Foxy Beach at Boulders.

Starting Accommodation: The Onyx Apartment Hotel (B)
Day 4 – Cape Town to Kapama Private Game Reserve
Transfer to the airport for your onward flight Hoedspruit Airport. On arrival, you will be met and transferred to your Kapama accommodation. This afternoon enjoy a game drive in the African bush which offers a wide variety of wildlife including the Big 5 (Elephant, leopard, lion, African buffalo and rhinoceros).

Starting Accommodation: Kapama Southern Camp (B, D)
Day 5 – Game Viewing in Kapama Private Game Reserve
The day will typically start with an early rise. Enjoy a light snack before departing on an activity, with a stop for a snack and tea/coffee en route. Upon return to camp (normally about three hours later) enjoy a sizeable brunch. Free time is them ample during the heat of the day to enjoy a siesta, or a dip in the pool. Mid-afternoon, tea, cakes and savories are served, before you depart on your afternoon activity, with a stop for cocktails en route. Return to camp and savor a sumptuous dinner.

Starting Accommodation: Kapama Southern Camp (B, L, D)
Day 6 – Game Viewing in Kapama Private Game Reserve
Enjoy another day of morning and afternoon game drives.

Starting Accommodation: Kapama Southern Camp (B, L, D)
Day 7 – Kapama Private Game Reserve to Johannesburg
This morning enjoy your last morning game drive before transferring to Hoedspruit Airport for your onward flight. Fly to Johannesburg (for your own account). Upon arrival you will be transferred to your hotel. Johannesburg is the economic heart of South Africa, the central focus of Egoli ('Place of Gold'), as the Sotho name for Gauteng suggests. The largest and richest city in South Africa, Johannesburg's lifestyle is a fast-paced and hectic one. No-one could have imagined the repercussions when an unemployed miner found a stone bearing traces of gold here in 1886, an event that led to the discovery of the world's richest natural treasure trove.

Starting Accommodation: Peech Boutique Hotel (B)
Day 8 – Soweto Tour
You know the name - it's a legend. SOWETO, acronym for South Western Township, is home to over 2 million people, who, despite living in crowded and chaotic conditions, have a tangible sense of community, one which ironically, the ordered, walled, elitest northern suburbs lack. Inside Soweto, visit the Hector Pieterson Museum and discover the cause of the tragic riots which led to his death; pass Mandela House, with time to visit this fascinating little museum (own account). The journey continues to Regina Mundi Church, site of many secret underground meetings of the then banned political parties. Finally, we head past the largest stadium in Africa, Soccer City, host of the 2010 FIFA World Cup Final - this magnificent stadium is now nicknamed 'The Calabash' for its resemblance to the African Pot. Soweto is unlike a suburb you've ever seen or been to, yet the history of struggle encapsulated here is a cornerstone of the South African story. Your afternoon in Johannesburg is at leisure. Take time to indulge in the history and culture. Johannesburg offers fascinating museums, a thriving café culture and a thrumming nightlife exist in many of Johannesburg's suburbs. The townships are also interesting to tour.

Starting Accommodation: Peech Boutique Hotel (B)
Day 9 – Johannesburg to Victoria Falls
Transfer to the airport for your onward flight (own account). On arrival you will be met and transferred to your accommodation. The Victoria Falls, affectionately abbreviated to Vic Falls by anyone who's been there, is one of the Seven Wonders of the World, and the locals refer to the Falls as "Mosi-oa-Tunya" (the smoke that thunders). There is a magic about them manifested in the towering column of spray when the river is high, the thunder of the falling water, the terrifying abyss and tranquil lagoons upstream in which hippo and crocodiles lurk. Late afternoon enjoy a Sunset Cruise. Put your feet up, sip a sundowner as the light gently fades, and let our tranquil wildlife cruise float you along the Zambezi River above the Falls. You'll have the finest vantage point from which to watch hippo, crocodiles and other animals which come down to the river's edge in the early evening, to slake their thirst. You're in the first-class seats, that's for sure, and while you're sipping your cocktail and enjoying snacks - no further movement required on your part - you'll be captivated by the sun's dying rays as they cast a burnt-orange glow which shimmers on the river. Take another sip in this golden setting - cheers!

Starting Accommodation: Ilala Lodge (B, D)
Day 10 – Tour of the Falls
No surprise why Victoria Falls is one of the seven Natural Wonders of the World! You'll understand it instantly as we tour the Zimbabwean side, for there are numerous spectacular vantage points along the width of the Falls, and the sight of this astounding gift of nature, simply takes your breath away. Walk through the permanent, beautifully misty rain forest which flanks the Falls, stopping to marvel at the principal sites as it cascades to the depths below: the Main Falls, Horseshoe Falls, Rainbow Falls, the Boiling Pot, Cataract Island and Livingstone Island. Stand and watch, feel and listen to the spray and thunderous noise, as millions of liters of water tumble over the Falls into a series of narrow gorges below. The seventh Natural Wonder of the World puts on the most dramatic show for you, and you'll be privileged to have watched it. This afternoon is at leisure to relax at the lodge or enjoy another optional activity.

Starting Accommodation: Ilala Lodge (B, D)
Day 11 – Depart Victoria Falls
You will be transferred to Victoria Falls Airport to connect with your scheduled departure flight to Johannesburg (own account). On arrival into Johannesburg, connect with your onward flight returning to the USA (own account).

(B)

Speak with a South Africa expert
Call 1-800-227-9246
Our Travel Stories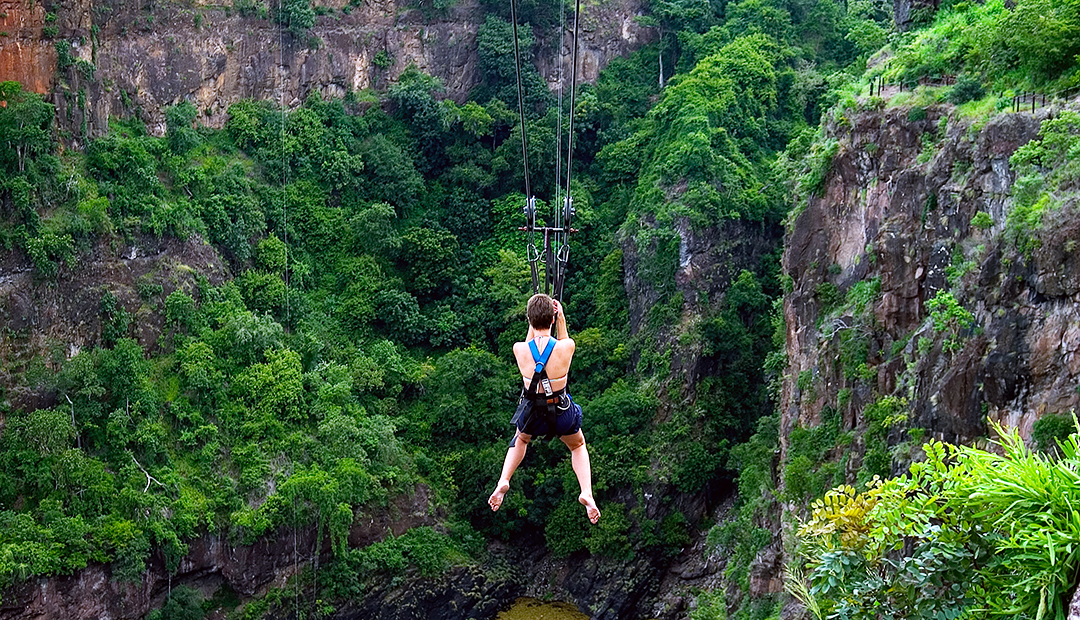 Top Southern Africa Activities
Southern Africa is known mostly for its beautiful landscapes, friendly people, wild animals,...