Kenya with Swain Destinations
A destination as famed for its culture as it is for its wildlife, Kenya is an ideal place to immerse yourself in a world unlike your own in so many ways. Take the opportunity to learn about the varied cultures of its tribes, unchanged by the modern world. Take in the iconic wildlife and serene vistas on safari. Experience the boundless wilderness and big game that have long attracted adventure seekers from around the globe to this country. Kenya has a way of changing your perspective on the world for the better, and the Swain Destinations Team have created the below itineraries, packed with our suggested sights and accommodations, that will help you get the most from your Kenyan experience.


Featured Sample Itinerary
Classic Kenya
6 nights
from

$2,050 p/p
per person
From the open plains of Masai Mara, the shimmery pink waters of Lake Nakuru and the swamps of Amboseli, this 7 day overland safari takes in three of the most picturesque regions in Kenya. It also provides the perfect opportunity to spot the Big-5 and to capture some diverse scenery. Your package includes airport transfers and seven days of overland shared touring including wildlife safaris, six nights accommodation with meals as specified.
Details
1 Night Nairobi
2 Nights Maasai Mara National Reserve
1 Night Lake Nakuru National Park
2 Night Amboseli National Park
Game Viewing in Masai Mara National Park
Visit Masai Village
Game Viewing Lake Nakuru National Park
Boat Ride on Lake Naivasha
Game Viewing Amboseli National Park
See More Details
Day by Day
Day 1 – Arrive Nairobi
Arrive into JOMO Kenyatta International Airport in Nairobi where you will be met by a local representative and assisted to the vehicle. Transfer to your hotel located a short distance from the airport. The remainder of your afternoon and evening is at your leisure.

Starting Accommodation: Ole Sereni
Day 2 – Nairobi to Masai Mara National Park
Leaving Nairobi after breakfast at around 7:30am, you travel towards Kenya's fertile highlands and head down the rift escarpment on the road built by Italian prisoners of war during World War II. On the way spot the charming chapel built at the foot of the escarpment. Pass the impressive Longonot earth satellite station as you head across the valley to Narok; continue your travels across acres of wheat and barley, before reaching the Masai Mara in time for lunch. Following lunch set off on your first game drive, returning to the lodge as the sun sets.

Starting Accommodation: Mara Sopa Lodge (B, L, D)
Day 3 – Masai Mara National Reserve
Following an early breakfast, depart on a morning game drive in the Masai Mara National Park, one of Africa's greatest Wildlife reserves. Together with the Serengeti National Park in Tanzania, the Masai Mara forms Africa's most diverse, incredible, and spectacular eco-systems offering phenomenal big game viewing. Return to the camp mid-morning where you have some leisure time until lunch. This afternoon set off on another game drive and visit to the Masai Village, returning to the lodge as the sunsets. (It is possible to pre-book an optional early morning Balloon Safari at a supplementary cost).

Starting Accommodation: Mara Sopa Lodge (B, L, D)
Day 4 – Masai Mara to Lake Nakuru
Leaving the Masai Mara after breakfast, travel across the 'breadbasket' of Kenya, where acres of wheat and barley litter the landscape as you head north to Narok, the district headquarters of this part of Maasailand. Continue across the vast plains on the floor of the Rift Valley, keeping an eye out for herds of giraffe and gazelle as you head up the Mai -Mahiu, before arriving at Lake Nakuru around midday. Once in the park, view game en route to the lodge. The national park, known for its birdlife, offers a possibility to view flamingoes. It is also home to Black and White rhinos as well as the endangered Rothschild Giraffe. Following lunch and a siesta, enjoy an afternoon game drive returning to the lodge as the sun sets.

Starting Accommodation: Lake Nakuru Lodge (B, L, D)
Day 5 – Lake Nakuru to Amboseli National Park
After an early breakfast depart for Lake Naivasha where you will enjoy a safari boat ride. Leaving the Rift Valley behind, proceed to Nairobi for an early lunch (or picnic lunch dependent on road conditions). After lunch, continue south towards Amboseli National Park arriving at your lodge by late afternoon.

Starting Accommodation: Amboseli Sopa Lodge (B, L, D)
Day 6 – Amboseli National Park
After breakfast, depart on a full day game drive in the park. Crowned by Mount Kilimanjaro, Africa's highest peak, the Amboseli National Parks is one of Kenya's most popular parks. The name "Amboseli" comes from a Maasai word meaning "salty dust", and it is one of the best places in Africa to view large herds of elephants up close. Nature lovers can explore five different habitats here ranging from the dried-up bed of Lake Amboseli, wetlands with sulphur springs, the savannah and woodlands. During the day you will stop for a picnic lunch while enjoying views of the surrounds. Return to the lodge around 4:00pm to enjoy some down time before dinner.

Starting Accommodation: Amboseli Sopa Lodge (B, L, D)
Day 7 – Amboseli National Park to Nairobi for Departure
Enjoy an early breakfast before departing the lodge. Catch your last views of the majestic Mount Kilimanjaro as you depart Amboseli, turning north across the beautiful and seemingly never ending Athi Plains. Arrive in Kenya's bustling capital city of Nairobi by mid-day where you will be dropped off at the drop off point in the city center or at the airport for ongoing travel arrangements.

(B)

Speak with a Kenya expert
Call 1-800-227-9246
Our Travel Stories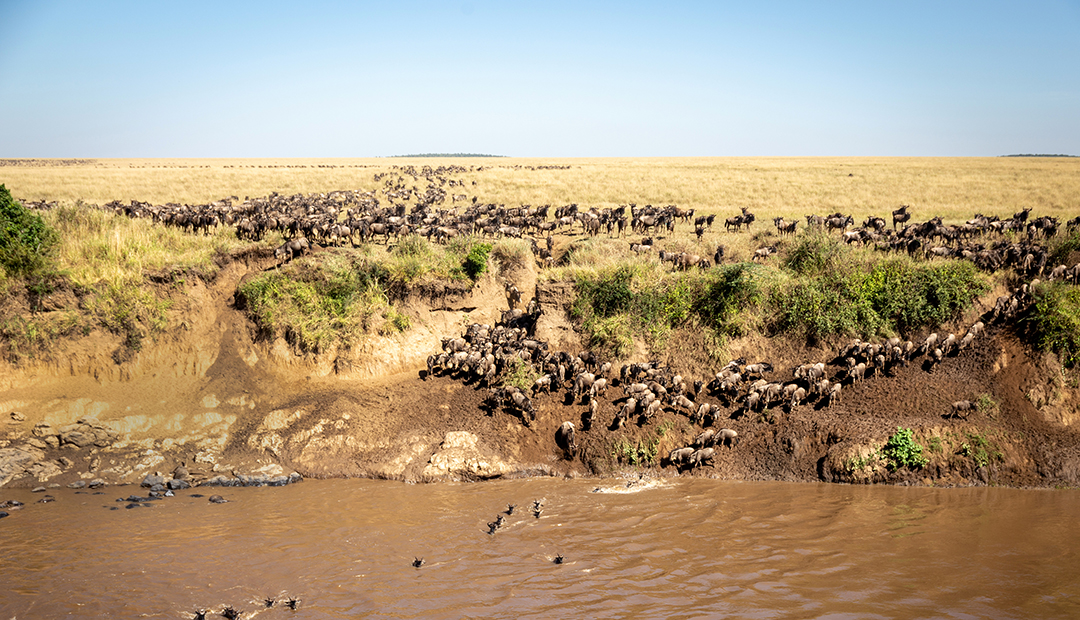 My First Great Migration in Africa
The Great Migration in Africa will give you goosebumps. Millions of animals moving clockwise,...