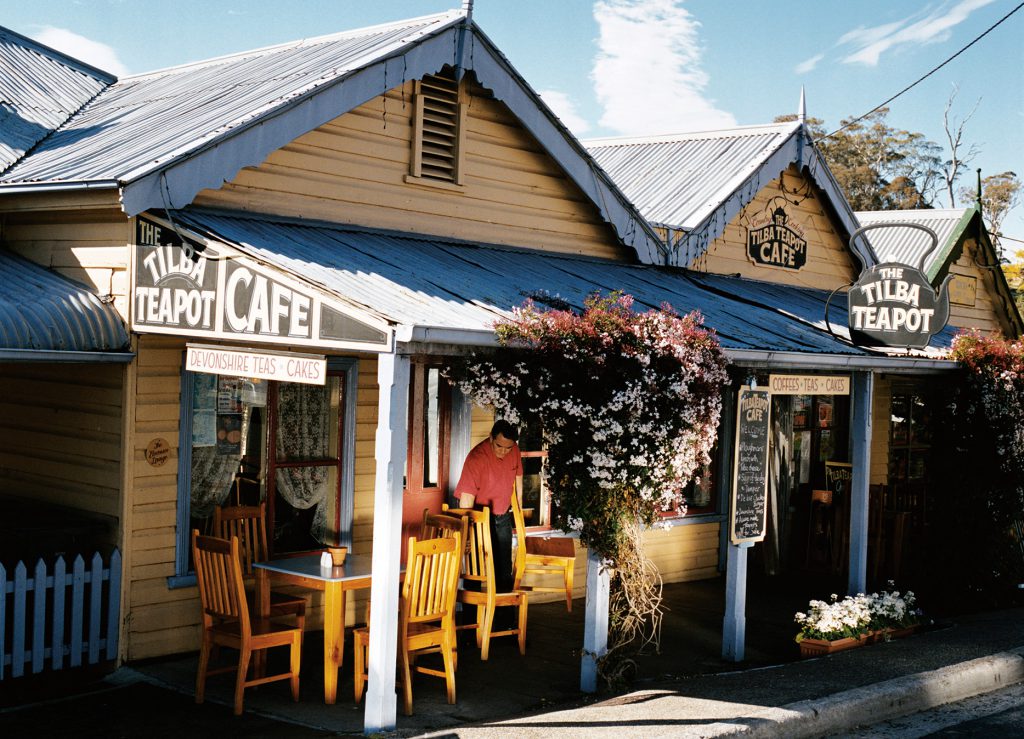 Melbourne is a city obsessed with coffee. Cold drips, aero-press and cupping are common words in the local vernacular thanks to a widespread passion for the bean, complemented by a number of leading provedores who call Melbourne home. This long and eventful love affair began when Melbourne's first espresso machines landed in the city in the 1950s. Today, the passion for the bean is at an all-time high thanks to a 'third wave' of specialty roasters and multi-roaster cafes.
Coffee hotspots in Melbourne and surrounds
Specialty coffee roasters Market Lane recently opened its fourth outpost in the historic Deli Hall at Queen Victoria Market. The spot where Market Lane stands housed a pharmacy for 80 years and maintains some of the original art-deco style fittings. The sleek design is the perfect platform for a long filter coffee bar, a classic espresso machine and a selection of some of Melbourne's best beans on sale to take home.
Located in the burgeoning foodie precinct of Collingwood, Everyday Coffee is the result of a collaboration between three young coffee enthusiasts who have worked at some of the city's top cafes. Carefully selected beans from Melbourne's top roasters are matched to specific brews. A small selection of pastries and cakes from surrounding bakeries and a clean, minimalist interior compliment the star of the show – coffee.
Not far away in Fitzroy, Industry Beans is a roaster which also offers extensive house teas and juices as part of the industry offering. The industrial style fit out of the space matches an inventive menu that uses coffee in the cooking process.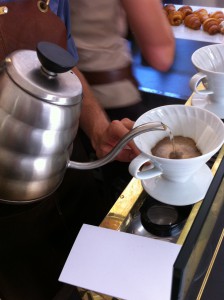 Code Black Coffee in the Brunswick precinct around 10kms north of the city center offers visitors an insight into the theater and craftsmanship behind specialists roasts. A roaster that can roast a whopping 20kg of beans at a time captivates in the sleek interior. A generous food offering creates an extra reason to stick around.
Stand up espresso bars
These days a number of hole-in-the-wall operators and standing-room only espresso bars are popping up throughout the city, where the floor space and menu is scaled back and the quality of the brew and clever design really matter.
Located in the Flinders Street underpass Cup of Truth  is the original hole-in-the-wall coffee spot, a one-by-three meter space that opens its doors before 7am to brew some of the city's best coffee and artisan pastries.
Dukes Coffee Roasters in Windsor opened Dukes Espresso Bar on Flinders Lane with a dedicated filter bar, La Marzocco espresso machines, recycled tiles, timber and minimal seating. It's a coffee and pastry affair, located in Ross House – a self-managed, community-owned and non-profit commercial building.
Patricia Coffee Brewers is a sharp and slick, pocket-sized standing-room only venue with a coffee menu from Seven Seeds, Market Lane and Proud Mary. Order it straight-up, black, white or filter.
Located in eclectic city laneway, Crossley Street, Traveller is the small-format initiative by local coffee heroes Seven Seeds. The tiny stand up espresso bar mimics its Milano counterparts with shiny mirrors and a teak-touched fit out in contrast to its highly modern coffee offering. Other hole-in-the-wall coffee spots to visit are Tom Thumb, Sbriga and A Little Bird Told Me.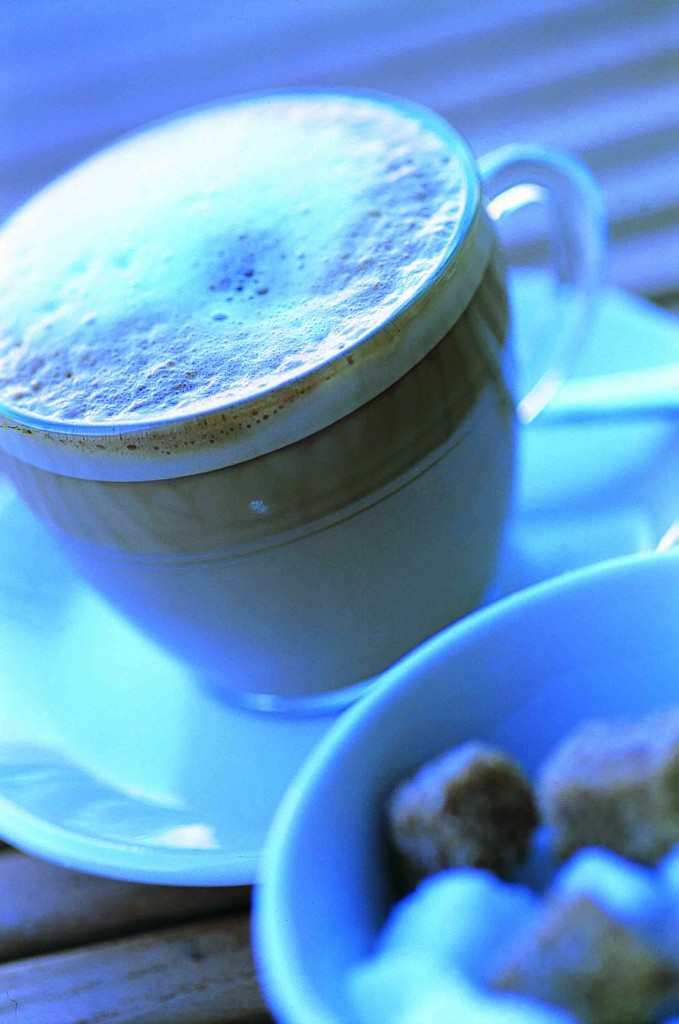 Coffee Tours
Walk Melbourne Coffee Tours are hosted by ex-barista and coffee aficionado Monique Bayer. The tour takes visitors to locations with a focus on origin, roasting and brewing, showcasing the diverse offering of the city's coffee specialists. Alongside expert commentary and four hot handpicked venues, the tour offers sampling of four different styles of coffee and is conducted in a relaxed, small group.

Barista judge and coffee connoisseur Maria Paoli runs Melbourne's popular Evolving Success Historical Coffee Trek. Paoli's tour hones in on the history of coffee in Melbourne and the techniques used by pre-war immigrants in the "espresso revolution" of the mid 1950s, bringing the tour up-to-date by showcasing the city's thriving cafe culture and the success that local baristas enjoy in international barista competitions.
Tour participants sample a wide variety of coffee blends and learn about what makes a perfect cup of coffee. Coffee connoisseurs will appreciate the finer details of brewing methods, coffee roasting and the history of coffee beans and domestic coffee making machines.
Where it all began – a brief history of coffee in Melbourne
Caffeine has been pumping through the arteries of Melbourne's city center for many years. Starting with the original Pelllegrini Espresso Bar which opened in the 1950s, a thriving Italian influence helped the spread of coffee culture in Melbourne over the decades to follow, until the new wave of specialist roasters and baristas emerged in the early 2000's. Today it is almost impossible to walk around a corner in Melbourne without the familiar scent of a perfectly brewed espresso wafting down a laneway.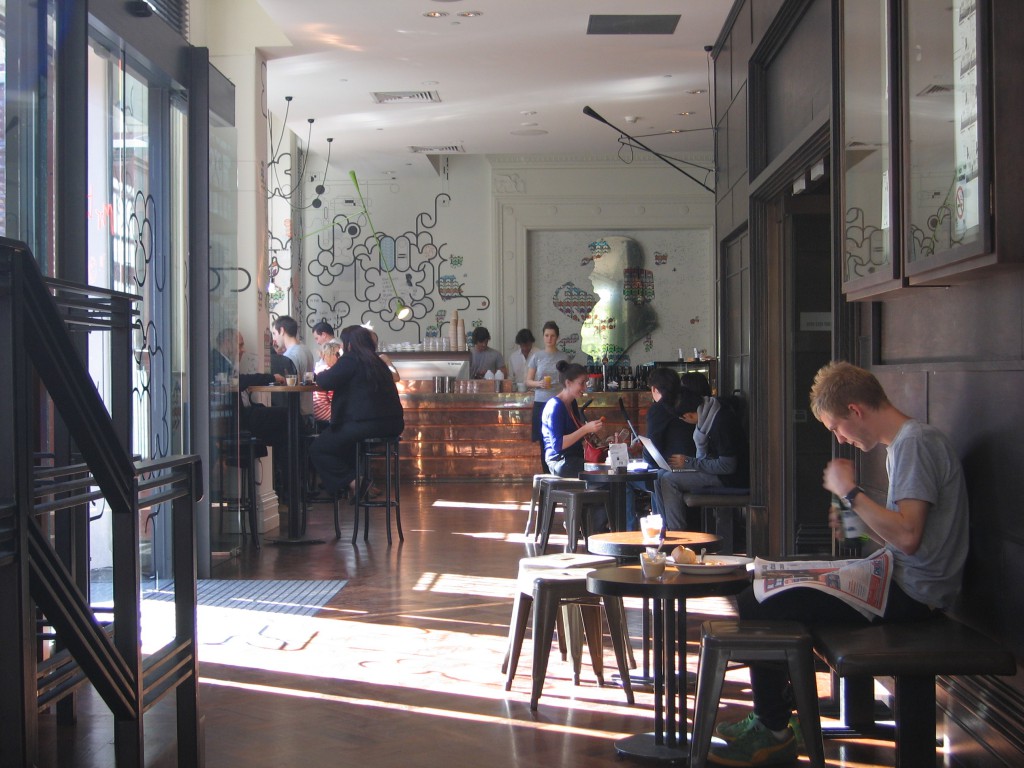 Melburnians have become discerning coffee drinkers and while many still favour espresso coffee styles – caffe latte with rich crema – some cafes offer a tantalizing array of alternatives, including syphons, filters and French pressed coffee.
Coffee fast facts
Melbourne's love of coffee just keeps growing – the volume of coffee beans imported from around the globe through the Port of Melbourne has increased by around 780 per cent over the last decade!
Every day, on average, the Port of Melbourne handles 30 tonnes of coffee beans. This makes the equivalent of 3 million cups of coffee each day – that's enough to give every metropolitan Melburnian a daily coffee fix.
Some quintessentially Melbourne cafés
Market Lane Coffee
Seven Seeds
St Ali
East Brunswick Project & The League of Honest Coffee
Auction Rooms
Proud Mary 
Manchester Press – 8 Rankins Lane, Melbourne
Pellegrini Espresso Bar – 66 Bourke Street, Melbourne
Cup of Truth
Article courtesy of Visit Melbourne– Official site for Melbourne, Victoria, Australia.