My recent adventure brought me to the Northern Territory, where my son Ian II and I made our way to Darwin. We flew straight from Philadelphia to Darwin, via Denver, Los Angeles and Brisbane – talk about a journey. As we landed in Darwin, we were met by a very familiar face, Bob McDonald from Kakadu Art. Bob has been flying in Kakadu for as long as I have been arranging travel from the States – and also happens to be a good friend.
Bob had arranged for one of his pilots, Bill, to fly us the last 30 minutes of our journey to Wildman Wilderness Lodge in Kakadu National Park. The flight was so spectacular, as we flew at only 1,000 feet up, giving us a great view of the vast countryside, floodplains, escarpments – all that define the Top End.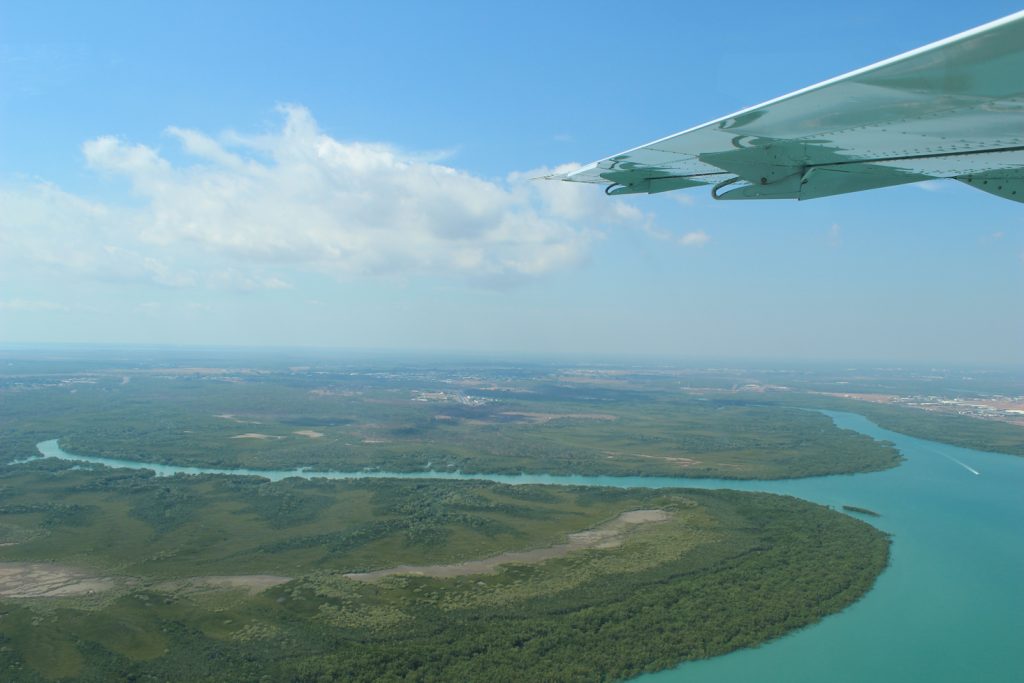 As we did a fly over of the camp, we saw the quad bikes running down the runway. They do this to drive the wallabies and flocks of birds off the landing strip so we can safely land. After a perfect landing, we were then met by Jason and Mel, the Camp Managers. A cold beer, the typical Territory welcome was in hand and we were shown to our rooms.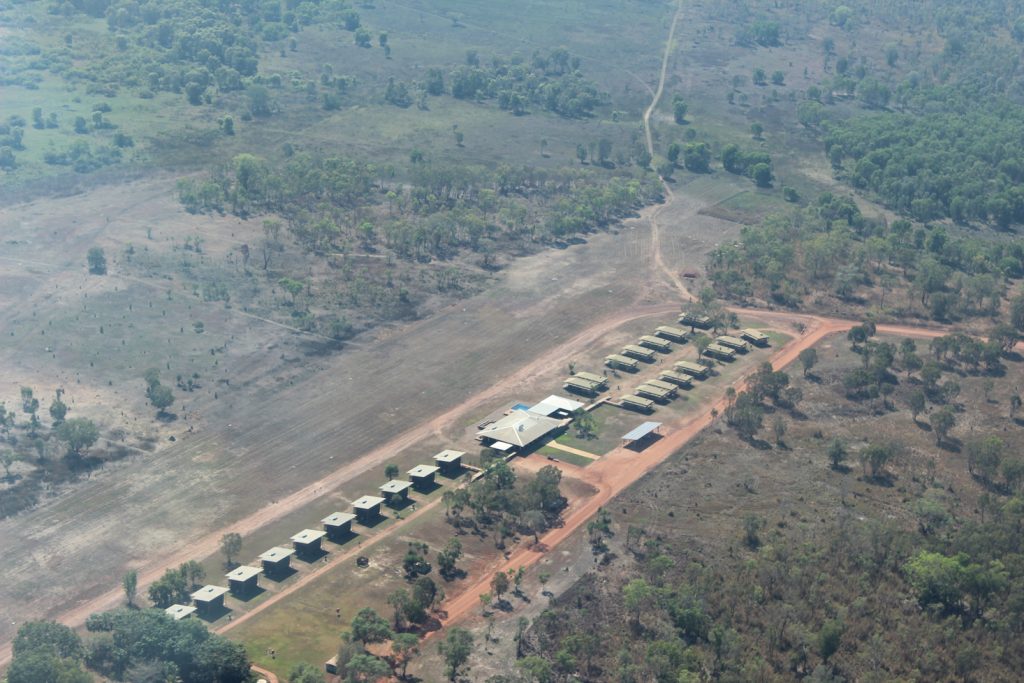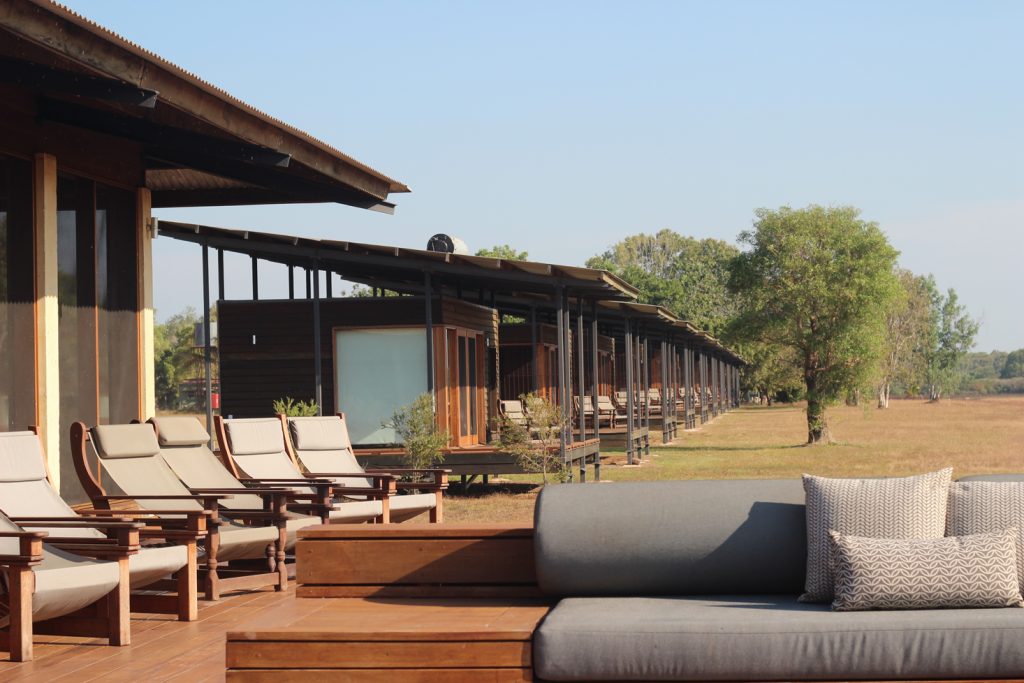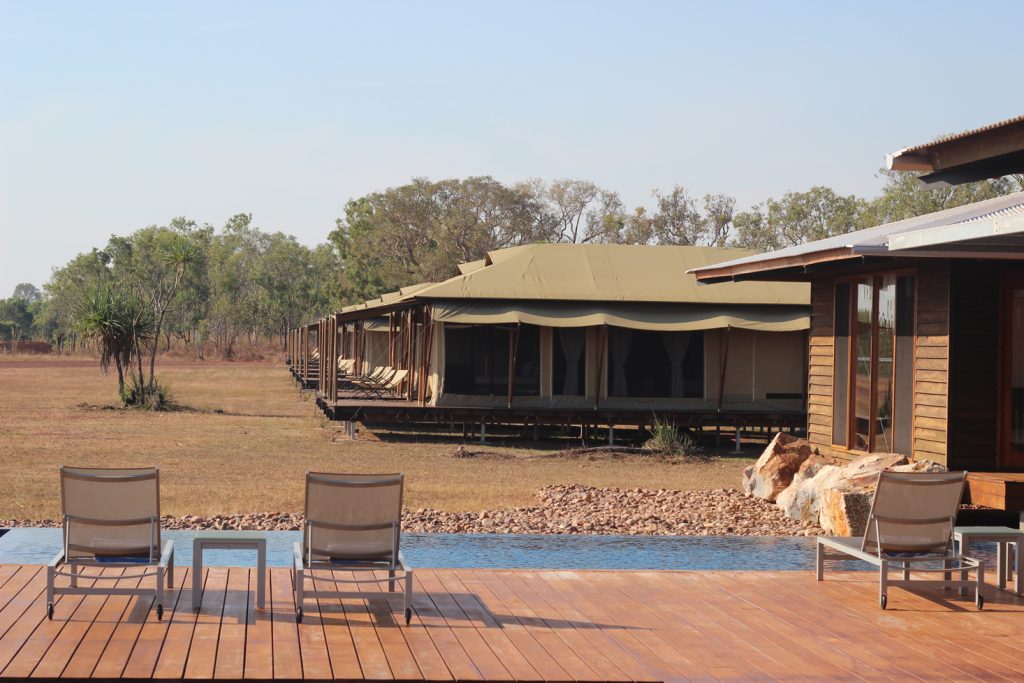 Both the tents and habitats are large, each with their own bathrooms, living area and outside deck space with comfy chairs to sit and watch the outback birds and wallabies go by.
The main lodge has a great deck space with a large "U" shaped sitting area surrounding a fire pit which is lit each night. This is the perfect place for pre-dinner cocktails. There is a bar inside as well and a library with loads of books to read about the area, among other things. The dining area is located right inside the main area. This is where you eat breakfast and dinner (which are included in the daily rate).
There are numerous activities from the lodge to choose from.
A local Aboriginal man, Darryl, takes you on an interpretive walk around the property and explains how his ancestors survived on the land. We tried some berries and leaves, as well as learned about some of the medicines they would make from the land. We could learn a lot about their understanding and appreciate from of the land.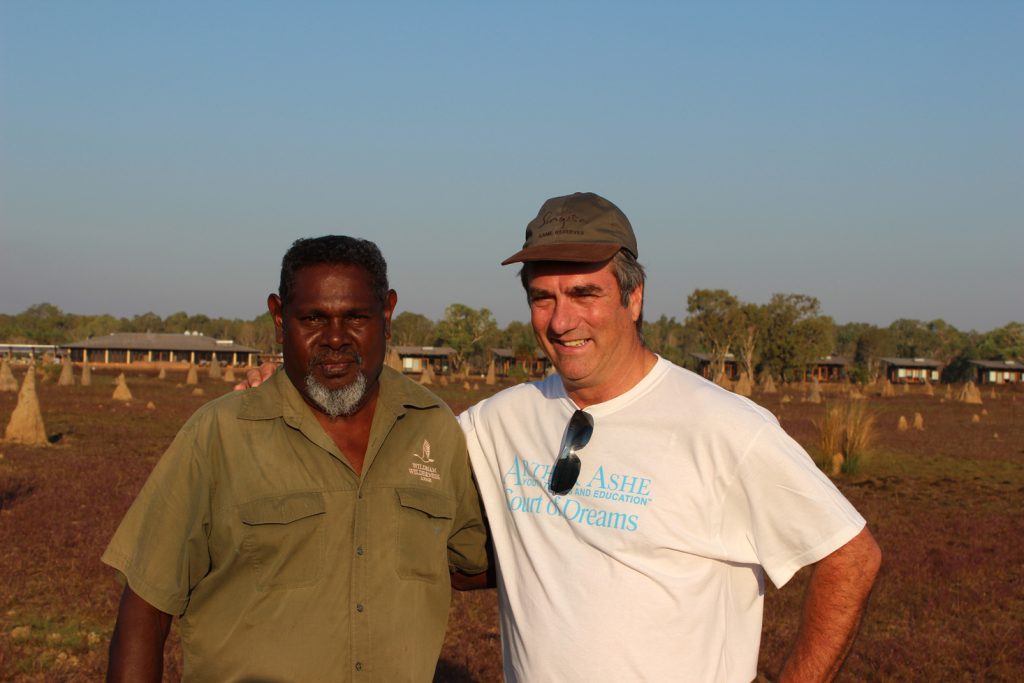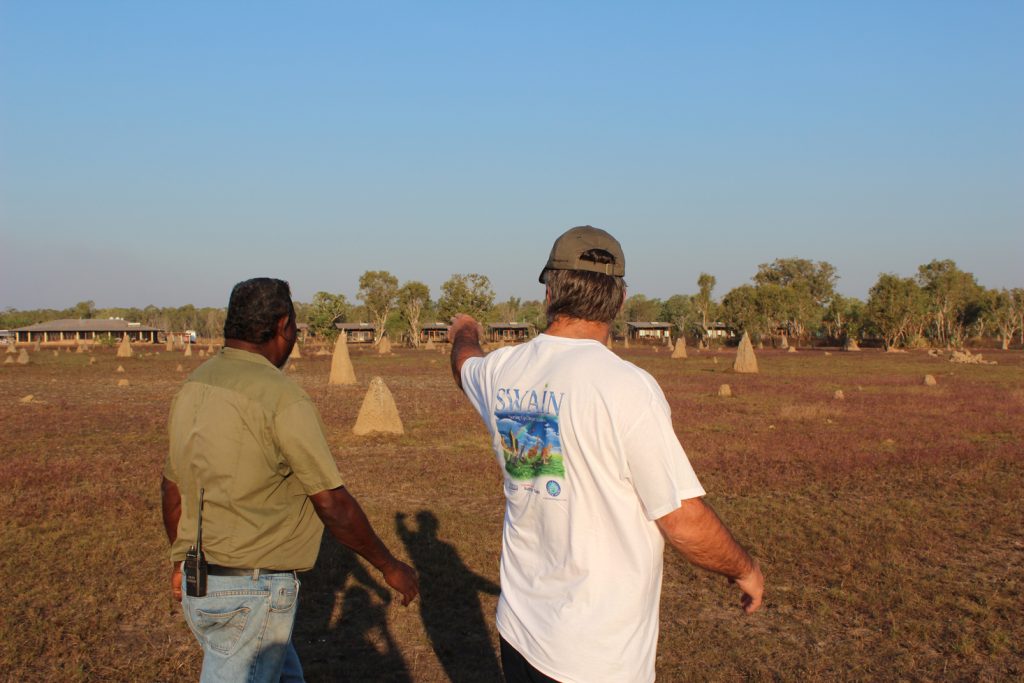 They also have Quad bikes incorporated into your activities. We jumped on and drove around the park, only to end up at a beautiful area called Leichardt Point. Here was had a bit of a rest and watched the birds, Jabiru's, Jacana's, Buffalo and bush pigs in the wild. The area is full of activity with wildlife.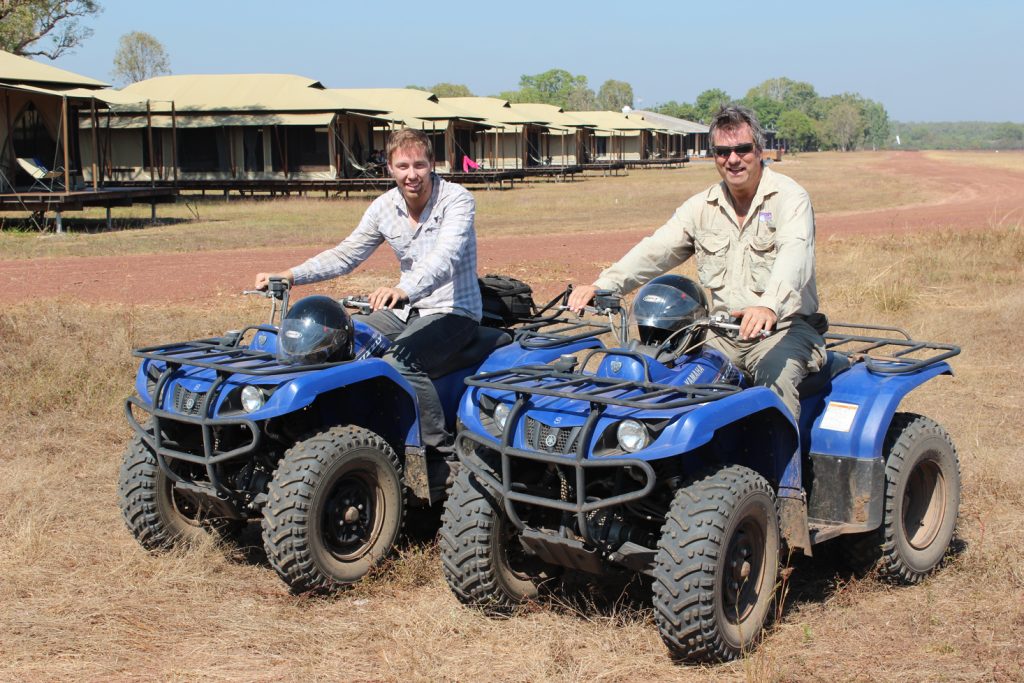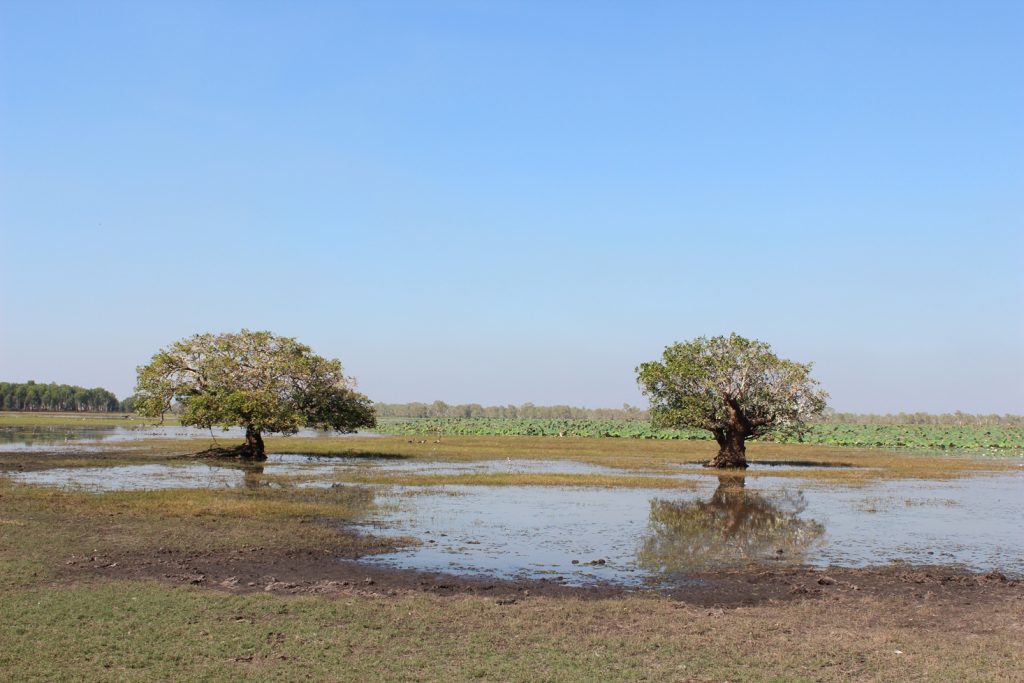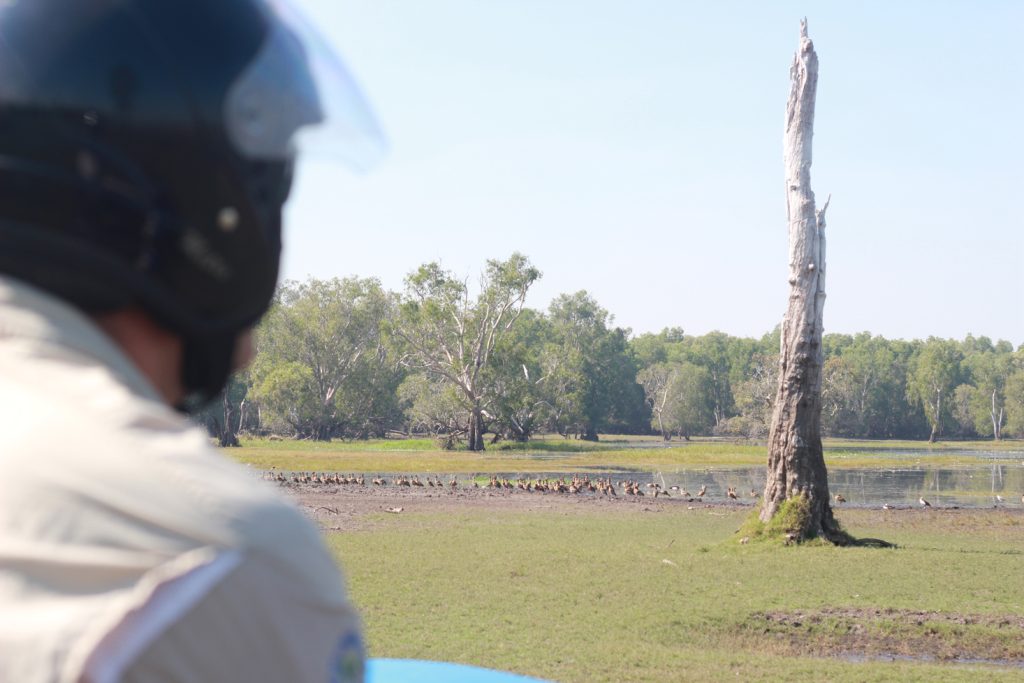 A must is the Mary River cruise, where you board a small boat with Scottie (a local from way back) as he weaves his way up the river. The Mary Rive has the highest concentration of crocodiles in the world. Almost every 300 yards there is a large croc who claims that stretch of water. They sun themselves on the banks during the day, so it is quite easy to see them. I did notice that they seemed very relaxed no matter how close we got!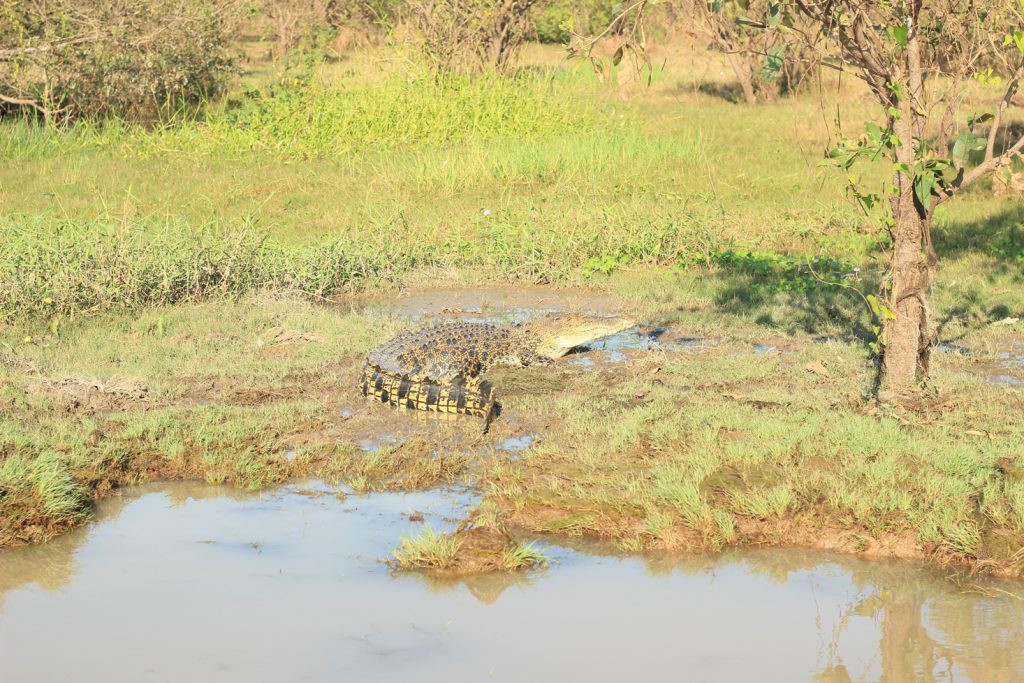 The plant life, lilies, trees and birds are just amazing to look at.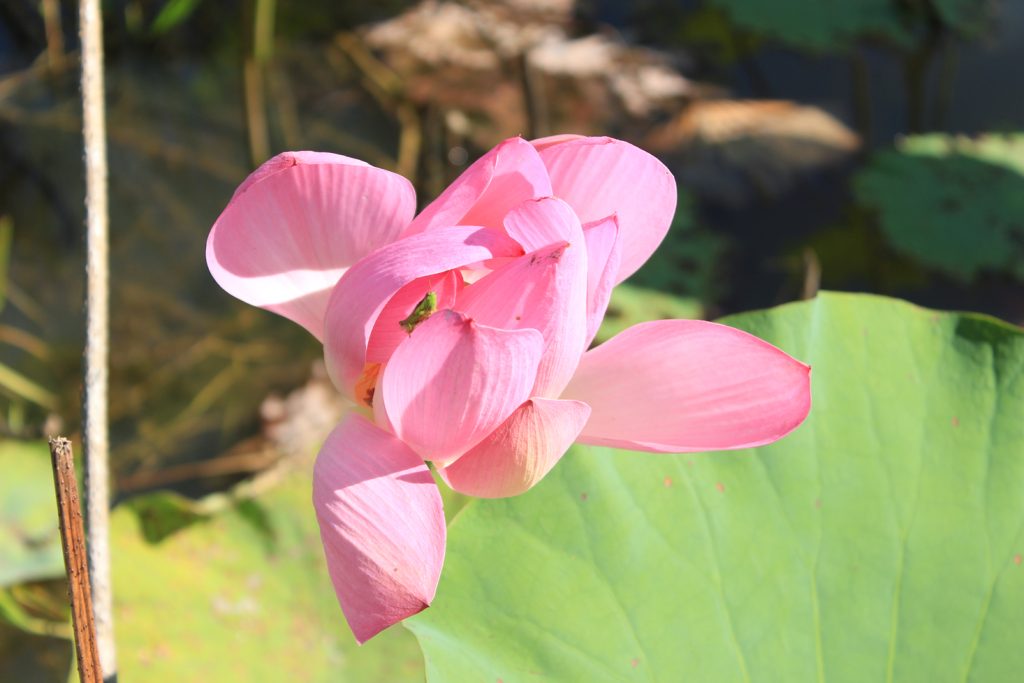 The cruise is about 1 ½ hours, and a highlight of your stay here.
Another is to venture further into Kakadu Park to Jim Jim and Twin Falls, Nourlangie Rock for some great rock art and the towns on Cooinda and Jabiru. This is a full day journey.
Or for those who want to see some more sacred art sites, take a short flight to Mt Borrodaile and walk the escarpments with a local to see some incredible rock art that only a few people see. These sites are in the sacred area called Arnhemland. This is an area that was set aside for the Aboriginals many years ago.
I really enjoyed my stay at Wildman, the food was spectacular, fresh Barramundi, and steaks, as well as the great Aussie veggies I grew up on.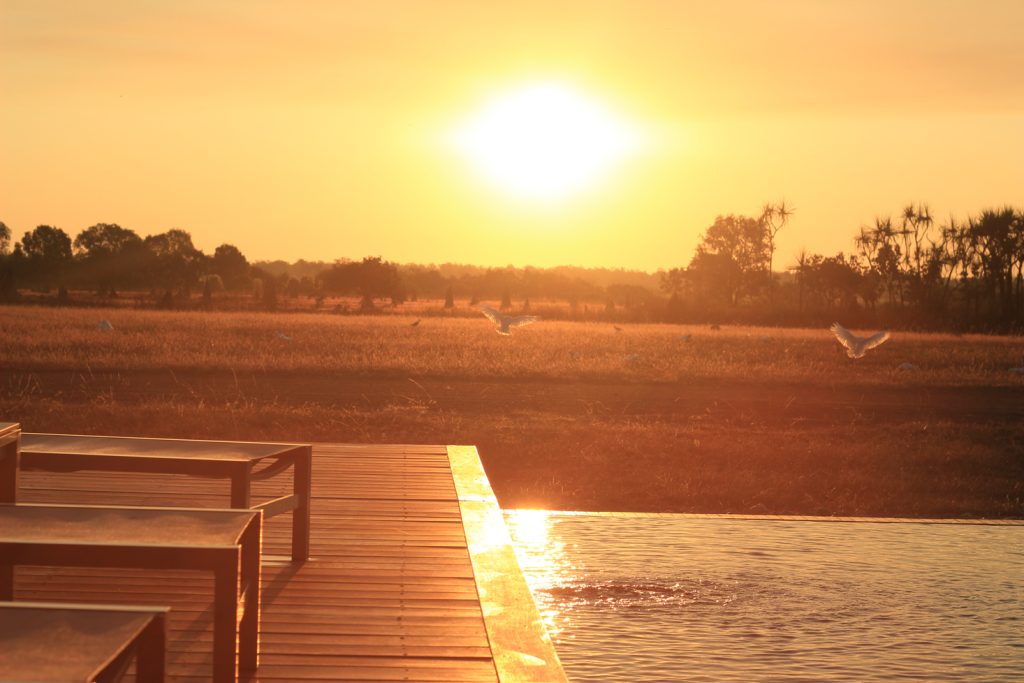 3 nights is best to experience this area and you can either drive in from Darwin (2 hours) or fly (30 minutes). Join this experience at the end of The Ghan train from Adelaide or Alice Springs.
Until next time, cheers!