Established In: 1788
Established By: Arthur Phillip
Population: 4,627,345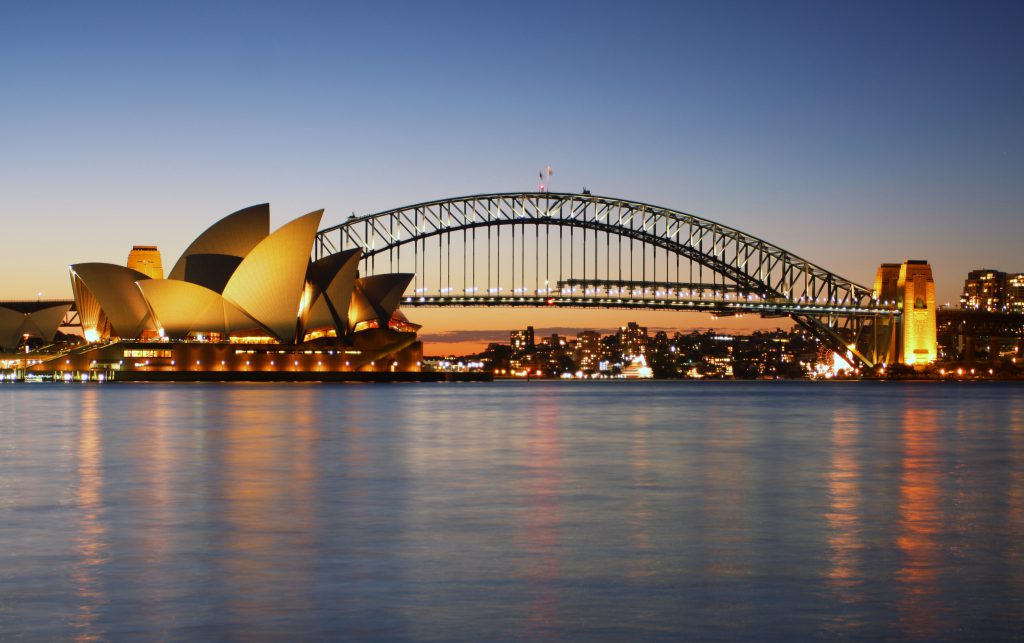 Area: 12,144.6 km
 Sydney is situated on Australia's southeastern coast of the world's smallest continent. It is the state capital of New South Wales but not the nation. Australia's capitol is Canberra.
Sydney's main languages are English, Chinese, and Arabic.
The city dates back to 1788 when convict-bearing ships of the first fleet came from England. It was officially founded as a city in 1842.
Sydney residents are called "Sydneysiders."
Sydney is the world's second most expensive city, behind Tokyo, according to a 2012 Cities of Opportunity survey by PricewaterhouseCoopers. It also was ranked second for demographics and livability, behind Paris, and third for health, safety, and security, after Stockholm and Chicago.
Sydney is ranked as the 7th most connected city to the global economy, behind New York, London, Tokyo, Paris, Hong Kong, and Singapore.
Approximately 4.5 million people visit the stunning Sydney Opera House each year. A wonderful jaunt for tourists is the Opera House to the Botanic Gardens Walk, taking visitors through the botanic gardens with views across the Opera House and the Harbour Bridge.
The Sydney Harbor Bridge has been nicknamed the "Coat Hanger" by the locals. It is the largest steel arch bridge in the world measuring 1,149 meters in length. Those who truly want a unique view of the city and its landmarks will take the BridgeClimb tour.
The Fish Markets of Sydney rank as the 2nd largest in the world in terms of variety.
Rugby is Sydney's most popular sport.
The Sydney Tower is the tallest building in the city.
The traditional landowners of Sydney are the Eora people. They were the first Indigenous Australians to encounter European explorers and settlers on the east coast of Australia.
The Sydney region was first discovered by Captain James Cook in 1770 during his first voyage into the Pacific region.
Best tourism sites include:Sydney Harbor:One of the world's most beautiful harbors offersmotor-boating, scuba diving, sailing, fishing, secluded beaches, quiet coves, and soaring headlands. Bondi to Coogee Beach Coastal Walk:This cliff-top coastal walk stretches for six kilometers in Sydney's eastern suburbs. The walk features stunning views, beaches, parks, cliffs, bays, and rock pools.The Rocks:This district with narrow cobble-stoned lanes and old homes now houses galleries, restaurants, boutiques, and souvenir shops. It used to be the residential quarters of Sydney's convicts and an area known for congregations of inebriated sailors and whalers, cutthroat gangs, prostitutes, and rat plagues. Taronga Zoo: A wonderful place for visitors to experience Australia's distinct wildlife and see the koalas up close. The Manly Ferry is an easy and inexpensive way to get to Manly and take a tour of Sydney Harbour — tickets cost about $10. The Art Gallery of New South Wales is one of Australia's leading museums of art and a Sydney institution, with five levels presenting a diverse range of art.