Cities: Dar es Salaam, Singita Grumeti Reserves
The excitement started to build as I boarded my charter flight from Dar es Salaam in Tanzania to the Grumeti region of the Serengeti and the Singita Reserves there. The three new properties have been on my "must-see" list since they opened just over two years ago.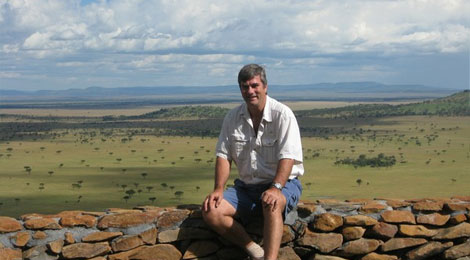 Landing at Sasakwa Airstrip, I met my guide Ryan (a South African with over 14 years of guiding experience) who drove me to Faru Faru Lodge, boasting incredible views over the Grumeti River. Set on a rocky slope bordering the Serengeti, Ryan explained that the migration of more than a million wildebeest and zebra traverse right past where I was sitting – I was a few weeks too early for that…perhaps next year.
The suites were Singita perfection – everything you'd imagine an African bush camp to be including postcard windows that open wide and unveil unobstructed views of the bush and an outdoor shower; perfect for freshening up in the wilderness. The outside deck invited me to sit and enjoy a drink whilst absorbing the African bush smells I had missed so much.
Afternoon tea was served before heading out on my first game drive in the Serengeti. Ryan and I left the camp and headed for adventure! The area is home to large herds of a variety of animals, and I wasn't disappointed. Right out of the camp we spotted large groups of grazing impala and zebra, then 16 giraffe (they call that a Journey of Giraffe) gracefully strolled by. In search of the "cats", we headed on. Passing wildebeest, ostrich, and gazelle (all in large gatherings), we soon broke out our ponchos as the skies opened up with a very strong storm. Usually during these rainstorms, the animals stand still and the cats revel in this, as they use the storm to conceal their sound as they approach their prey.
We found a small pride of seven lions hunting for dinner, and just observing them in the wild is so surreal – and highly entertaining; two of the younger cubs were in a tree when their brother came along and pulled them both down by their tails!
The rain stopped in time for our sundowners – a magical sky painted with indescribable colors and a seemingly endless horizon; I was, without doubt, in Africa.
Next, we traveled to Sabora Tented Camp, located right in the heart of the Serengeti plains. The romantic, rustic-chic tents oozed a classic vintage elegance and featured outdoor showers and decks with plush day beds to laze away the hours watching game roam across the plains. This camp evoked a mood and setting I imagined earlier hunters and explorers to have experienced.
More incredible game drives – right as we begin there are herds of plains game. Ryan told me that during migration the animals come right up next to the tents at night and it is not uncommon to hear the triumphs and perils that take place on the plains under the night sky.
My final eco-safari experience was at Sasakwa Lodge – this property is set high on a hill and was built in the style of an Edwardian manor house with high ceilings, stately furnishings and deep verandahs. The views are incredibly dramatic with the seemingly endless Grumeti Plains and undulating landscape further on in the distance. The luxurious Cottages feature a private infinity-edge pool overlooking the plains, four-poster beds and African influences to complement the surrounds.
Dinner at Singita is truly special and just as much a part of the experience of being on an exquisite African safari. Singita's ability to recruit top chefs, even in such remote areas of Africa, speaks volumes about their reputation for excellence.
My time in Tanzania offered an unparalleled safari experience loaded with magnificent wildlife encounters, exceptional accommodations, and outstanding service from the team at Singita. I would highly recommend Tanzania as an ideal destination in which to explore the wild, untouched reaches of East Africa. I hope to return in the future and share the beauty of this place with my family…maybe next year for the epic migration? We'll see.