Indian fabrics are a feast for the senses. The vegetable dye hues form an unmatched combination of style and texture that I find magnetic. With this in mind, I set out to the center of Indian handloom weaving, Maheshwar. There, I learned that these fabrics are not only beautiful but also cultural touchstones.
Indore Today, Indian Fabrics Tomorrow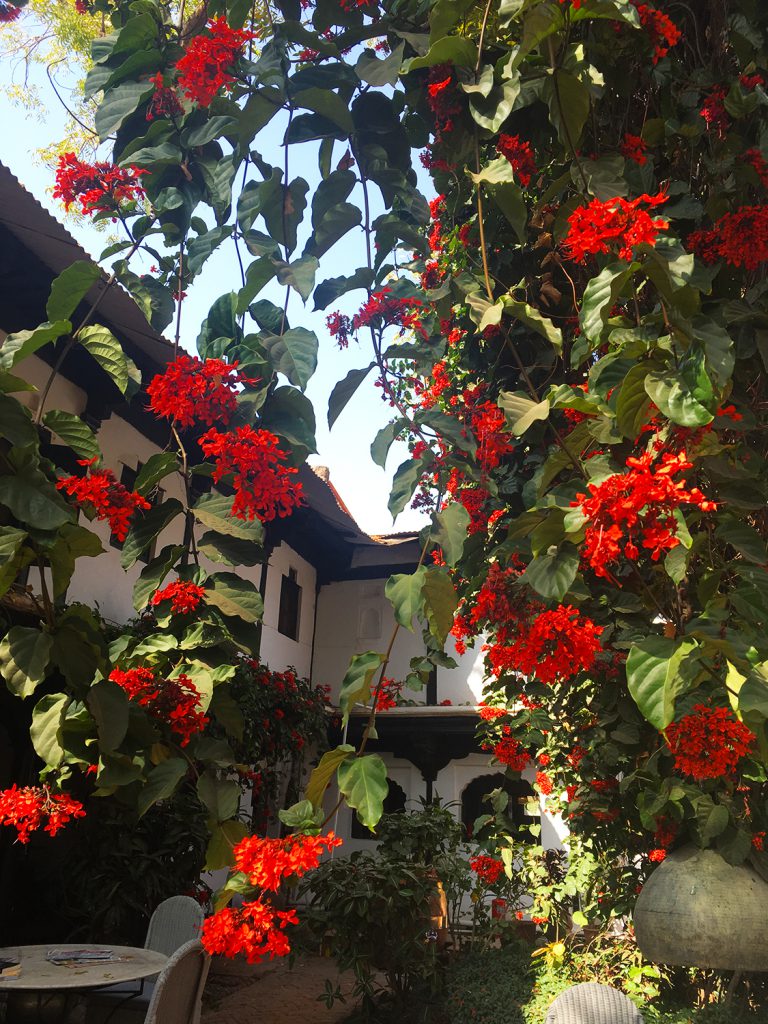 Indore netted the countrywide award for the "Cleanest City" for three consecutive years and its reputation is well-earned. I spent the night at the beautiful Radisson Blue hotel before my journey to Maheshwar the next day. In the afternoon, I visited the Lal Baag Palace which belongs to the Holkar royal family. Built in the 1920s, the home is elegant, complete with lavish interior and beautiful gardens. A statue of Queen Victoria sits in the gardens, a nod to Indian history. Afterward, I toured the night market of Sarafa Bazaar. The Bazaar is a haven for adventurous foodies like myself and I sampled the local delicacies of poha, jalebi, dahi vada and malpuas. Sarafa served as a fitting appetizer for the journey to Maheshwar, the capital of Indian fabrics, the next day.
A Stop in Mandu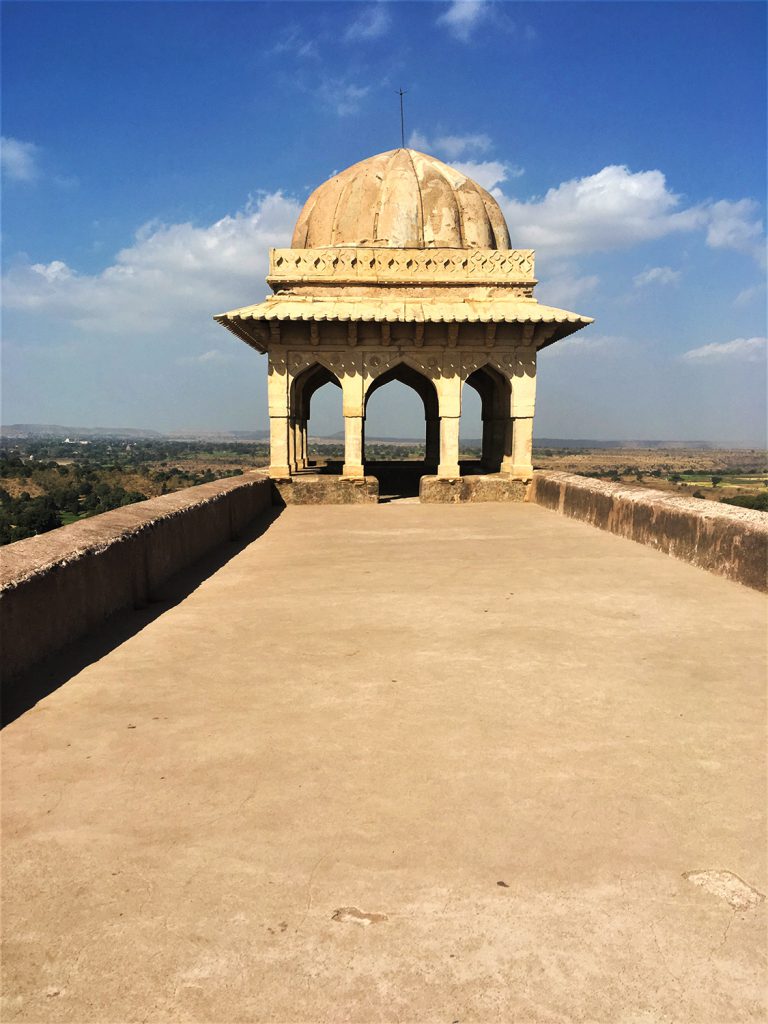 After a delicious buffet breakfast at Radisson Blue, I departed to Mandu where I met my guide, Pervez. Together we visited Jahaz Mahal, the Ship Palace. Vast and well-planned, Jahaz Mahal is a sight to behold, sitting like a magnificient ship between two lakes. Additionaly, I also saw my favorite sight in all of Mandu, the Roopmati pavilion. The pavilion provides spectacular views that overlook the Narmada valley and is in close proximity to Baz Bahadur's Palace and Rewa Kund. Built in the 16th century, both sites feature big courtyards, high terraces, and a reservoir that supplies water to Roopmati's Pavilion. Before hitting the road, we ate lunch at a local restaurant and reflected on Mandu and its gems.
Maheshwar, Capital of Indian Fabrics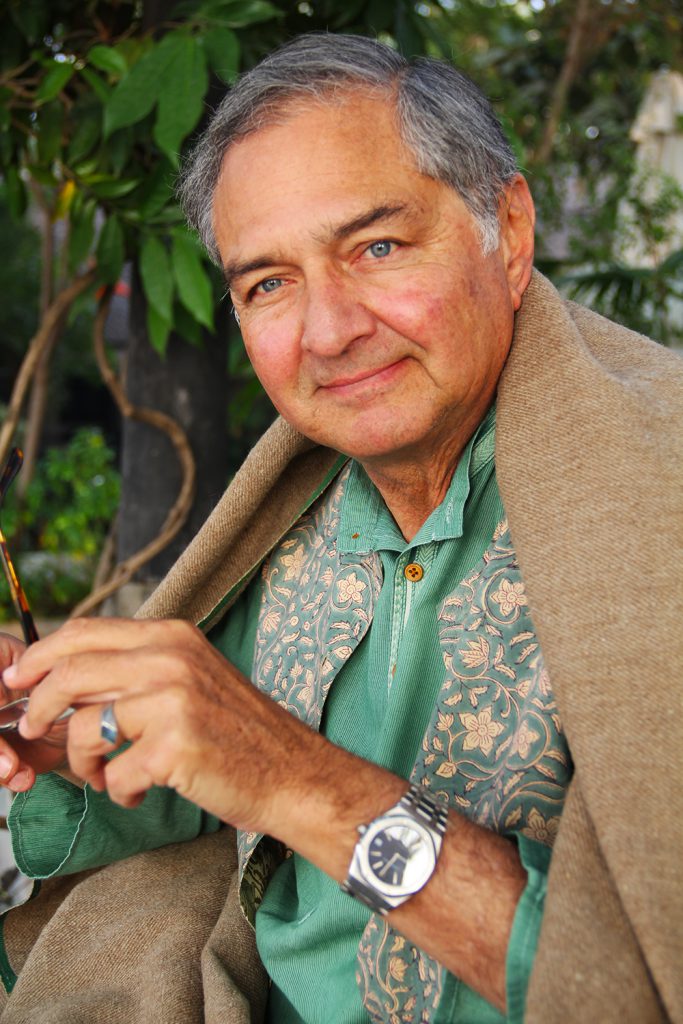 The striking Ahilya Fort greeted us when we made our way into Maheshwar. It was around 5pm and the Fort stood engulfed in evening light;  an unforgettable sight. Our rousing introduction continued when we were warmly welcomed to Fort by our hosts, the Holkars. Our hosts greeted us with garlands and we were given a tour of the grounds before settling into our rooms. Afterward, we joined Prince Richard Holkar and some other guests for a drink and watched a spectacular sunset over the river. The Ahilya Fort is 250 years and I can confidently say that it provides an experience like no other. Prince Richard is so warm and inviting, always sitting and chatting with guests. He made us feel like we belonged there which is the highest compliment that I can pay to any host.
Indian Fabric Market By Day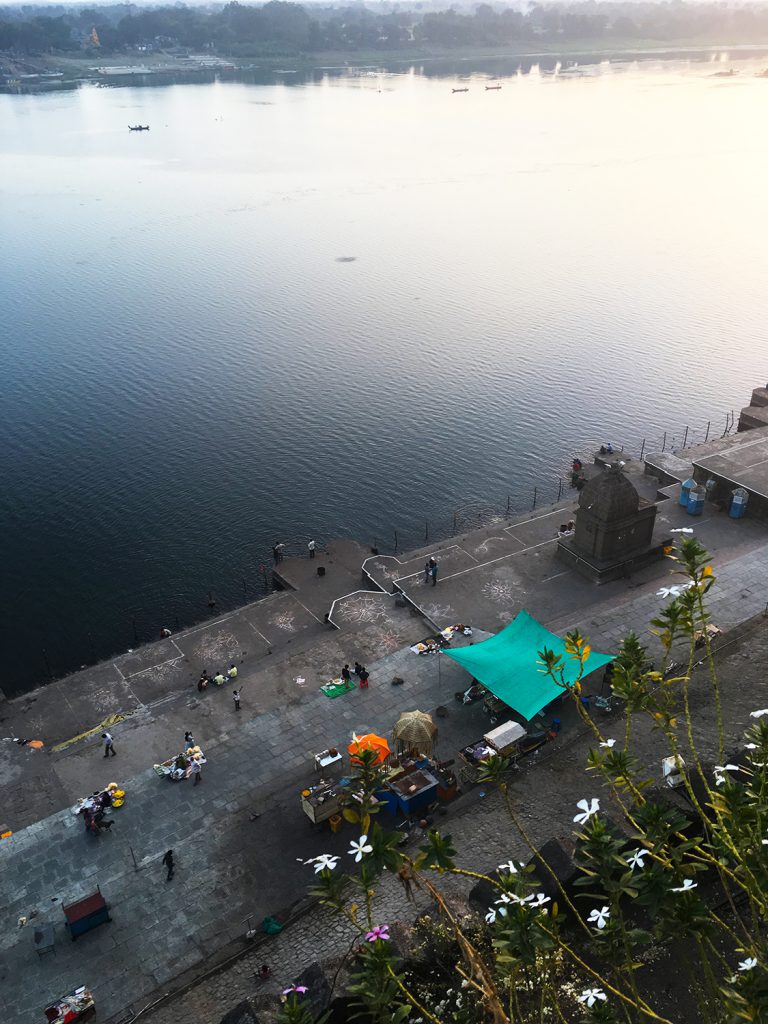 After breakfast on the terrace, we made our way into the city to watch local weavers create beautiful fabrics. Visits at the Rehwa Society and then the outlets at Women Weave at Gudi Mudi were vivid windows into the weaving of Indian fabrics. The weavers use beautiful silks and cottons and I bought a Maheshwari sari for myself. I wore it as we walked the small lanes of Maheshwar with its cloth handlooms, art workshops and hotels. The locals were so friendly and greeted us with warm smiles. After lunch, we took a boat ride on the Narmada river to enjoy the sunset with hot tea and fresh biscuits. Dinner was an Indian thali set up at the courtyard with flowing red flowers and beautiful lit clay oil Indian lamps called diyas. It was the perfect way to end the trip.
I traveled back home attired in my beautiful Maheshwar fabrics and saris. They serve as reminders of my time in India; a fulfilling and wondrous time.