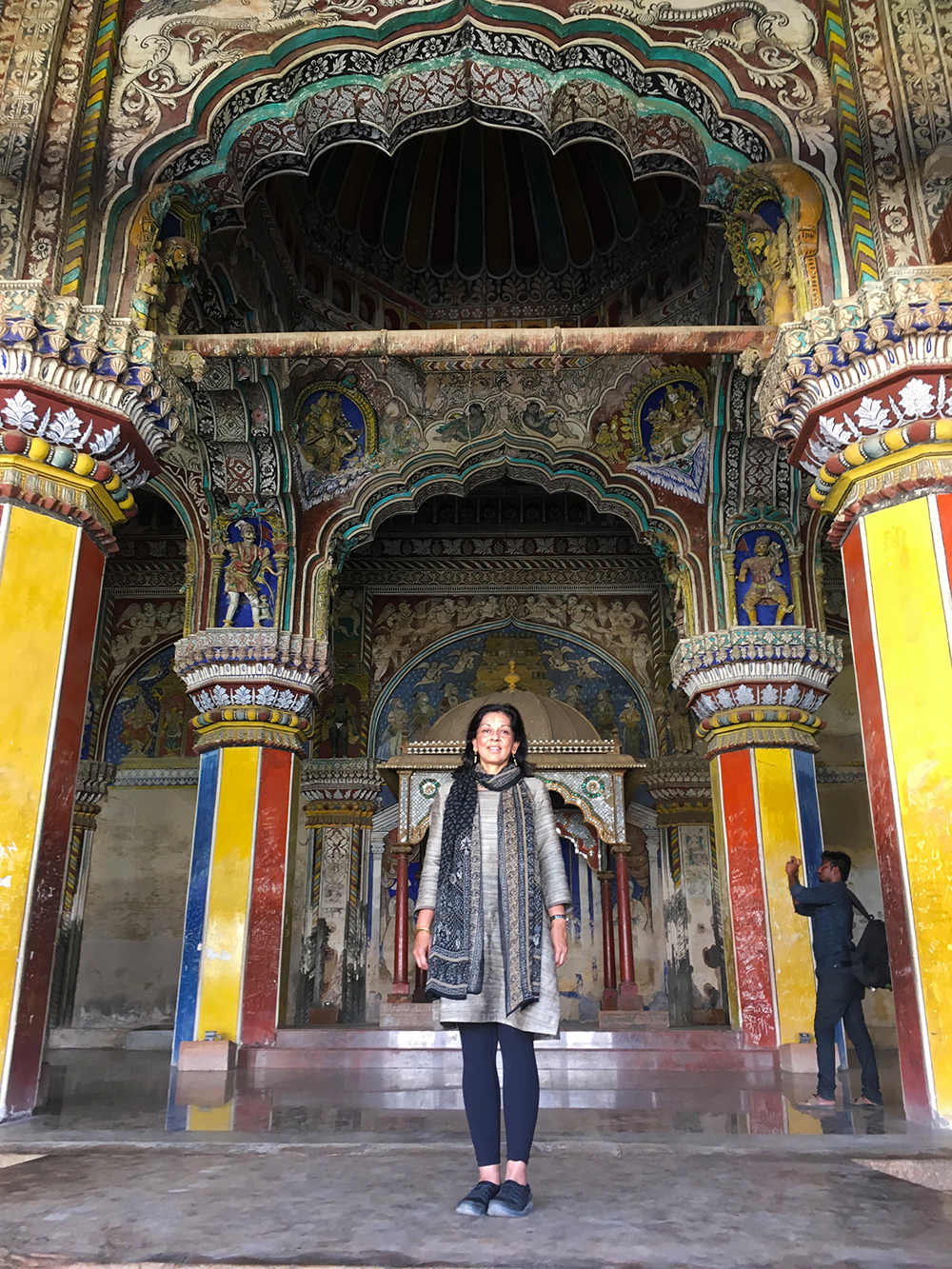 Day 1
I flew from Bangalore to Madurai before embarking on a two and a half hour drive to Chettinad where I stayed at the Visalam Hotel.
In February, when the weather is pleasant in South India, I traveled to Chettinad and Tamil Nadu to explore the Hindu temples of Madurai and Thanjavur. The exquisite Chettiar cuisine was another reason for my visit! I flew from Bangalore to Madurai – a short non-stop flight on Jet Air. Unfortunately, the airline didn't transport my bag to Madurai so I was forced to go shopping. Equipped with local, colorful clothes, I was excited! After an easy, two-hour drive from Mudurai to Chettinad, I arrived at Visalam Hotel. It is a grand, 75 year-old house that has converted to luxurious simplicity. The rooms are very large and one could feel the heritage, art and architecture of olden times.
Day 2
Today, I explored Chettinad on a bullock cart.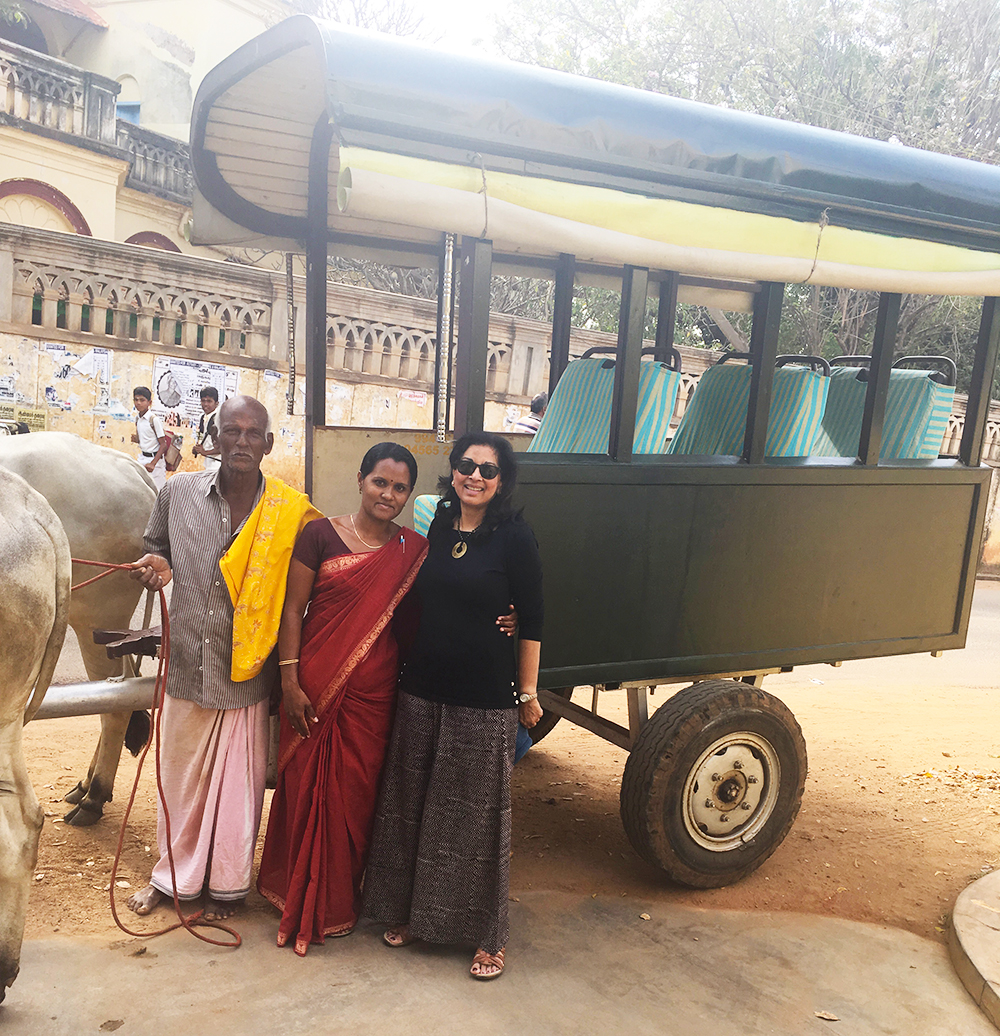 After a delicious steaming local South Indian filter coffee, we walked around the village and admired the abandoned mansions that lay still with its history of the past. Later on, I took a bullock cart ride and stopped by some local structures. Its architecture of open court yards, tall steel pillars and beautiful tile work was impressive. It seemed that time has stopped here and I was living in the past. The Chettiars – a caste of traders and bankers – built these mansions beginning in mid-19th century and ending just after India's independence. Most of these homes are looked after by caretakers now – the Chettiars long gone from them. This place is so unlike any other part of India. The region is also full of beautiful boutique hotels, local tours and cooking classes. I was lucky enough to also visit the cotton weavers, the Athangudi Tile Factory and a Shiva temple.
Late Morning, I visited Chettinad's capital of Karaikuddi. I enjoyed a lunch with a 75 year-old doyen of Chettinad culture and cuisine at Bangala Mansion. Her mansion was full of guests from all over the world enjoying the cuisine!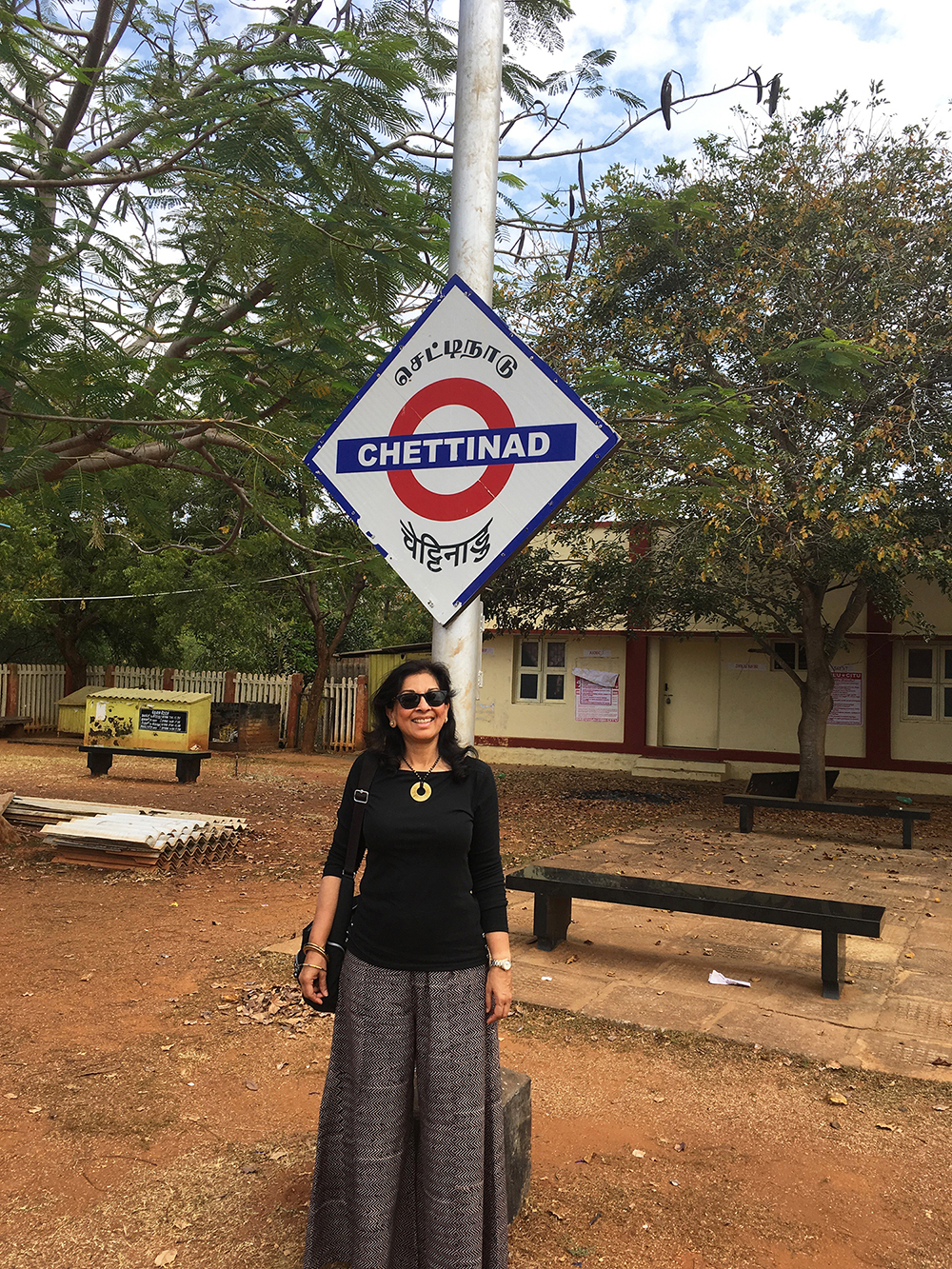 I drove to Thanjavur and enjoyed a culinary session and cultural performance at Hotel Svatma.
From Chettinad to Thanjavur – the drive was about three hours. Welcomed by tall trees and the beautiful fragrance of jasmine, I arrived at Hotel Svatma. The hotel has a spiritual feel with an indulgence of luxury. In the afternoon, I took part in a culinary session with a local chef. I learned to make the South Indian snack of paniyarams and a traditional South Indian sweet sheera. In the evening, I enjoyed an amazing dance performance of Bharat Natyam. The young dancer had traveled six hours from Chennai to perform! That night, my lost bag (completely intact!) arrived at the hotel. I was more than delighted!
Day 3
Today, I visited the 11th century Brihadeeswarar Temple and a tour of the Thanjavur streets.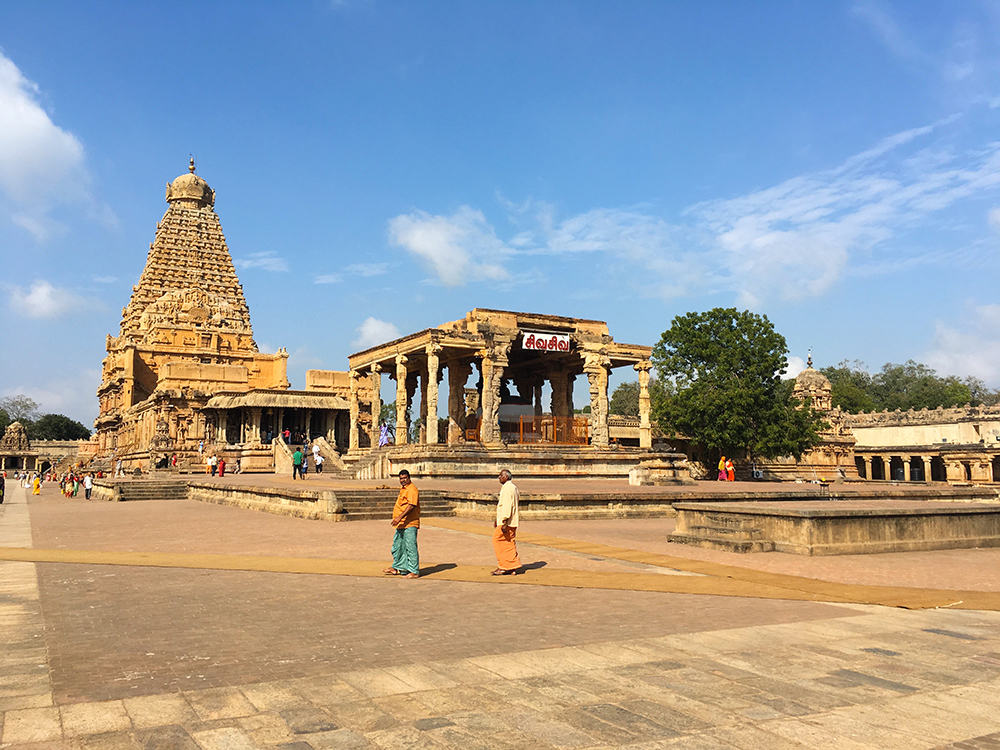 The morning began quietly with the local, in-house priest chanting the Vedas. My guide for the day took me to the 11th century Brihadeeswarar Temple – a UNESCO World Heritage monument. The temple was built by the Chola Empire. Of its sculptures, the most distinct ones are those of Shiva's 108 dancing postures. Following this, I visited the bronze-casting and bronze gallery. Afterwards, we walked the Thanjavur's streets to explore its cultural heritage. I met the Tanjore painting artist and explored Bommai Kolu – the wooden and clay dolls. I even bought a clay doll as a souvenir since they are locally crafted.
Day 4
I explored the 16th century Nayakar Palace and visited the famous Meenakshi Temple.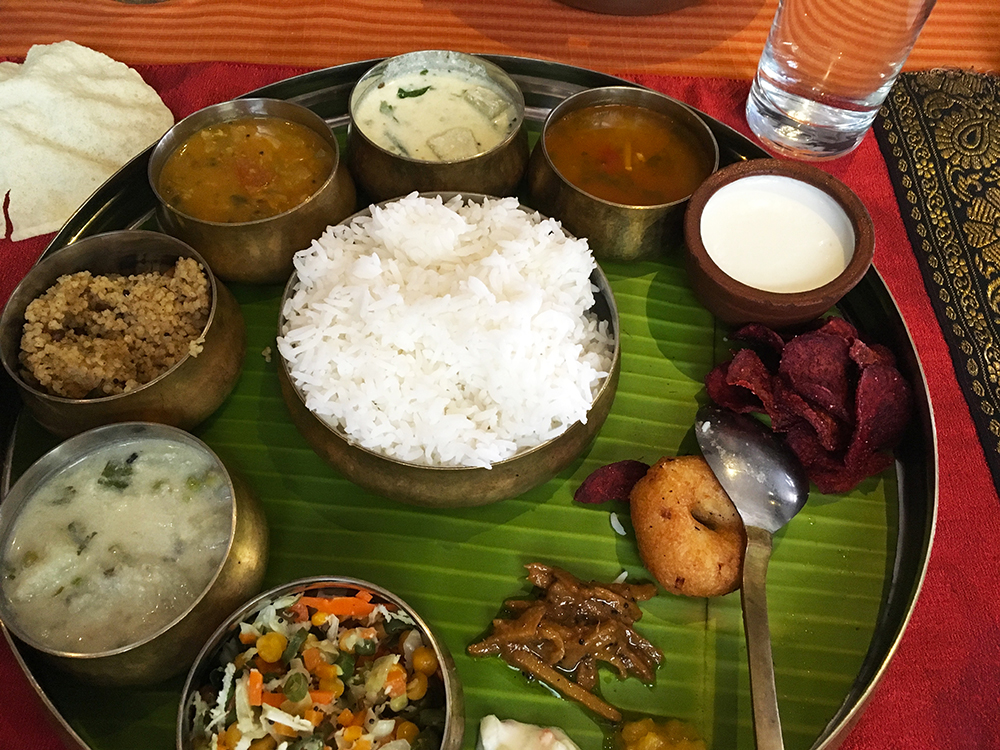 The breakfast at Svatma was a wonderful spread of East and West cuisines. Omelets for the western palates and fresh, thin rice and lentil pancakes (called dosa) for the ones who want to try the local fare. An easy drive on a well-paved road was a comfortable way to reach Madurai. After checking into the hotel, I went to explore the palace and then the famous Meenakshi Temple. Many people were there for prayers and blessings. The architecture of the temple is stunning.
Day 5
On my last day, I participated in an interactive walking tour for an authentic experience of the local lifestyle in Madurai.
I loved the early morning tour of Madurai. We went to small streets where our guide, Karthik, took us to off-the-beaten-path back streets and fruit and vegetable markets. The city was waking up to the hustle and bustle of the local Tamil morning traditions. My favorite stop was the flower market – the scent of roses and jasmine filled the air. After some leisure time at the hotel, I caught my flight to Bangalore.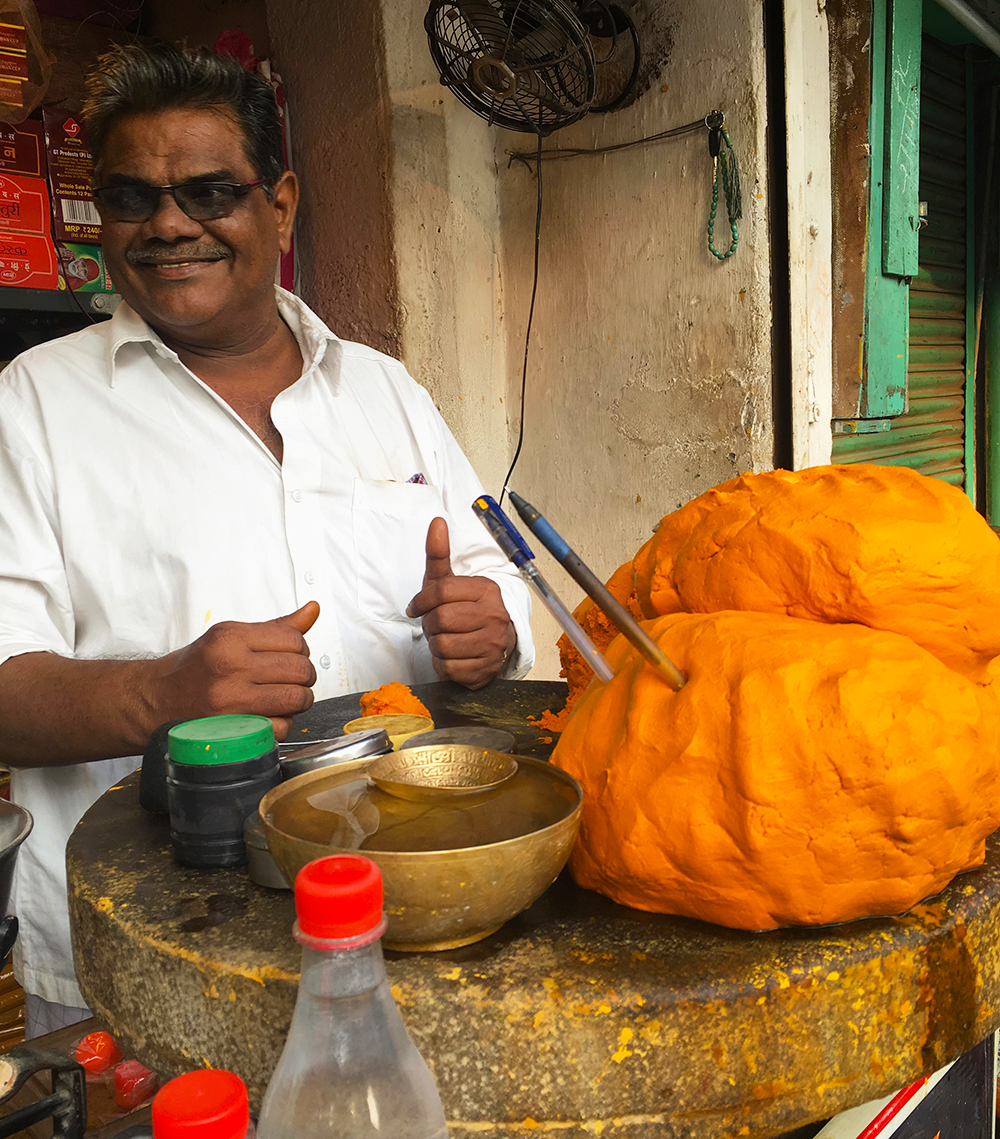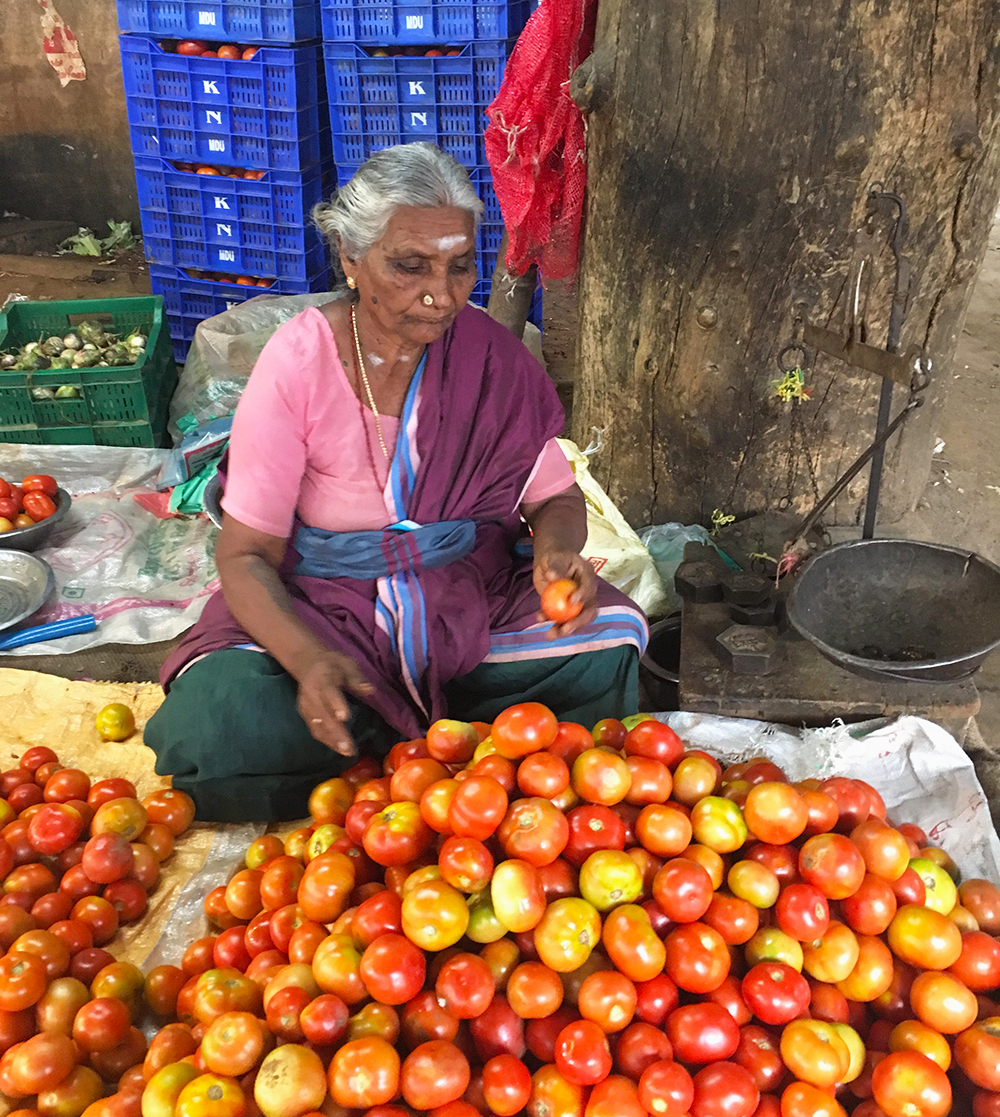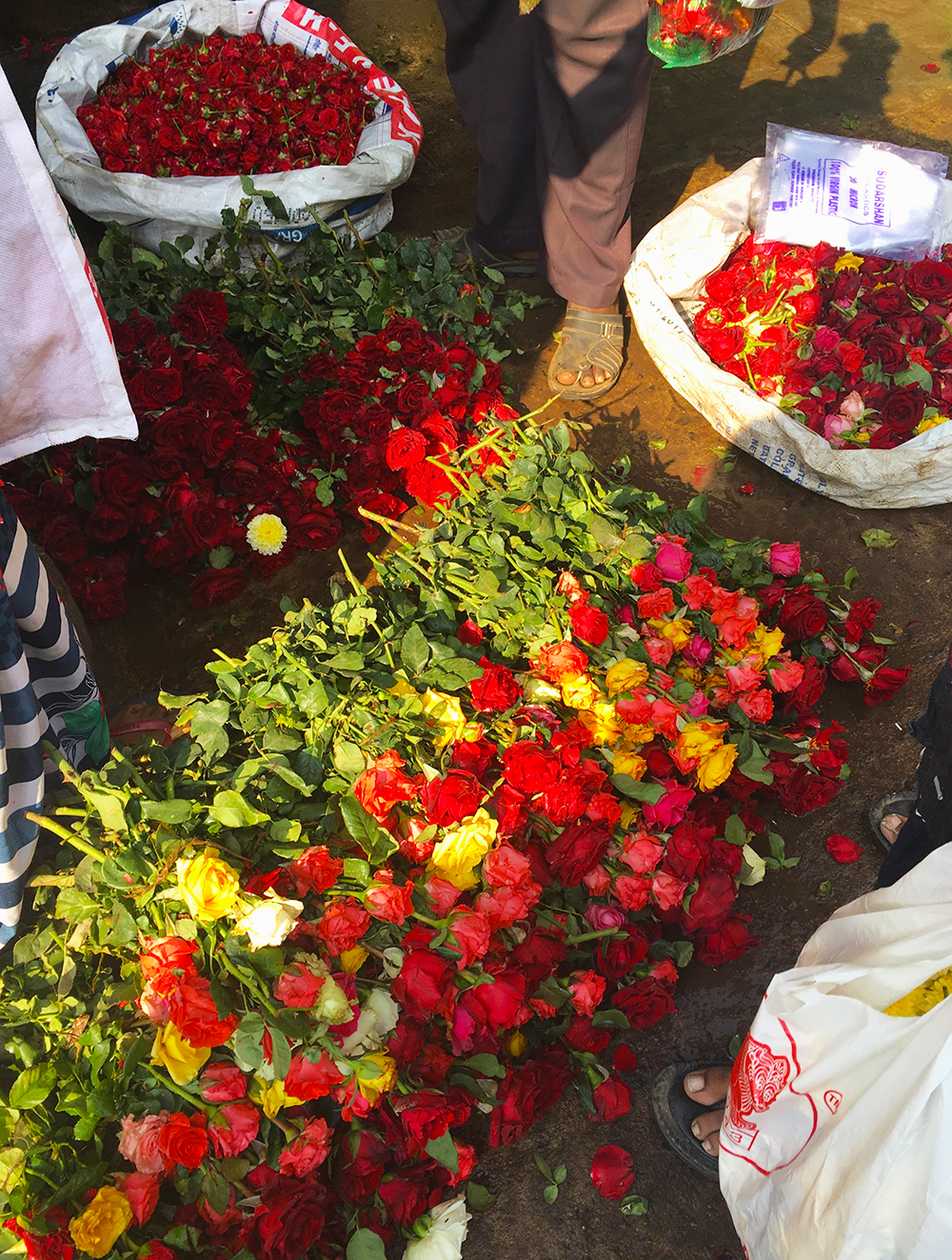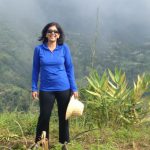 I was born in Bombay (now called Mumbai), and have lived in the USA for more than 30 years. I have a passion for travel, for exploring, learning new cultures and being in new places. I love India and like to introduce all our clients to the colors, sounds, scents, traditions and food found throughout India. I customize all India trips and take our clients off the beaten path, where they can touch the heart and soul of the country. Other than travel, I love to read, cook, hike and spend time with my four boys.