Cities: Okavango Delta, Moremi Game Reserve, Chobe National Park, Malilangwe Wildlife Reserve
It had been a couple of years since I had ventured into the wilds of Botswana, and many more years since stepping into Zimbabwe.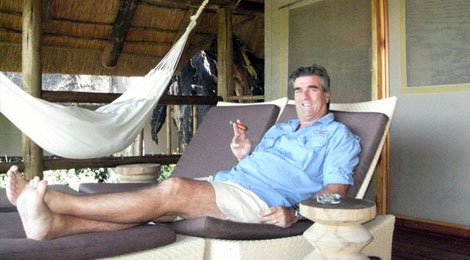 This trip started with a round of golf in Columbus Ohio's famed course, Muirfield Village. Jack Nicklaus's first course and as demanding as any he has designed. Certainly a treat to walk this course with a local from there, Bill Sloan, and I didn't play so bad!
After a great Aussie Travel night with local Premier Aussie Specialist, Terri Conrad, and staying at The Lodge at Muirfield, Lianda, my daughter, who is involved in selling Simplicite – a line of Australian natural and organic face and body crèmes, and I headed for the airport prior to dawn. Lianda flew to Philly and I went on.
Flying to La Guardia then a road connection to JFK, I boarded the nonstop South African Airways flight bound for Johannesburg. Their flat bed business class seats are wonderful and I settled in for the 14 hour journey, having already been up for 7 hours at this stage.
Landing in Johannesburg ahead of schedule, I then followed transit signs to the Air Botswana check in for my flight to Maun, in the heart of Botswana. Only a 2 hour layover followed by the on-time 2 hour flight to Maun. After clearing Customs and Immigration, and seeing the friendly face of the Orient-Express guide holding a sign with my name, I was set for my next adventure!
Stepping back to the tarmac and into our small Cessna 206, a couple from the London area and I flew the short 30 minutes to the Khwai River Lodge landing strip. From there, only 5 minutes to the camp, a welcome drink and finally a bed! It was 1pm local time and I realized it had been 27 hours since I awoke at The Lodge at Muirfield.
Of course I wasn't tired and prepared for the afternoon game drive. Afternoon tea at 3pm and then off in search of animals in the safari vehicles.
Our first drive was fulfilling with good sightings of impala, zebra, kudu, elephant, giraffe, eland, wart hog, wildebeest, hippopotamus, lion and many local birds. At Khwai, I had never seen so much water there and it seems that each year now for at least the last few, there are now record highs of water levels there. During my last visit, there wasn't that much water in front of the camp, but now the river was flowing abundantly. This of course changes the way animals react and appear, and this increase in water flow has resulted in more animals moving close to the camp.
At sundowners (a tradition on each afternoon drive where you stop, alight the vehicle and enjoy a drink as the sun vanishes over the vast plains), our ranger chose a spot close to a water hole where zebra and impala were already drinking. Shortly after, we were joined by a large male elephant, which made my fellow passengers a little nervous. He checked us out and kept on the far side of the drinking hole and minded his own business, with a close eye on us…and us on him!
Back to the lodge and the comfort of my air-conditioned tent – a great feature of the Orient-Express Safari camps. The addition of outdoor showers to some of the tents at Khwai makes for a complete realization of experiencing luxurious comfort in the African wilderness.
Drinks by the boma and then dinner in camp was as a real treat and great end to this jam-packed first day.
The camps and lodges are changing the ways you can view animals with mixing the morning and afternoon game drives and including many walking safaris now. Next morning we headed out and did quite a lot of walking and managed to spot water buck along with many of the animals from the night before. After enjoying brunch followed by a great massage at the spa, I headed for the airport and took the short hop to Savute Elephant Camp.
Much to my surprise, Savute now lies on the river bed of the Savute River. I had been there numerous times and always viewed the animals from the tents on the banks of this dried up river. With some recent tectonic plate changes in the area, the Savute River was now flowing for the first time in 27 years!
My tent at each Orient-Express Camp was very similar in layout – large verandahs furnished with deck chairs and a hammock, and inside are large bathrooms behind the sleeping area.
I arrived at the camp in time for brunch and met some of the other guests. Spending an hour or two on the deck in front of my tent I watched as elephant (Savute has the largest concentration of elephants in Africa) drank from the river, herds of plains game strolled by, along with a lone giraffe. Baboons and very vocal monkeys scattered past in front of me. Off in the distance the familiar sound of wild dog was answered by the authoritative roar of lion.
The game drive took us to various areas of the river banks until we came across a small herd of 35 elephants playing in the river and on the banks. They would lie down on the sloping bank and roll in sand then wash off in the river. Our guide informed us that this was quite unusual as elephants typically don't lay down, as it difficult for them to stand again, but thanks to the angled river bank, they were clearly enjoying themselves.
Zebra which had come down from the migration were there in full force. I am sure I saw over 1,200 of them on this drive and it will be interesting to see if they continue to stay in the area now that there is an abundance of water.
The famed Savute Pride, which consisted of over 35 lion, had split up since my last visit and now there are three smaller prides. Their fame came from the fact that they were able to hunt and take down an elephant (which was unique and only known to have occurred at Savute). We found one of the prides, two males, two females and three cubs. I have never become tired of watching lion and we looked on as the cubs suckled on their mother basking in the afternoon sun.
I dined with my fellow game driver from Scottsdale, Arizona and as always discussed the day's viewings and shared experiences from previous safaris.
Another early start this morning as our mission was to seek out my favorite cat – the leopard. Wasn't to be today, and after many other sightings of various animals in the Savute, we headed back to camp for lunch. Dining throughout my Botswana visit was superb, with great chefs at each camp preparing great meals with local flair.
Next stop was a short hop to Eagle Island Camp, in the middle of the Okavango Delta. This is a water camp, and also had record levels of water there. Sitting on the deck, I could hear the water lap against the stilts of the elevated tent and I enjoy the amazing views of water lilies stretching forever.
There are no vehicle game drives here, everything is by water. The first afternoon we headed out on "The Barge" which is a small flat bottom boat with seats on either side. Here you slowly cruise the small channels between the reeds and grasses in search of hippo. A lone male elephant was enjoying a drink as we slowly cruised by (about 100 feet away) and in the distance there was the familiar sound of the hippo. We stopped to watch him surface and plunge down for a while as we enjoyed a refreshing drink.
The birdlife here is amazing as you can imagine.
Dinner by the camp fire was enjoyable as I listened to tales from the Camp Manager's past 12 years in the bush.
The mekoro (dug out canoe) is the way the local tribes used to get around and this morning it was our mode of transport for game viewing activities. We paddled to one of the many small islands close by for our walking safari. On the island, we came across zebra, impala, baboon and kudu, quite close. Watching the animals by foot is so different to viewing them from a Land Rover. Quite safe with an expert ranger, it really enhances the experience that you have while in Southern Africa. Learning about how termites and elephants are an integral part of this bush landscape was fascinating to me. Every living creature plays an integral role in the circle of life out here. The animals only take what is needed to survive; perhaps we humans can learn something from that?
Back to camp and my time in the Botswana wilderness had come to an end. I departed for South Africa; Johannesburg in general, The Westcliff hotel specifically. Also part of the Orient-Express family, Andrew Cook, the General Manager, runs this property superbly and it is a delight to stay here. The hotel's location affords commanding views of the area, including the local zoo, and makes for a very enjoyable stay. The nearby local animal park offers a "walk with the lions" experience which is really neat. After seeing them from a distance in Botswana, it was a treat to be able to cuddle the small cubs and walk beside the larger lions.
The Westcliff is also the perfect place to stay prior to a journey aboard either Rovos Rail or The Blue Train.
Swain Tours offers a 'Swain Collection' itinerary that features these incredible Orient-Express properties – check out our Orient-Express Safari package.
This morning I am heading to Buffalo Range Airport in the heart of Zimbabwe. I hadn't been to Zim for over 10 years (except for Victoria Falls), and, despite seemingly ongoing unrest in this country, I felt no concern and felt perfectly safe as we headed off and landed at the small airstrip and cleared customs. Met by our guides from Singita Pamushana, we drove for 45 minutes to the Malalingwe Trust, home of Pamushana.
Singita only recently took over the managing of the tourism side of this expansive area of bushland. With 4 single, one 2 bedroom, one 3 bedroom and one 5 bedroom villas, there can only be 22 guests in camp at any one time!
The camp is set high on the sedimentary cliffs with unbelievable views of the Zimbabwean bush; talk about 'WOW' as you first walk into the main camp area. The villas are HUGE and have everything you could want, from private pools, outdoor and indoor showers to a huge living area and total privacy.
Jason, the camp manager greets us and shows us around before telling us to meet for tea and a game drive. I vividly remember my last visit to Zimbabwe and the incredible sightings I had encountered and was eagerly looking forward to seeing if these would again be great over the next two days.
The herds here are wonderful and we had a real treat while we were having morning tea at a large water hole when herd of 250 buffalo came to the water for their morning drink. This was mind blowing to see this happen, almost as if in slow motion.
Another highlight was following a male and female lion as they mated several times. We saw many different animals on our 3 game drives, along with enchanting 2,000 year old rock art from the local bushman. I was told that another vehicle on game drive saw 5 leopard – I wish I had another day here to find them.
The first night's dinner was very special, with a setting under a huge Baobab tree lit with kerosene lanterns. A picture postcard as we drove up and then dined elegantly under the Southern Cross!
At Pamushana, you won't dine at the same place more than once as they have so many different areas they (or you) can choose from. Whether it be on one of the 6 deck areas, your own villa, the pool area, the dining room, the bar, the library, the bush under the Baobab tree, it is quite amazing. The chef is great, the food wonderful, and the wine selection highly impressive considering the remoteness of the camp. Absolutely everything is included here…
On my last night, we headed to the dam below and boarded the small pontoon boat for a cruise. Slowly we inched around the lake and spotted over 45 hippos! All within 30 to 40 feet of us, all with their mouths wide open for us (they appear to be showing off really).
This was such a relaxing experience for us all and truly memorable! Two of the other guests opted for fishing and reeled in 10 good size bream and tiger fish, of which some we ate that night on the lower deck, again adorned by lanterns.
Waking in the morning today, my last day, I looked outside to witness a small baboon taking a morning drink from my private pool! Always something amazing to see, I just don't want to leave!
As I enjoyed an outdoor shower, thoughts of reality starting to creep in but were quickly replaced with the incredible experiences I'd been so fortunate to have on this wonderful African adventure.
[nggallery id=9]