Cities: Queenstown
We say farewell to Philip and the team at Blanket Bay and head towards Queenstown. It is only a 45 minute drive and along the way we stop at my good friend Tania's lodge – Azur set in the hills of Queenstown, with incredible views of The Remarkables. The Lodge is only a 5 minute drive to the town center yet you have the views of the lake and mountains that are amazing; with 9 suites this is the perfect lodge for couples who want to be away from the town yet close enough to have access to all Queenstown has to offer.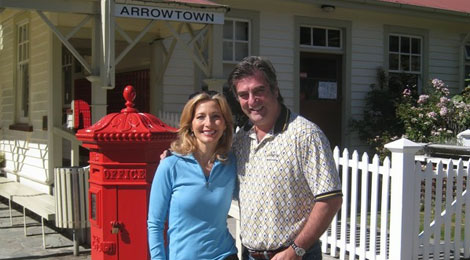 We continue to Queenstown and arrive at The Spire, which is in the center of town and right behind a small church with a large spire, hence the name! We park the car on the street, head down the small lane to the entrance, and Briony takes our keys, hands them off and shows us to our suite. While she is explaining our room features, two other staff members wheel our bags in, and tell us the car is all safely parked – what a seamless transition it was.
The rooms are large, with ultra modern features, large fireplace and flat screen and very cool bathroom, but the secret of why The Spire is so good, is Mel (the Hotel Manager) and her team. Nothing is any trouble at all and whilst a small team, they all just do what is necessary. They really make you feel like you are at home.
We unpack and head out to a small organic restaurant called Halo, which Linda had spotted on the way to The Spire which was pretty much next door. Great fresh food again……we then make the decision to do the Canyon Swing tomorrow, so we head off to the Canyon Swing headquarters, watch some videos of other "lunatic" people jumping and sign up for a 3pm time the next day.
We continue to wander the streets of Queenstown – lots of shops for good souvenirs here. Found a great store, OC Jewelry which had some of the best Opals (despite originating from Australia, Beau had some beauties and actually appeared to be less expensive than in Oz. His brother and partner is New Zealand's best hard stone carver and he had some wonderful pieces in there, of course all for sale.
Definitely worth a visit while you are here if you want that very special keepsake from your travels.
Bella Cuccina is the choice for dinner tonight – and there are so many great restaurants here in town. A small Italian restaurant, this place was a delight.
Previously I had eaten at The Cow (famous for pizza), Botswana Butchery, Wai (for seafood) and The Tatler. Really the list goes on and on of great places to eat. For the very hungry, stop by at Fergberger – you won't believe how big the burgers are there!
In Queenstown, we have a great friend, Jeremy who has a local business Limousine South. Jeremy looks after all our clients as they visit Queenstown with private touring that show you the sights. On his Queenstown Exclusively Experience, he takes us to Arrowtown a small quaint village that was the mecca for the gold mining industry here many years ago. With the same old style buildings restored, it is a step back in time. Again the emphasis on good fresh food is here and every other store is some kind of café or food shop. Huge choice and well worth visiting the town while in Queenstown.
We then continued to Amisfield Winery (between Arrowtown and Queenstown) for some wine tasting and lunch. A beautiful setting amongst the vines and mountains, as well the food was great.
Back to Queenstown, we have The Spire take care of the car and we head off for our date with destiny – the Canyon Swing.
We meet our host, Pinky (aka Hamish) and he sets our minds at ease as we drive out to the canyon with some videos of all the different ways we could leave the platform. From a simple jump, to sitting in a chair and doing what we did when we are at school and leaning back, back dive with flips, upside down or leave it to the guides and they push! Really there are over 60 ways that it can be done… We both can't believe that we along with the others all pay $199 each to be scared to death! And then they tell us it is only another $20 to do it again!
Our group consisted of a couple from Denmark, a single guy from Sweden and another couple from London (of which only one was jumping). They ask who first, I put up the hand and walk forward. We all have a harness on and have been triple checked to ensure they are all OK. I then make the decision to do "The Chair". I sit down in a typical plastic garden chair which has a seat belt! All locked in and connected to the bungy cord (Linda double checked that for me) and they push me slowly back over the platform for a photo. Here I am sitting in a chair, on two legs, over a canyon 360 feet below…!
A couple of false starts (they keep pushing you back and then pulling you back in, just to intensify the experience) and then just when you think they'll let you go, they pull you back in again. I start to push back on the chair (just like I tell my kids not to do) and WOW off I go! Falling backwards I can't see anything but certainly know where I am going. Over backwards a few times, I then regain my composure and realize t he cord has held and start to swing across the canyon about 100 feet from the floor. The swing distance is almost 600 feet, so it is quite peaceful now going back and forth, and you can take in the view (just like when we skydived in Taupo). When I stop swinging, they winch me back up and it is all over and safe again. What a rush though! Check out my Canyon Swing experience
Linda was third to go, and as always takes a more dramatic approach and decided to do a back flip from the platform. Watching as they held her out over the platform for the photo, my last 25 years with her flashed by!
She jumps herself (which is very hard to do as it goes against all your natural survival instincts) and with a scream she was down the bottom of the canyon. Back on deck with a huge smile, she blurts, let's do that again!
Me not being as adventurous, opt not for the second jump, but nothing stopping Linda….She decides this time to be hung upside down, with her legs wrapped around the rope and head pointing down hanging from the platform. Quite a sight and then they pull a clip and she is gone once more!
They winch her back to safety and we are now complete…
This really is an experience for all to do and share, they tell me the oldest person so far has been 81 years old, so we can all do it…
We head back to town, another video showing the mean tricks that they have done to others while jumping and we feel safe again.
At the Spire there is a cool bar named Inspire which opens at 5pm for a glass of wine (or whatever) and it is run by Viggi, a lovely South African lady. I settle down and meet up with Jeremy and Belinda and Linda. Then Philip (from Blanket Bay) and his wife Karen show up followed by Mel (the GM at The Spire) and her husband Jan, so we now have a party and telling them of all our adventures to date.
[nggallery id=8]