Cities: Franz Josef, Glenorchy
These New Zealand breakfasts are just phenomenal – fresh country eggs, selection of French Toast, Home Made Porridge (Oatmeal), and some unique creations at each lodge, make the start of the day something special.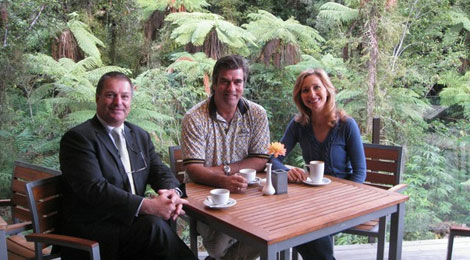 We turn left out of Grasmere and follow the only road to the West Coast and the first major town of Hokitika about an hour and a half away. Made famous for the New Zealand Greenstone (Jade), there are a couple of stores to buy some souvenirs for family and friends. An important thing to remember on your drive through New Zealand are CD's as the radio reception can be limited along the way.
Continuing south to the Glacier Country and the first one, Franz Josef a further 2.5 hours' drive from Hokitika. Here we stop for the night at the new Te Waonui Forest Retreat. Only finished in August 2009, this 100 deluxe room retreat offers great amenities and is certainly the most deluxe place to stay here.
Set amongst the rainforest, you have unique views from every room. Stephen, the GM there greeted us warmly and we set out to explore the town and get ready for our heli-hike with Franz Josef Glacier Guides.
Here we fly about 10 minutes to almost the top of the glacier and hike the area for about 2 hours before flying back down. Unfortunately weather wasn't on our side today and due to turbulent weather the helicopter couldn't fly us there. We have the option to do the hike from the bottom, but we opted not to as we had done this before, last time we visited. We then had a great salad at the Blue Ice Cafe and headed for the thermal pools, newly created right next door to the Te Waonui.
With options of 3 general large pools and 3 smaller private pools, we were lucky to be given a private pool, for an hour. Ideal for a soak after a heli-hike and something that is a great option to do prior to dinner.
Dinner at The Canopy restaurant (which is included in your room rate) is a 5-course degustation menu of fresh local produce. Even if you are not staying here – maybe at Westwood Lodge, Glenfern Villas, Punga Grove or the Franz Josef Hotel, you can come on over and enjoy fine food with a dramatic rainforest setting.
We were set for an earlier start today, but ended up having a leisurely breakfast and headed south again, bound for Glenorchy and the famed Blanket Bay Lodge. The drive is set for 6 hours and we passed through the small towns of Haast on the coast, at which time we went from rainforest with glaciers behind them, to rugged coastline, the farmlands – all within a couple of hours.
We continue to Wanaka after some of the most stunning scenery as we passed by Lake Wanaka and Lake Hawea before hitting the town. We find a quaint organic food cafe, which was a real treat.
Continuing south we pass through Cardrona Ski area and then had that glorious site of Queenstown from above in the distance.
Slowly driving down the windy road, we arrive into Queenstown and head through the town and along the Glenorchy Road a further 40 minutes to sheer luxury, Blanket Bay. Our very good friend and Lodge Manager, Philip Jenkins meets us and shows Linda and I around before arriving at our Lodge Suite aptly named Mt. Earnslaw, as there are terrific views from both inside and outside of this mountain. Philip has been the Lodge Manager since before it opened 11 years ago so really knows this area and the lodge.
Attention to detail is paramount here and having Eric, the Food and Beverage Manager (a 10-year veteran at the lodge) looking after the kitchen and dining areas, makes this a superb place to be and rightfully up there amongst the Super Lodges of New Zealand.
Before dinner, a soak in our hot tub was a must. The amazing views of the Remarkables while sitting in the bubbling water took time away from us. When we arrived for cocktails, we were pleasantly surprised to meet up with Tom and Pauline, the lodge owners and creators of Blanket Bay. Although we have been selling the lodge to our clients since inception, we had never been here when they were. A couple of drinks and we all caught up and went to dine in the dining room. Eric gave us our choices for the 4-course meal and Linda and I enjoyed yet another fine meal in New Zealand with local fresh produce.
We had a big day planned so we opted not to partake in the after dinner drinks.
We woke up to a stunning day, the mountains looked so fresh and clean and awaiting us on the lawn was our dear friend "Choppy" owner of Over The Top Helicopters (hyperlink). Her shiny black Eurocopter 130 whisked us away over the mountains. Our first stop was at Greenstone Station next to a large pond where some of the biggest trout were freely swimming. From there we headed over to Milford Sound (which is actually a fjord)and skimmed across the water seeking out Stirling Falls which uniquely because of winds, fall and then go back up! Off then to Pebbly Beach where we fossicked for the greenstone before heading to the Poseidon Glacier. This, along with the other glaciers is receding at an alarming rate. Choppy has been flying here for over 34 years and has been actively involved in tracking the movements. She tells us that this glacier has lost over 100 feet in depth and many hundreds of yards in length in this time. A quick landing there and short walk and then we had to move on to our next adventure.
We land on the Dart River on what seemed like millions of rounded stones (having been carried initially down by the glacier and rounded over thousands of years) and there was our Dart River Jet Boat safari guide and boat. This tour, the "Milford Ultimate and Dart River Safari" has consistently been one of our clients' most memorable experiences. We recently added a third dimension for those craving more adventure with an additional flight to land at the Shotover River where we board white water rafts for the journey back to Queenstown. We boarded the jet boat and were whisked away with Shayle for the 30 mile journey up the very shallow, and I mean shallow – we could hear the stones hitting the bottom of the boat – river and if it weren't for the jet propulsion system invented in New Zealand, this awesome ride wouldn't be possible.
Near the end of the journey up we stopped and went ashore and walked into this beautiful forest where we learned about these 900 year olds trees, how they grow in moss. It was so interesting and the pictures just don't do this justice.
We head back down the river with several spins that allowed those in the back of the boat to enjoy the cool clean crisp water of the glacier-fed Dart River!
Back to Glenorchy and Blanket Bay's dock and we bid farewell to Shayle, and ventured inside for a warm cup of tea.
[nggallery id=7]