Cities: South Island High Country
A hearty breakfast in the country kitchen at Wharekauhau and then we meet Dougal McKenzie, who is a "kiwi" from the South Island but has been living in the North Island for the past 30 years. Dougal is going to show us the region including some wineries today.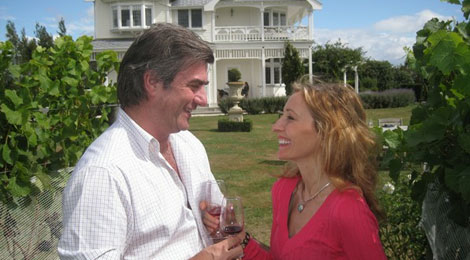 We head out and first drive through the small towns of Featherstone and Greytown. Here we make an important stop at Schoc, a wonderful chocolate shop. With 65 different flavoured chocolate bars ranging from Sea Salt, Sweet Basil, Sweet Chili, Cardamom and Toasted Coconut – a worthy stop when you come down. Onto a small shop that features Pau shells, which are very cool colored shells made into all types of trinkets. Great for family gifts!
Then to Martinborough – home to some of New Zealand's finest Pinot Noir and Sauvignon Blanc vineyards. With its shale-like soil, this is the perfect region to grow these fine grapes. Several of the wineries have small restaurants and serve a delightful lunch, including the totally organic Vynfields (both grapes and food) in a very picturesque setting.
The highlight was meeting the owners of Murdoch James Estate – down in the cellars we learned from Roger about the intricacies of growing the grapes there, with the birds being a huge problem prior to harvest. One thing at SWAIN we can now do is "become a winemaker for a day", where we take you to a winery and you are an employee for a day, you can pick the grapes, squash and start the fermenting process. Learn all aspects about what it is to be a winemaker. Call us to find out more.
On the way back we leave Martinborough (with a couple of cases in tow!) in beautiful sunshine. Within minutes, we are in the middle of a huge storm that had come up from the South Island. High winds and rain made the drive back to Wharekauhau slow yet interesting!
Another fine dinner from Anthony in the library tonight.
An early start as our Helipro Eurucopter lands on the front lawn to fly us back to Wellington and our connecting Air New Zealand flight to Christchurch on the South Island. A short 45 minute flight has us land in the South Island and after collecting our luggage we arrange for our Budget Rental Car and head out.
A Ford Falcon XR is our car for the next 7 days as we traverse the South Island from center, to west coast and down to Queenstown. I had planned ahead and printed out my Google maps for the driving sectors, but also had arranged with Budget for a GPS to be in the car. While there are very few roads here, I always like to know where I am going. We head out of the airport and with one turn we are on the road to Grasmere Lodge (that is how easy it is).
Grasmere Lodge is near Arthurs Pass, about half way between Christchurch and the West Coast. We pass through several small towns such as Springfield and Sheffield (known for their meat pies – which is an Aussie and Kiwi institution).
Just past Springfield we came across the Kura Tawhiti Conservation Park. These are hundreds of huge limestone boulders and rock formations, that are not found anywhere else…how did they get there? We stopped and investigated. The energy at this area is incredible, just to sit there and soak it in, well worth spending an hour here en route to Grasmere.
We actually drove back here the next day to explore in more depth.
Just over an hour's drive we see the signs to Grasmere and turn off the highway.
Tom who is part owner greets us as we arrive and settle into our "cottage" which is a beautiful 2 bedroom house with incredible views of the high country.
I sat looking at these views for hours, you just don't get tired of them!
Once settled, Linda and I, wanting to be active, took one of their nature trails to the summit of a small hill on the 35, 000 acre property for some even more spectacular views. The camera doesn't do this area justice. You have to be here! Back to our house and we opened a bottle of wine we had purchased the day before and sat and enjoyed the views.
At 7 we meet for cocktails prior to dinner…a very civilized way to do things while traveling. Dinner was superb as we expected along with great pairings of wines.
Next day, breakfast then we are off to feed the sheep…yes the sheep. There are 4 sheep here who have been having hand-fed meals for many years and have become quite finicky. They enjoy the breakfast and dinner leftovers of the fresh-made bread rolls, croissants and tarts. It was very cool to have sheep come up to you, rather than run away.
Off to the stables and we mount our horses – Linda was on Aggie and I was on Clyde, huge part Clydesdale horses. We head out with Kerry (a local from Christchurch area) and tour the property. Truly wonderful seeing the property from horseback. We spent an hour and a half before arriving back at the stables and heading to lunch.
This afternoon we headed back to the rocks and then returned for our afternoon viewing of the property with a glass of wine.
At Grasmere we dine with the other guests, which on our first night we were with 8 other Americans, Tom and Jo. Tonight being our Anniversary, Tom had arranged for a special candlelight dinner in the library, the oldest room in the house (dating back to mid 1800's). It is rumored that Sarah Hordon is still there in spirit (she was the first owner of the property). Linda made contact and we learned more about the history of the lodge, which was then and still is a working sheep, dairy and cattle station.
Grasmere Lodge is fully run and owned by local New Zealanders, which makes for an ideal place to visit and to learn more about the country.
End of day 6.
Next, we drive down the rugged West Coast!
[nggallery id=6]