Day 1
After spending a restful night at the Novotel Suvarnabhumi Airport Hotel in Bangkok (the hotel is right at the airport – perfect for those early morning flights), we flew from Bangkok to Paro on Druk Air. Linda and I both felt the service was great and sparked our understanding of the Bhutanese people and how friendly they are. Also – when you travel to Bhutan, make sure you have an assigned seat on the left side of the airplane heading there, and right side coming home – incredible views of the Himalayas! Of course, booking with SWAIN and Amankora, almost guarantees that!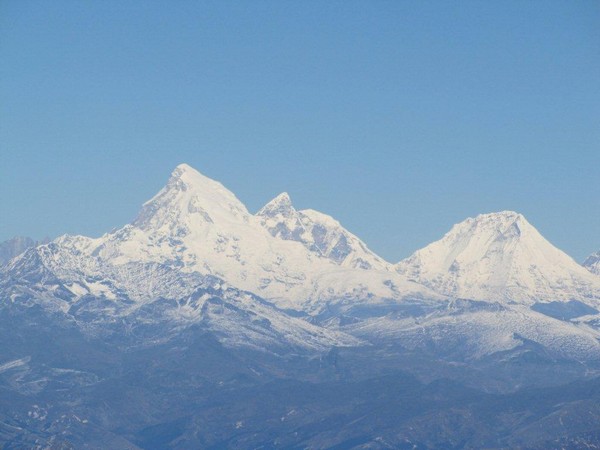 The pilots did an excellent job flying between the valleys on their final approach – it is quite close on both sides (even closer than the approach to Aspen). Even Customs was very friendly, as we met our local guides from Amankora immediately as we left the Customs Hall. They quickly took our luggage and lead us to our car. They told us that they had installed their first traffic light in Bhutan a year or so ago, but it didn't work well so they took it down.
Kinley was our guide and Sonam was our driver – we were with them for the next eight days of our Adventure, and were a true joy to be with. We headed out from Paro Airport to Thimphu, the capital city and onward to our first of four Amankora Lodges. The drive is just over an hour and a half. Upon arrival, our good friend and General Manager, John Reid was waiting to greet us. He and his assistant Choden (who helped me plan this experience) showed us around after we settled in to our open plan suite. The suites are well laid out; the open plan was one of my favorites, and the wood burning fireplace was a delight for us both as the sun went down and the temperatures dropped. Amankora is at an elevation of 7,500 feet and the air is unbelievably clear!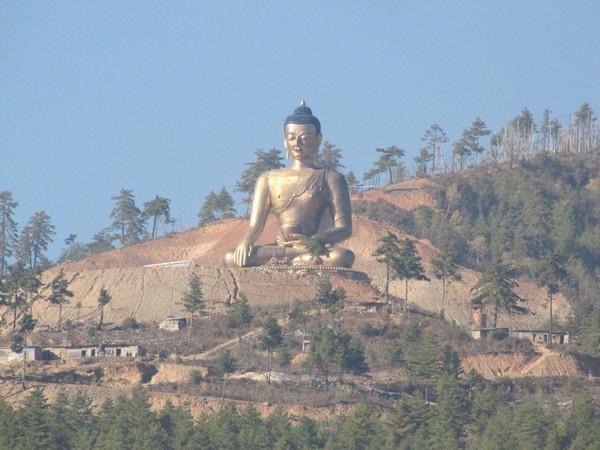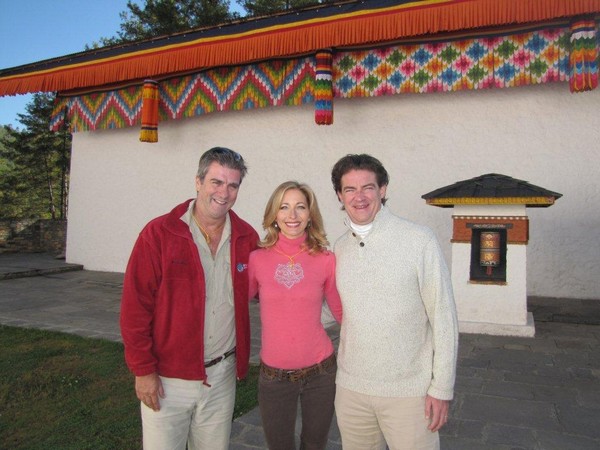 We were very fortunate to have been able to set up an interview for Linda with a Rinpoche (a reincarnated special person) and listening to him talk about Buddhism, his beliefs and life journey were absolutely fascinating. This is one of the many special experiences that can happen and be arranged at Amankora.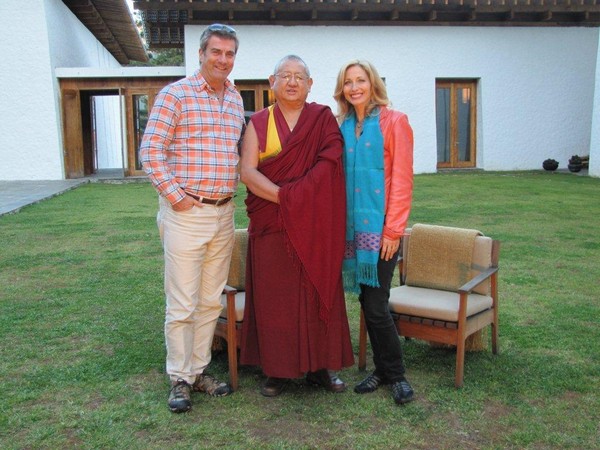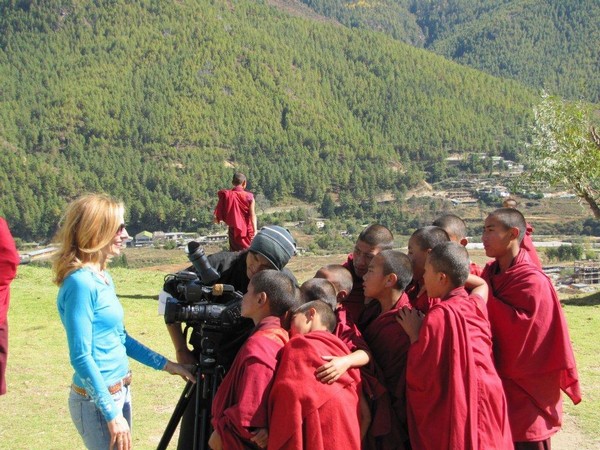 Dinner in the dining room was delicious and filling. We then headed to bed early as it had been a very, very long day. At Amankora, all meals and drinks are included throughout your stay, and for journeys of 8 nights or more, you have your own driver and guide added for free.
Dinner had two styles of food. The first was a Western style with a unique Bhutanese flair. The second was a traditional Thai style, as authentic as you can get! I personally am not a fan of spicy food and ended up requesting to keep my dishes a bit more mild, which was done with ease. Linda on the other hand really enjoys spicy food, so she was in heaven.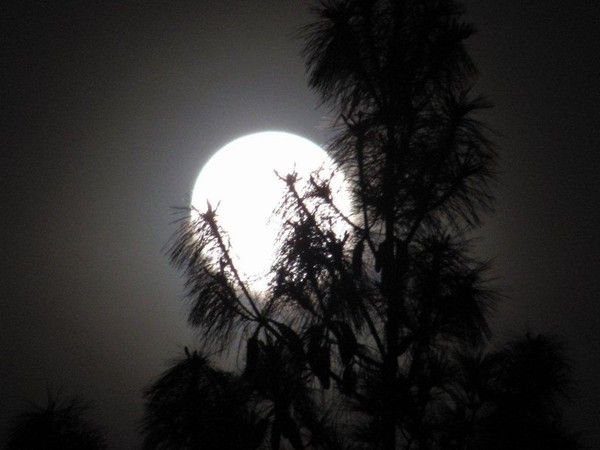 Day 2
After breakfast, we headed to town (population of 100,000 of the 700,000 Bhutanese) and started our visit at the Center for Traditional Healing. Healthcare at this center, as well as western style medicine hospitals, are all free for citizens of Bhutan. We met with the director to learn what happens here. He explained that the people come to meet with the physicians, who by asking questions, taking their pulse and testing urine, can tell what is ailing you and prescribe the correct natural and herbal medicines to remedy it. The western hospitals often send the patients that they can't help to this center, and it works.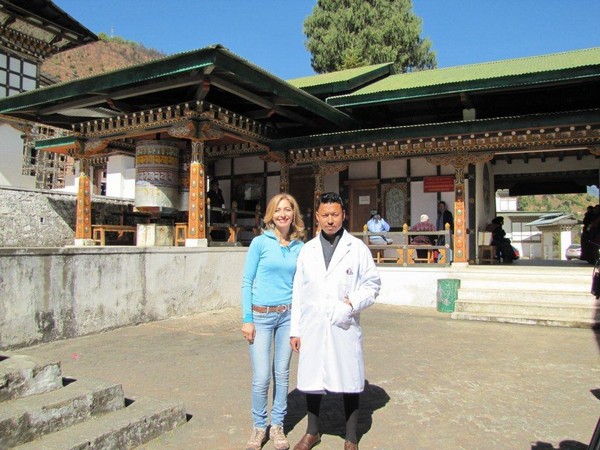 It was truly wonderful to see the many people coming in, releasing their worries and tensions to these medicine men and end up healed, with ways that have been practiced for centuries. I certainly felt the healing power in the building just while visiting.
After the visit to the healthcare center, we headed to one of the main stupas where prayer takes place. The stupa is a monument to Buddha and is typically next to a Temple. We spent some time here walking clockwise around the building while the others were praying. The story told by some is that when Buddha was watching the people all walking around the stupa, some would be going in both directions and would complain about colliding with each other – and the Buddha's new direction has stood the test of time.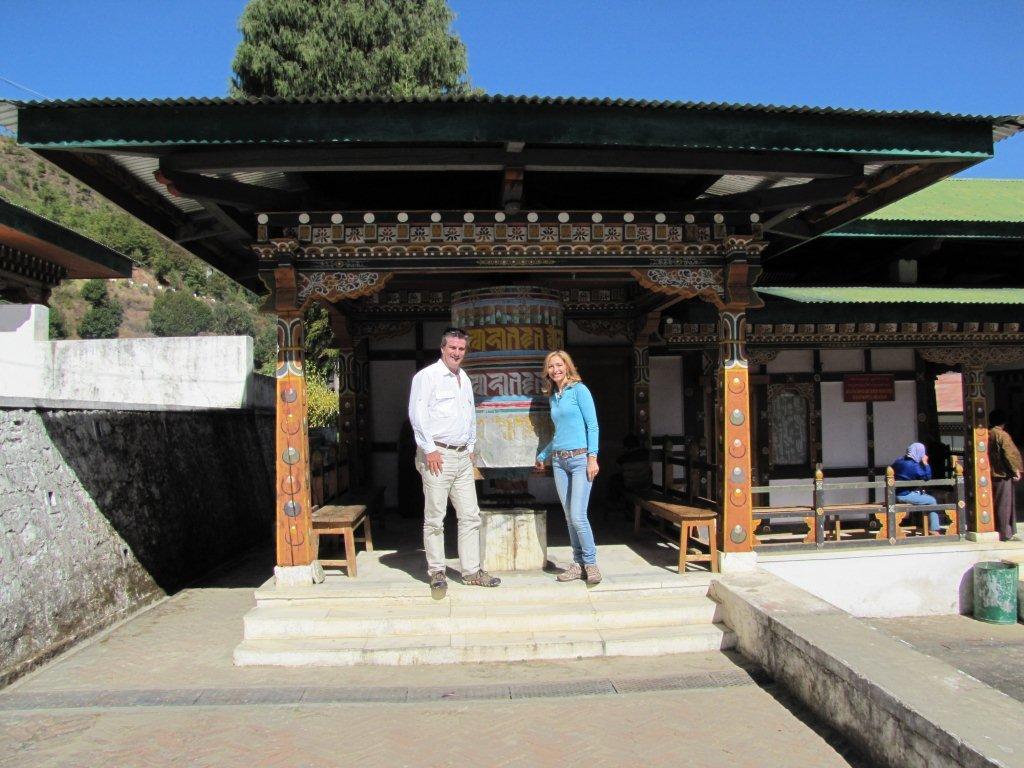 That night before dinner, we were treated to a folk dance performed by the young members of the local community. The dance told stories of the past, in song and dance with drums and cymbals – I loved it! They made me feel part of their culture and with the interpretation given to us on beautiful paper, it was easy to follow along and to understand the message.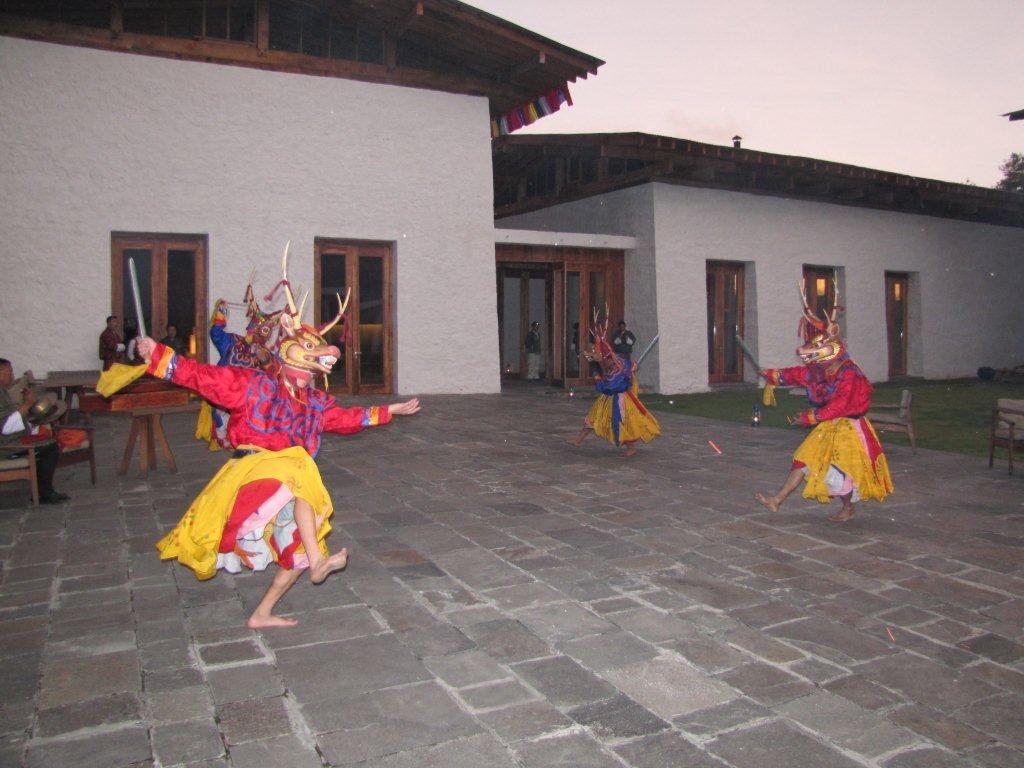 At dinner, we sat with John (the GM) and were enthralled with his stories of his time in Bhutan over the past 8 years. He started Amankora before it opened, built each lodge and has managed it since. He says he can't imagine living anywhere else.
Day 3
We left Thimphu with a special blessing and headed towards Gangtey and our second Amankora lodge – high in the mountains at 10,800 feet. During the drive (which is 4 hours directly), we made several stops. The first stop was a short hike to the temple with incredible views of the area.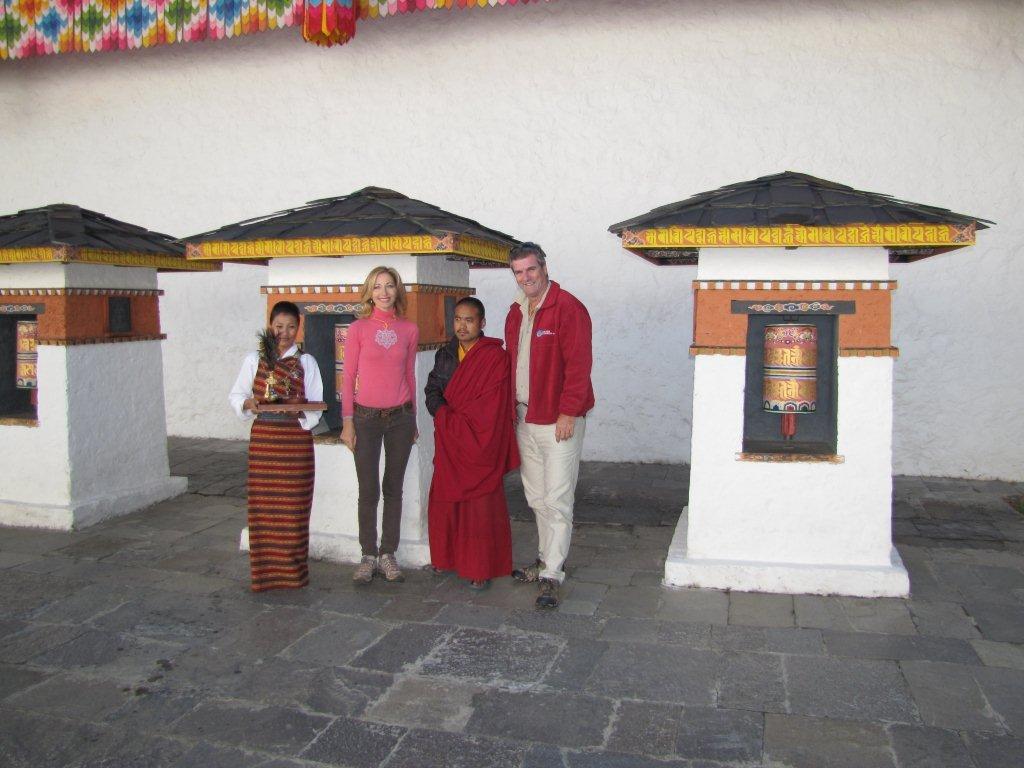 Continuing on, we stopped at a pass at over 11,000 feet where there were 108 stupas. The view of the Himalayas was magnificent. Just over the spectacular Himalayas lies Tibet. It is so peaceful here, I just love it!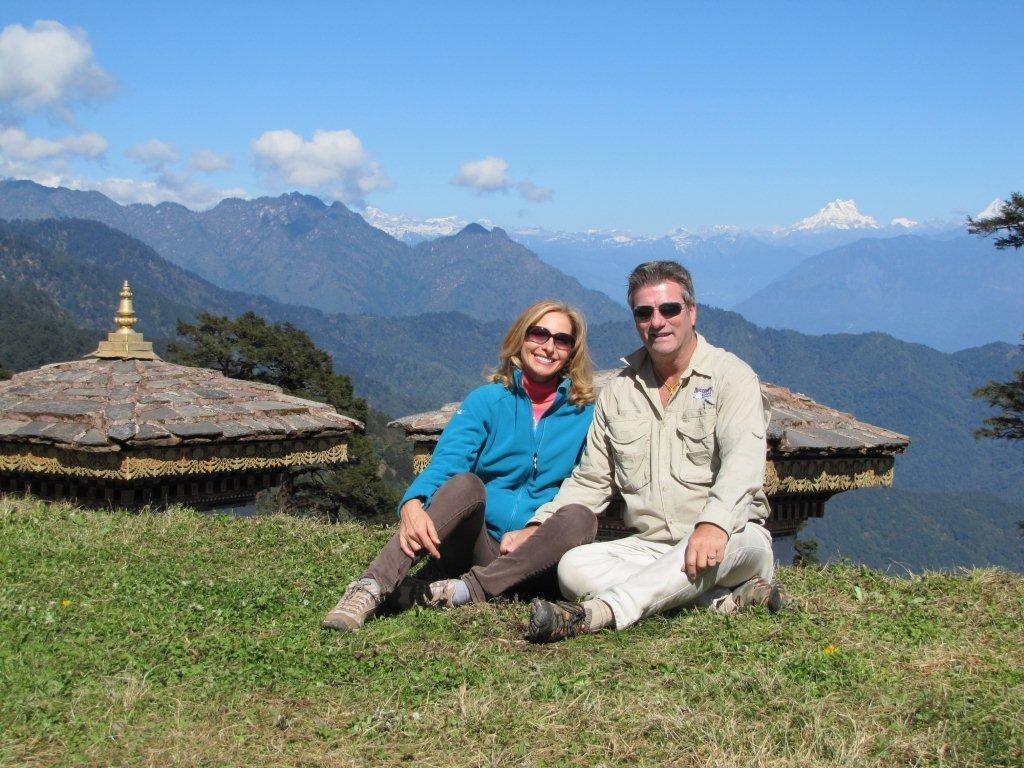 We stopped for lunch on the other side of the pass (arranged from the Amankora Thimphu Lodge) and then headed to the Dzong Wangdue (originally built as a fortress, and now a shared building with monks and administration personnel). Here we explored the area, and saw some more young monks participating in activities.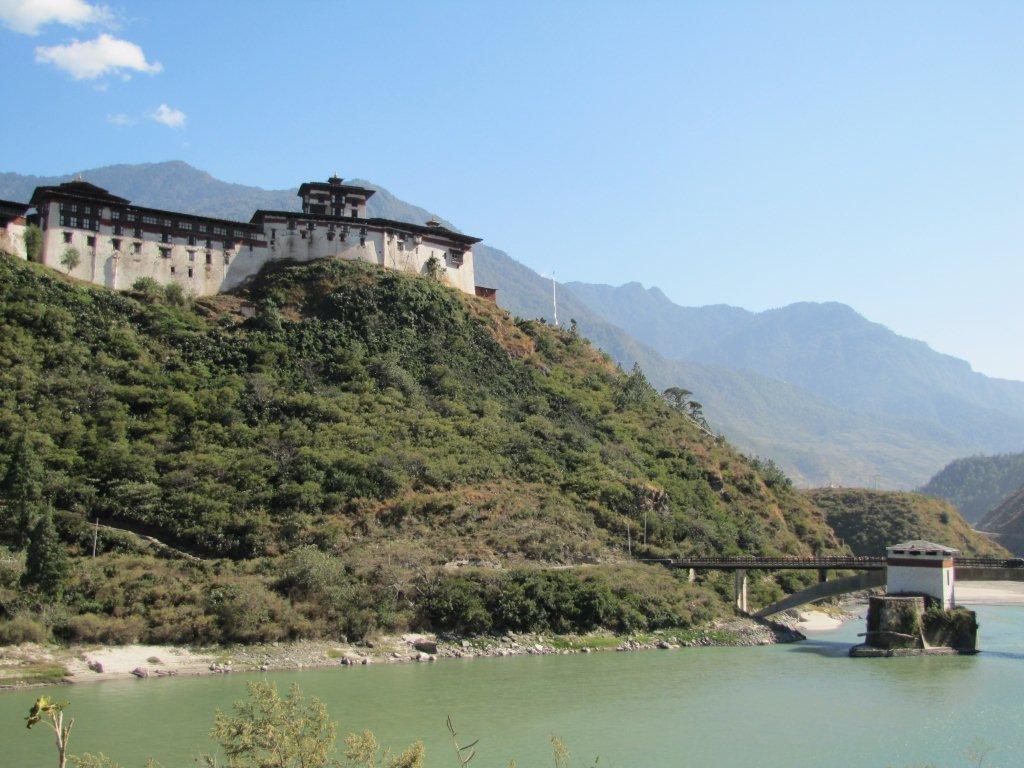 Afterwards, we headed up to the next pass and then down to Amankora Gangtey for the next 2 nights. That night, we were to experience a special hot stone bath in a traditional bath house in the hills overlooking the valley here. More on that in the next post. In the meantime, check out this incredible video we filmed on site.