Yi Peng and Loi Krathong are two different festivals in Thailand that occur so closely together that they often blend into one.
Loi Krathong takes place on the evening of the full moon of the 12th month in the Thai calendar.  In 2013, the festival will be held on Sunday November 17th. During Loi Krathong, Thais put lanterns in rivers and lakes and make a wish as they launch their creations.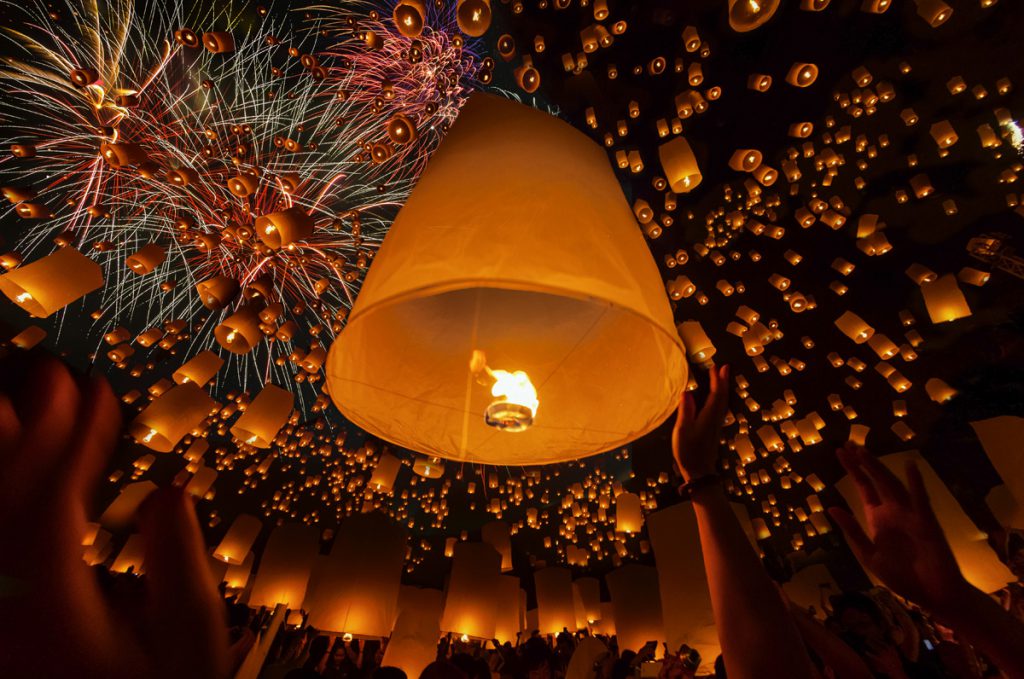 Yi Peng is held on a full moon in the 2nd month of the Lanna calendar (an ancient kingdom centered in current day northern Thailand). In 2013, the festival will be held on Saturday November 23rd. During Yi Peng, Thais send lanterns into the night sky to pay their respects to Lord Buddha.
Loi Krathong
Originally it was believed that the Loi Krathong celebration was started by a court lady named Nopphamat in the 19th century to venerate Buddha and let go of hatred, anger and regret. However, it has since been determined that the festival began as an adaption of another festival by Thai Buddhists to honor Buddha (Gautama Buddha).
Loi krathong lanterns are traditionally made from banana leaves. Thais put coins, nuts, flowers, joss sticks or candles inside them as offerings. Some Thais place their hair or nail clippings on the lanterns as a symbol of letting go of the negative.
Yi Peng
The khom loi lanterns used to celebrate Yi Peng are made from a thin fabric, such as rice paper. The bottom of the lantern is kept open and a candle or a fuel cell is placed there to generate the heat needed to make the lantern rise into the sky.
During Yi Peng Thais launch thousands of lanterns into the sky at once, creating an effect many liken to watching schools of phosphorescent jellyfish float into the sky.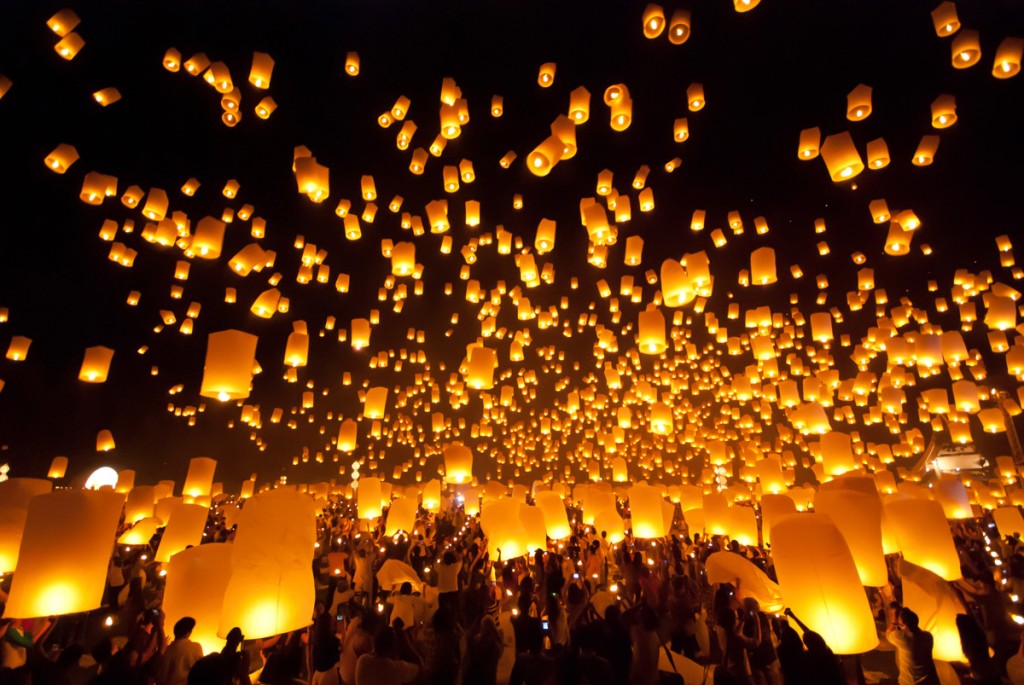 Where to Experience Loi Krathong & Yi Peng
Although celebrations take place all over Thailand and even in some parts of Laos and Burma, the festivals are most spectacular in the northern Thai city of Chiang Mai–home to a large population of Lanna people.
The epicenter of celebrations in Chiang Mai is the Saphan Nawarat Bridge. The bridge can be a rowdy party atmosphere as stalls on the east side of the bridge sell fireworks and alcoholic beverages.
On the west side of the Ping River are bamboo landings, which are set up for families and locals to launch their krathongs into the water.
For a more tranquil and spiritual experience in Chang Mai head to the temple of Wat Chai Mongkol, about 1.5 miles south of the bridge along Charoen Phratet Road. This temple has a concrete platform by the river where devotees place their krathongs into the water.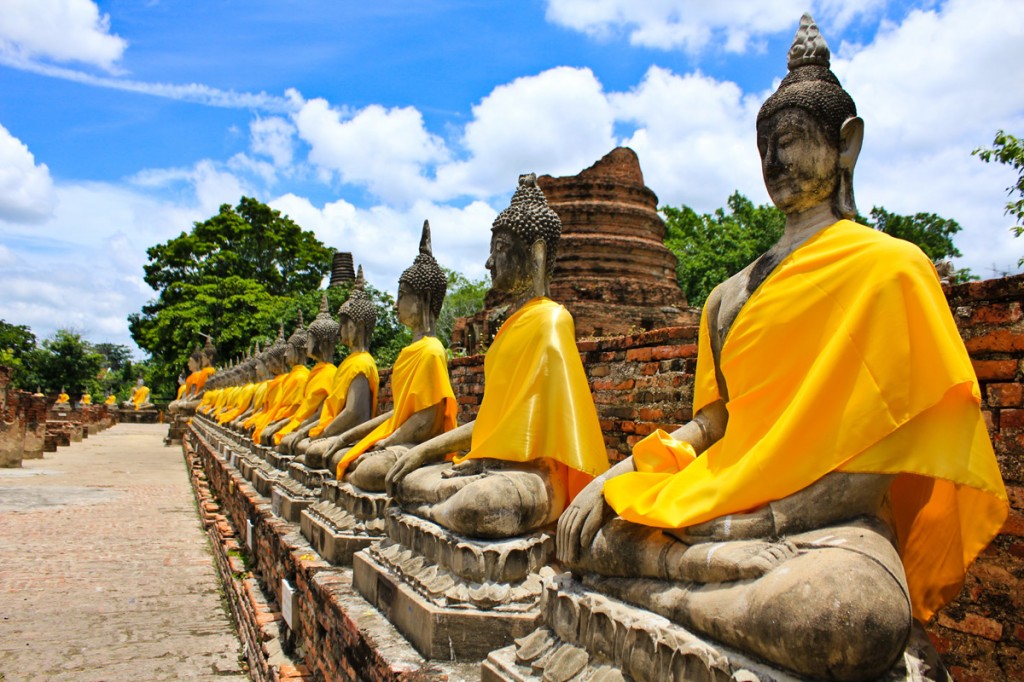 There is also a Loi Krathong parade in Chang Mai, which leaves Tha Pae Gate for the Night Market early on the first evening of the festival.
Other parts of Thailand have 14 days of festivities with the cities illuminated with candles, parades, fireworks and concerts. Sukhotai with its ancient ruins is particularly beautiful at this time.
If you are in Bangkok, you'll notice the city's bridges and buildings displaying impressive light shows. Lumpini Park is a must-see at this time of year and hotels and resorts host all sorts of parties and events to celebrate Loi Krathong and Yi Peng.