Our partner, Lara Vancans from Sanctuary Retreats, takes us on an adventure across Botswana. Her trip takes her to four different luxury camps; Sanctuary Chobe Chilwero, Sanctuary Stanley's Camp, Sanctuary Baines' Camp, and Sanctuary Chief's Camp, all recently refurbished to an exquisite standard.
Sanctuary Chobe Chilwero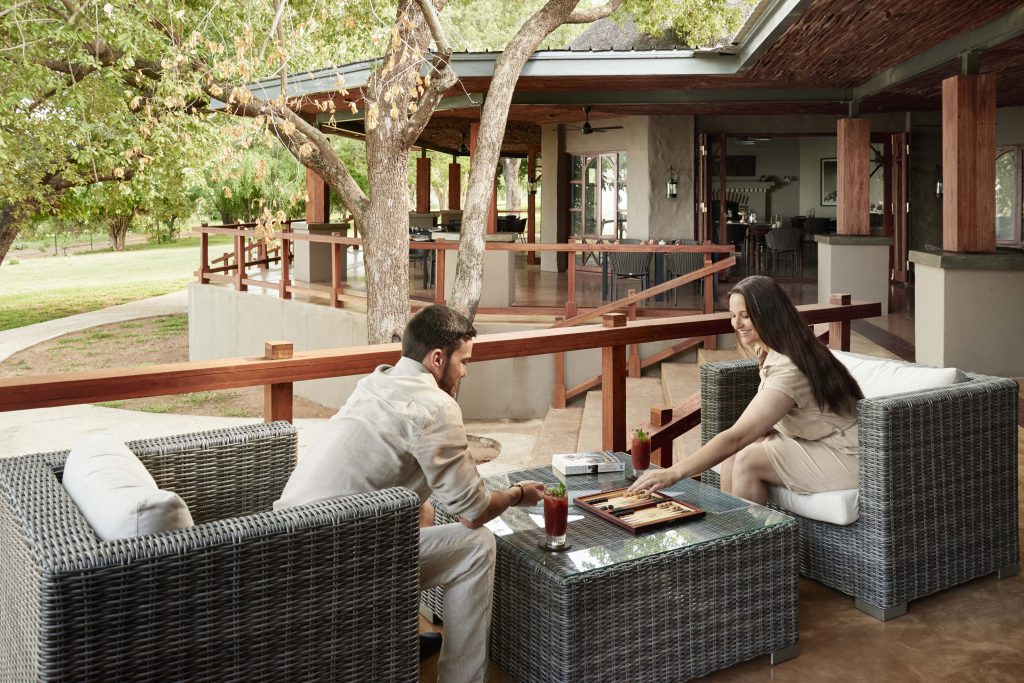 Bright, airy and sophisticated, Sanctuary Chobe Chilwero's spacious suites and manicured grounds make for an instant at-home feeling. Dramatic views of the Chobe River are best complemented by a romantic dinner on our new deck, and a complimentary welcome foot massage at the spa lulls you quickly in to relaxation mode. I loved the natural light and clean lines of the suites, three of which now offer an additional room for little ones. Chobe is best experienced from the river, and in my view, with a gin and tonic in hand! All of which we are more than happy to arrange!
Tip: Visit the Dipetsana Women's Bike Shop and let the ladies lead you on a bike tour of the village where you can see the impacts of their success first hand.  
Sanctuary Stanley's Camp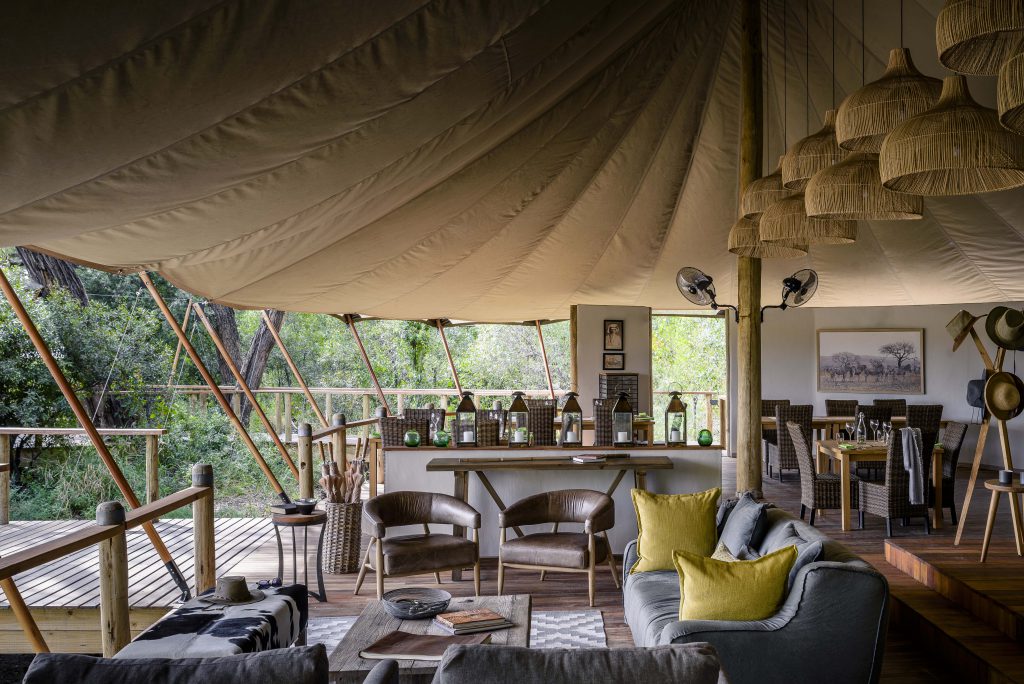 Situated in one of the most picturesque and quintessentially beautiful areas of the Okavango Delta (as described by locals, not me!), the new Sanctuary Stanley's Camp maintains the down to earth charm I love. And yet, the new design is polished and sleek, with cleverly built tents that feature more window (netting) than canvas. Even in the warmest months, Delta breezes keep you cool. At Stanley's, it's you, the canvas, and just the right amount of luxury. His and hers sinks, a spacious dressing area, stylish furnishings and a well-stocked mini fridge will have you radioing "Sorry, elephant outside!" … just to enjoy a few extra minutes in your tent.
Tip: In flood season, enjoy sundowners with your feet in the water and the tilapia nipping at your toes!
Sanctuary Baines' Camp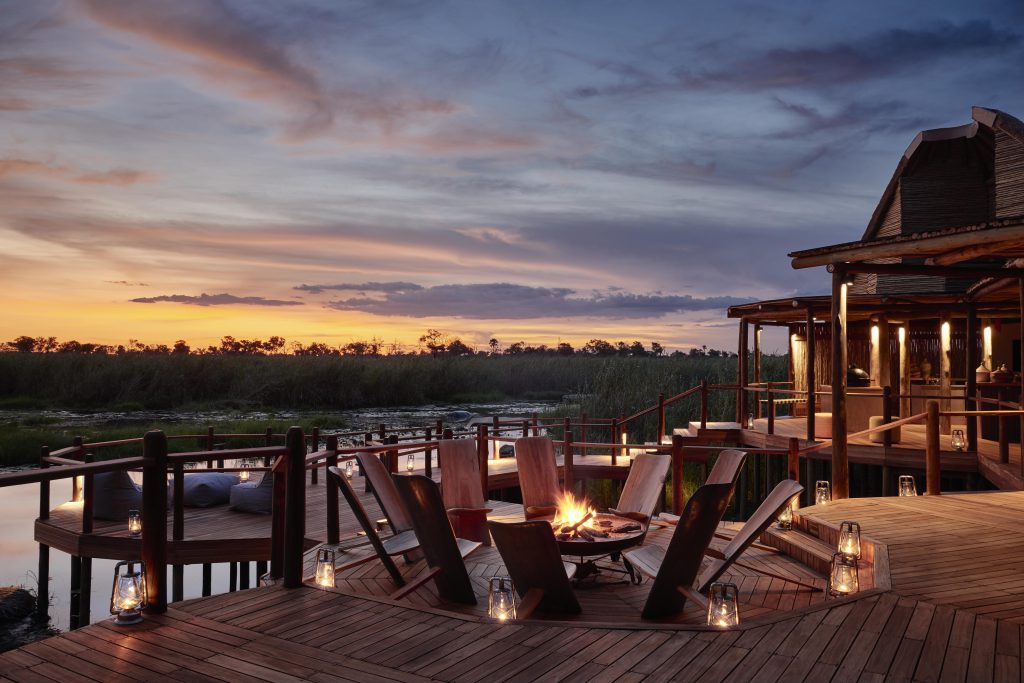 Perhaps the most striking transformation of the Delta camps, Sanctuary Baines' Camp is guaranteed to make you smile as you stroll through the colorful and characterful sitting room to take in the beauty of the Boro River from our private dock. Cue perfectly timed elephant crossing! With only six suites, Baines is our most intimate camp, and in keeping with the theme, we love spoiling honeymooners! To turn up the romance we turn on the faucets and surprise guests with a bubble bath under the stars. And if you're feeling adventurous, we can even push the bed outside so you can dream beneath the African stars.
Tip: Try your hand at making a Delta Necklace as you mokoro along the Boro River … don't worry, we'll show you how!
Sanctuary Chief's Camp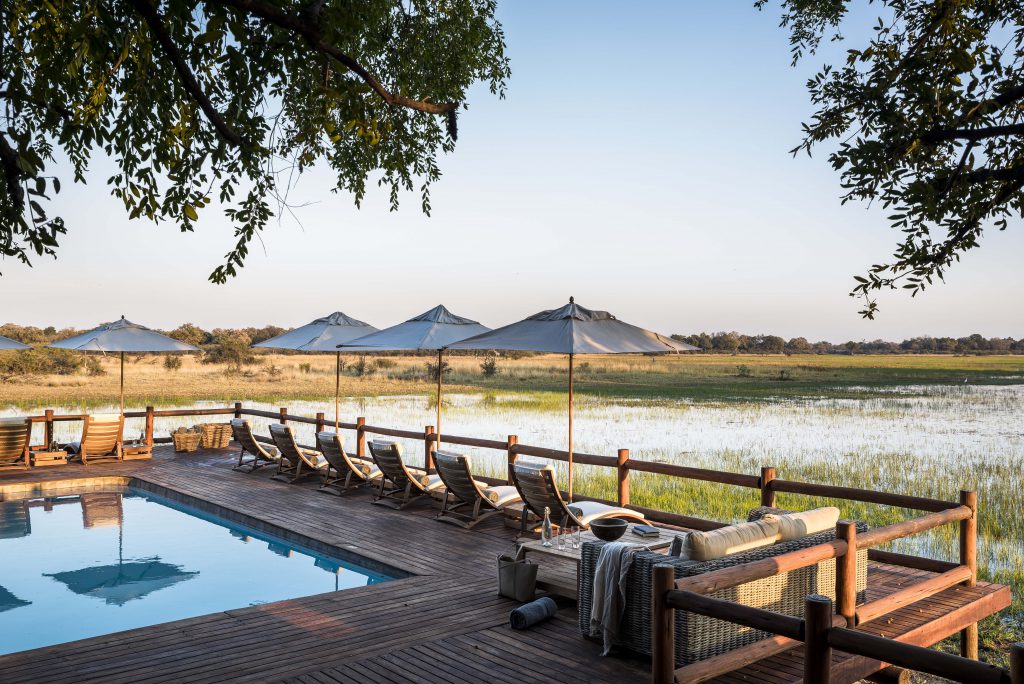 Arriving at Sanctuary Chief's Camp you are instantly enveloped in a rich and established tradition of hospitality and warmth. There is a timeless, effortless elegance to the camp's understated décor, the smiles of the staff, and the peacefulness that surrounds you. Your suite's soaring ceilings and sophisticated furnishings evoke comfort, while the elephants drinking from your plunge pool root you in the wilds of the Delta. A personalized sundowner stop at the "Herbivore Champagne Bush Stop," complete with beaded animal sculptures munching on the local flora, left me smiling, speechless, and with maybe a tear in my eye! Brilliant and unforgettable!
Tip: Be sure to visit the orientation room and speak with our resident rhino monitors to learn more about conservation on Chief's island.
To learn more about Botswana read our e-brochure, Swain's Southern Africa Journeys.