Day 5 – 6
Gangtey to Punakha
We left this morning with Kinley and Sonam for our 2 ½  hour drive to Punakha. We arrived at lunchtime – just in time for another great meal. Punakha is set around an old farmhouse high on the hills overlooking the Punakha River. We drove to an area and then walked across the suspension bridge, then hopped in a small golf cart- like vehicle for the ride up the hill.
As in Gangtey, there are only 8 suites in the lodge.  The suites are all new and the open courtyard in front of the farmhouse created the perfect space for meals.
We had lunch outside and then checked out the suite and prepared for the afternoon. I opted for a short 45-minute walk around the lodge, down the rice paddies and to the river bank.  After a serene walk along the bank, I made my way up the path to the lodge farmhouse.   Linda caught up on some work and then we went down to the courtyard for pre-dinner drinks and dinner. They had a bonfire raging in the courtyard, so even though it was raining lightly, we opted to sit outside so the team set up a couple of chairs around the fire, and gave us umbrellas. I am sure the other guests thought we were crazy, but it was very cool. Because of the rain, we had dinner in the main room of the farmhouse, where they had 2 tables of 8..
The following morning, we left after breakfast and headed to the Temple of the Divine Madman, a  Buddhist  teacher who roamed Bhutan in the 14th century. There is a very cool story of how he made it to where the temple is built (by his half-brother), but I will tell you that later.  The temple is also called the Fertility Temple. We walked through the small village which had phallic symbols on the walls! We arrived at the top (why is that temples are all on the side of hills and mountains?) and started to interact with the small monks during their school classes. They were fascinating!  While learning about the differences in this temple, our guide Kinley approached the care-taker monk who gave us a blessing and had us roll 3 dice. The monk told us Linda's number was 11 (which is what they added up to) and associated her with the teacher of Compassion.  We were told 11 was a good number.  My number, 13, is also considered a good number.  I was associated with the Divine Madman, which I thought was apt!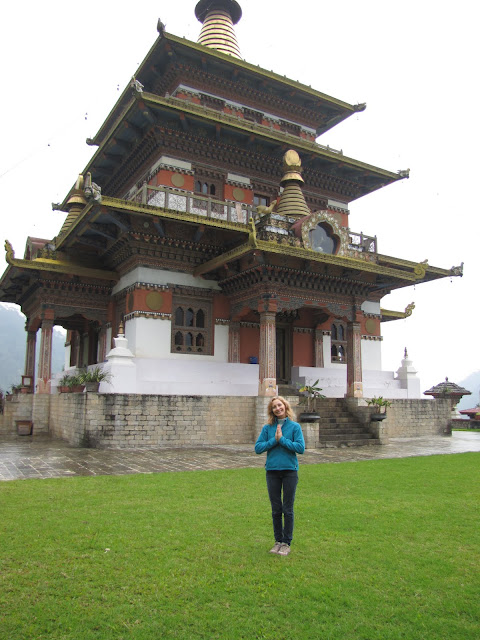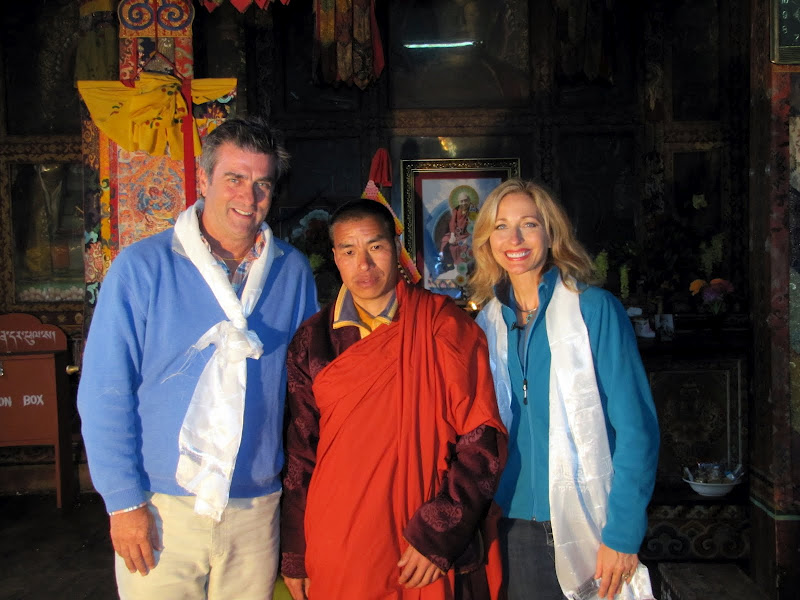 There was a beautiful Bhodi Tree in the area outside the temple. A Bhodi Tree is where Buddha is believed to have discovered he was Buddha. They are very special and are in many Dzongs and Temples.
We left the temple of fertility and headed to the Punakha Dzong. This is the most impressive Dzong in Bhutan and was where the current King (#5) was coronated almost 3 years ago, and just a month ago, where the King was married to his beautiful Queen. This Dzong was incredible and we spent a good half an hour there taking in the details.
That afternoon, we had planned some spa treatments before dinner.
We left the spa and sat out in the courtyard and watched as 8 of the local farmers gave us a delightful show of local dances, of which the last song we all joined in.
Dinner was again superb and we sat with Sanjay (the lodge manager who is half Tibetan and half English) and Ben the chef (from Boston – interesting, from Boston to Bhutan!) Both men had great stories!
Day 7
Punakha to Paro
We left this morning after another great breakfast with Kinley and Sonam. The weather was overcast as we went over the Dochula Pass where there are 108 chortens. We had gone over this on the 1st day and the weather was completely different this time. On the first day, it was so clear that it seemed like we could reach out and touch the Himalayas. Today, we could hardly see the chortens!  We continued down to the Paro Valley and on towards the Amankora Paro Lodge. We stopped in town to buy some souvenirs for the family. The Bhutanese make wonderful silk scarves, paintings of Buddha that are then surrounded by silk frames, images of Buddha and many wooden products. They also have the musical instruments that are played by the local farmers and also the monks (the lingm's) during their blessings.
The driving in Bhutan can be long and the roads, well, they aren't highways! Once you are close to Thimphu and Paro, they certainly improve, but in the country areas en route to Gangtey and Punakha, they can be narrow and windy. I suggest you take your Ipod and the cassette attachment that allows you to play through the car radio if you want music playing. Otherwise, at all times, the guides and drivers will entertain you with facts about where you are, and in particular the culture and their beliefs. And as I said earlier, they want to know all about America. We were hiking in a beautiful trail one day and Kinly asked, "Who do you think is the better basketball player (he mentioned 2 names of which I hadn't heard of)"?
We continued onto the lodge and were surprised to see John Reid, again! We settled in, looked in awe at the mountains and in particular, the top of Jhomolahri (3rd highest in Bhutan) rising prestigiously from the other peaks.
That night, Amankora had arranged for a monk who had been trained for many years in Astrology to come and give a reading for those who were interested.  Of course, Linda and I wanted to hear his words of wisdom and headed to the lounge. I was read first and he told me my best color, my best day of the week (and worst), and my past, present and future lives. I was happy that he told me my last life was in God's Realm, and after this one (which isn't happening for a while), I will go back there. Linda was told she was a mermaid in her past life, which explains a lot!  I found this so interesting and it was delightful to share words (even though via an interpreter), as, like most monks, had a soothing voice, hand and message.
At each of the Amankora lodges, they have a distinctively different menu.  While this poses a unique challenge for the Executive Chef, he makes it work every time, at every property.  The selection of drinks is huge at each lodge – from a selection of all liquor, to a great white and red wine, to local Ara (a local rice wine type drink), to a wide selection of teas, sodas etc. The breakfast llasi's, which are like a smoothie, but somehow better, are energizing.
Day 8
Today was one of the main highlights of the trip as we were to climb to Tigers Nest, which is a place high on a mountain range (10,800 feet above sea level) where Buddha spent 4 months in a cave in the 8th century and in 1692 became a monastery.  As the story goes, it was called Tigers Nest because Padmasambhava (Guru Rinpoche) flew in on the back of a tigress to the medication cave. There are many versions of what happened, but it is a special place.  It does make you think why anyone would someone build something that high up with that little access, but it certainly afforded privacy for those who went there for medication.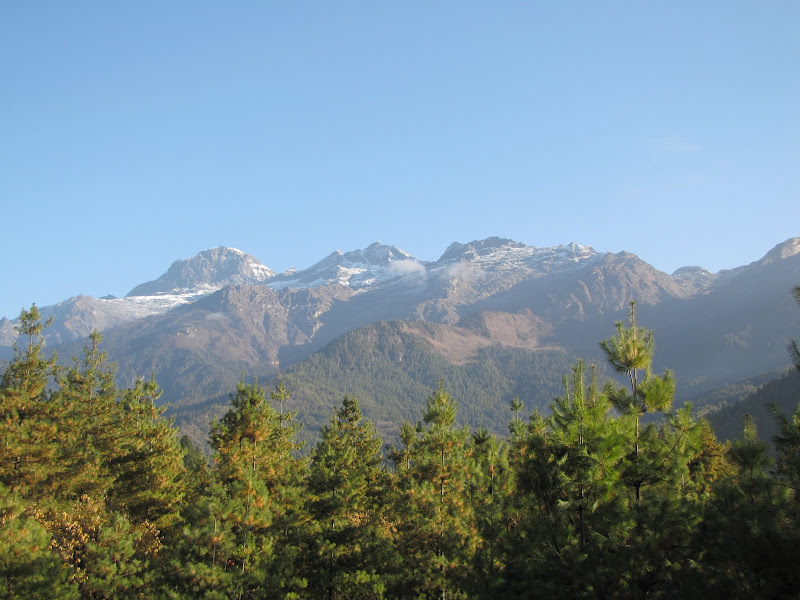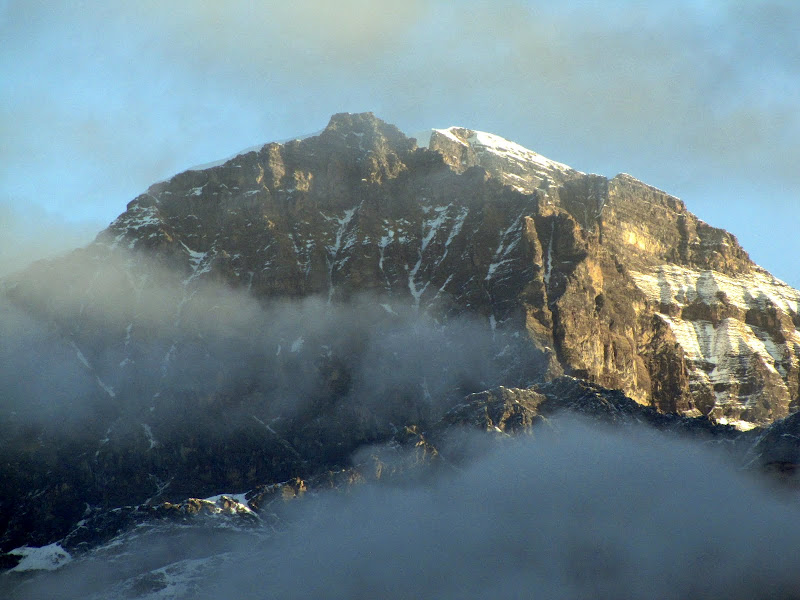 I approached the starting point with some trepidation as the hike was daunting to say the least. I had heard many stories of how long some people took, and how some didn't make it to the top and had to turn back.  However, not long into the climb, we caught up to a lovely lady and her son.  She had a large sack on her back filled with food, and I asked how many times she had been up.  She (through our translator) said she lived in a small house at the top.  Was I surprised to hear that she was 78 years old!  After hearing that I figured that had no excuses and continued on.
It took us about an hour to reach the half-way point, as we took our time and enjoyed the surroundings (well that was my excuse anyway). There is a small café half way up, which is a great place to stop – it had a great view of the Tigers Nest and one can take a good photo there for the boasting.
We kept on and half an hour later made to the last 800 steps, 500 down and 300 up again to the Monastery.  You cross a beautiful waterfall and then ascend the last steps and arrive at this spiritual place. It certainly was worth the effort, huffing and puffing, as there are 11 temples there, all special in their own way with wonderful carvings, painting and images of Buddha.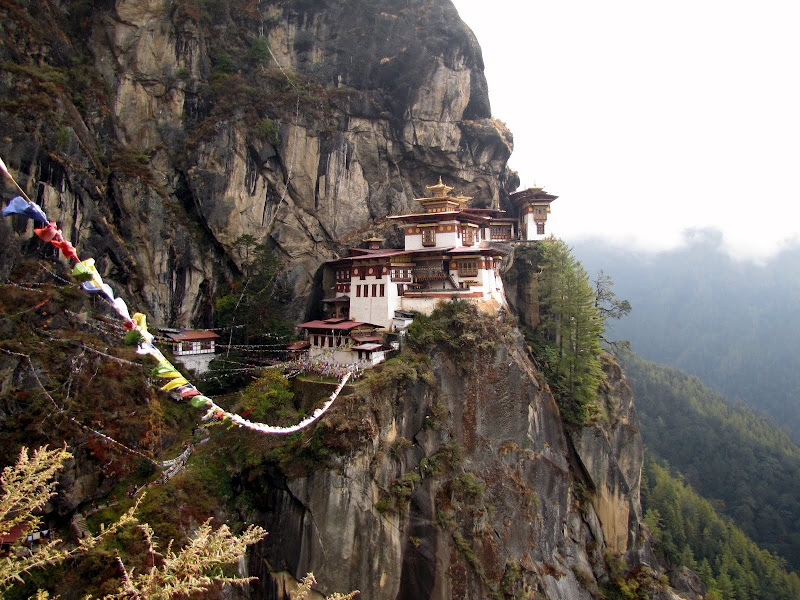 We stayed for quite a while, meditated with our friends and just thoroughly enjoyed being there. Of course, I was trying to work out logistically how they did this, and in the 1600's! I just couldn't imagine bringing all the materials up there, and then building on the side of the mountain (just look at the pictures).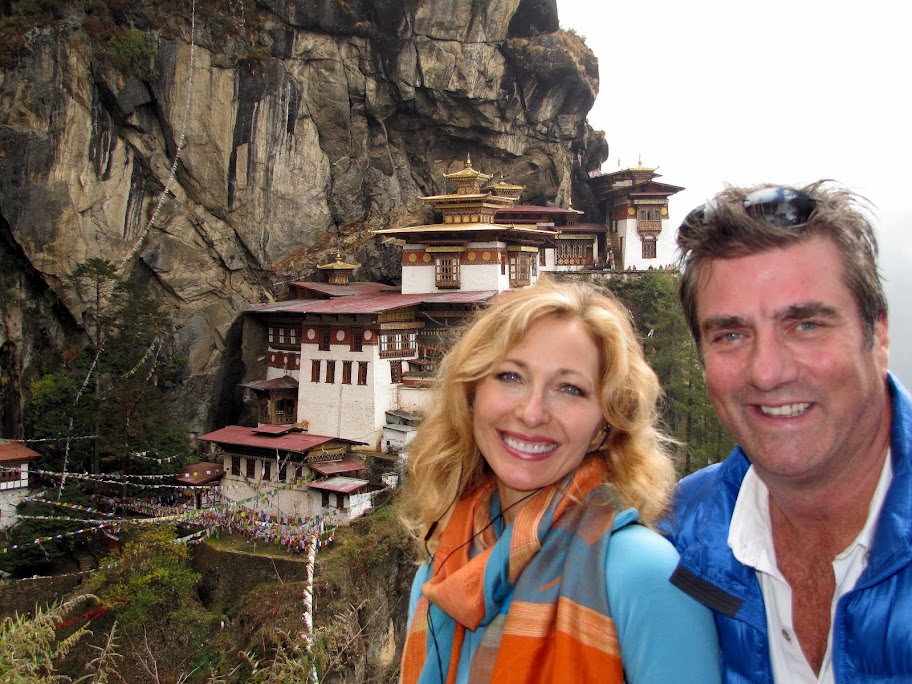 Going down, Linda walked with Kinley, but I powered ahead and made it down in just under an hour, which I was quite impressed about. Luckily, there weren't that many people on the trail at the time.  We left the top at 1.15pm and most of the groups of climbers had left by then, so I had a pretty clear path down!
I waited at the bottom with Sonam for Linda and Kinley and we headed back to the lodge.
That night, we talked to others at the lodge about the climb, some who had done it and some would be doing it the next day.  It reminded me of the nights on safari in South Africa around the Boma when we discussed the sightings we had seen during the day.
While at Amankora on our journey, we made friends with couples from England, Mexico, France, Malaysia, America and Australia. Sitting around some of the dinner tables was like the United Nations and the great thing was they were all like-minded travelers, who were searching for something, or knew what they wanted and knew this is where it was, so the dinner conversation was soulful and inspiring. Noone chances to come to Bhutan, you have to want to come there.
Day 9
Today, John Reid left with some of his team on an overnight trek to a spot 1,000 feet above the Tigers Nest. Staying in tents with a campfire, the Aman way! This meant that a team of 10 horses and 10 people left earlier and had everything set up for their arrival. I spoke with John the next day and he explained the cook was there to prepare the meals, and others to set the tents (even the shower tent) and look after them. Amankora has many treks from overnight to 21 days trekking the Himalayas on the Tibetan border.  It is a life changing adventure.
Day 10
It is a sad day as it is the day we have to leave.  It was bittersweet saying good bye to the Aman team and particularly Kinley and Sonam.   We headed to the airport after lunch for our 4pm flight to Bangkok, connecting with our QANTAS flight to London and then final leg with British Airways to Philly!   All the flying time will give me plenty of time to plan the next adventure!