I have often been asked, "What is your favorite destination?" by travelers over our 35 years in the business. Then I ask them, "Well, is it for an adventure holiday, a romantic getaway or a family experience?" It's much easier to name your favorite pizza topping than your favorite overall food. 
Tahiti, however, holds its place at the top of my list for many categories and here's why.
Tahiti for Couples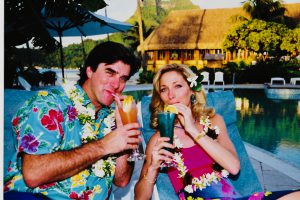 Ian and I have visited Tahiti many times and our first time assured us that paradise truly exists. Lush remnant volcanoes jutting out of the sea, tropical flowers as big as your head, and yummy fruit that looks like it's from another planet energizes your senses. We had an instant awareness that Tahitian people are gentle, genuine, and have a great sense of humor. And no wonder, they live in picture perfect paradise. 
Papeete is the main island where an overnight stay taking in an authentic Tahitian show and an optional chance to "shake your booty" in a grass skirt is likely, even if you are venturing to another island. We  stayed a couple nights here to take in the Paul Gauguin Museum and experience a four wheel drive safari through the mainland and to the top of the island. From the top, we took in the amazing sea breeze and stunning  panoramic views. Our Tahitian guide was so much fun and he took us to his favorite place to eat fresh seafood and local dishes. We love to learn the history of a destination from the locals and listen to their own generational stories. 
Interested in Papeete? Get inspired with our Papeete Sampler itinerary. 
Tahiti for Celebrations
Linda and Ian celebrate a milestone anniversary while traveling the Tahitian Islands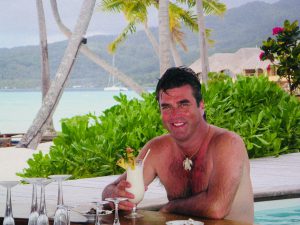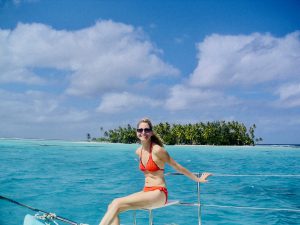 Our second trip to French Polynesia, was to the island of Bora Bora to celebrate a special anniversary, complete with an overwater bungalow experience with the mystical Mt. Otemanu as our view. A glass bottom table in our bungalow, with the ocean as our aquarium, gave us a heads up of what friendly sea creatures were outside to greet us. In fact, each morning we donned our snorkel gear to share some leftover morsels from breakfast that was canoed to us daily by happy Tahitians. There's nothing like the sound of a musical voice singing "good morning, breakfast is served" from canoes floating outside your door. 
Interested in Bora Bora? Get inspired with our Moorea and Bora Bora Sampler itinerary
Tahiti for Families
As much as Tahiti is a destination for couples, it is also the perfect family trip and one we will always remember with great joy as a family. When our youngest turned 12 and was old enough to dive, we took dive instruction at home so we could be certified divers together. It was then, with the warm memories of the Tahitian people and our newly acquired diving skills, that we took four of our children on a catamaran adventure through the Islands of Tahiti to do our open water dives.
Our week's adventure began in Papeete for a night, then we flew the next day to Huahine where we met our crew and boarded our catamaran to sail to Raiatea.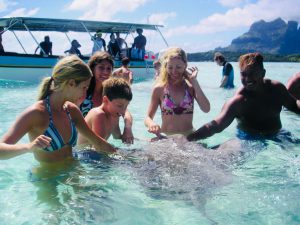 We then journeyed on to Taha'a and finally to Bora Bora for our dives. The week was filled with plantation excursions, resort stops, kayaking, delicious meals, spectacular sunsets and incredible wildlife interactions in and under the sea. None of us will ever forget kneeling at the bottom of the ocean below giant manta rays as they glided overhead enjoying a teeth cleaning by the local fish. We also had a chance to feed friendly stingrays in waist deep water where they climbed all over us looking for the little fishes we held in our hand. 
A week with our kids in Tahiti provided the perfect backdrop to release the technology and embrace family experience that we will discuss over dinners for years to come. 
Tahiti is a destination where each visit feels rich and magical for all the right reasons and for all the right favorites. 
Interested in discovering the Islands of Tahiti? Get inspired with our Society Islands Explorer itinerary.
Read more of our Team's blogs about Tahiti here or get inspired for your own Tahitian holiday by browsing our sample itineraries.