Queenstown, New Zealand
Queenstown, is the adventure capital of New Zealand, if not the world. I love it more every time I visit as there is always something new to discover – and this time was no exception. This trip was to attend TRENZ, a large trade event where all services (hotels and tour companies) meet with travel companies like mine to renegotiate rates and learn about changes and new experiences. This year, there were almost 100 new experiences for me to learn about.
I stayed first at Azur, a small, boutique lodge high in the hills, just west of Queenstown (7 minutes' drive from the heart of town), with unbelievable views of Lake Wakatipu. There are 9 villas, all large and spacious and all positioned perfectly to take advantage of the gorgeous view. The main lodge at the top of the hill is where guests enjoy a hearty breakfast, meet for pre-dinner drinks, or just hang out to relax around the property. The team led by Tania and Gavin do just about everything to ensure that your stay there is enjoyable. They will drive you to town, dinner or whatever you desire. If you feel like dining in, you can order from local restaurants and they will gladly collect it, plate it for you and deliver to your villa – A great way to end a fun day in Queenstown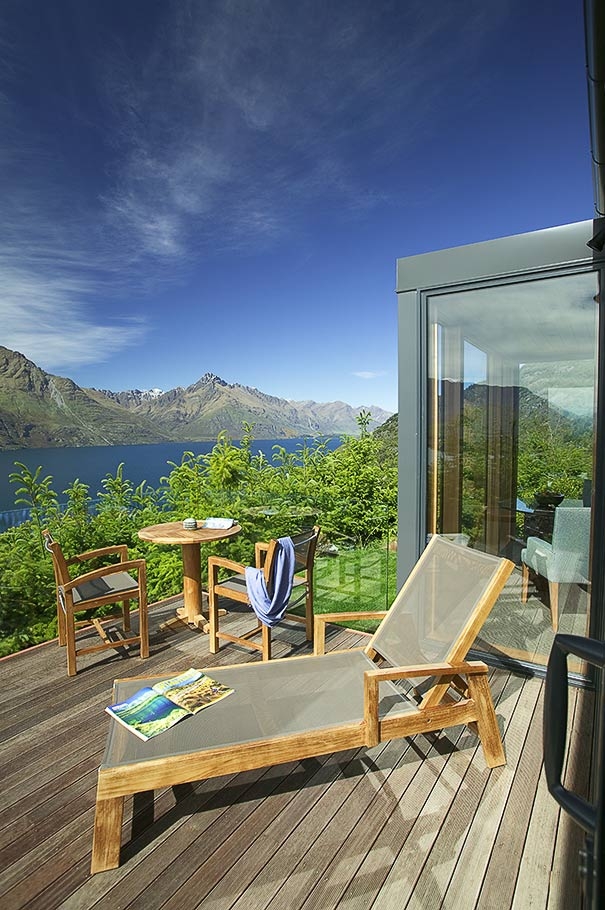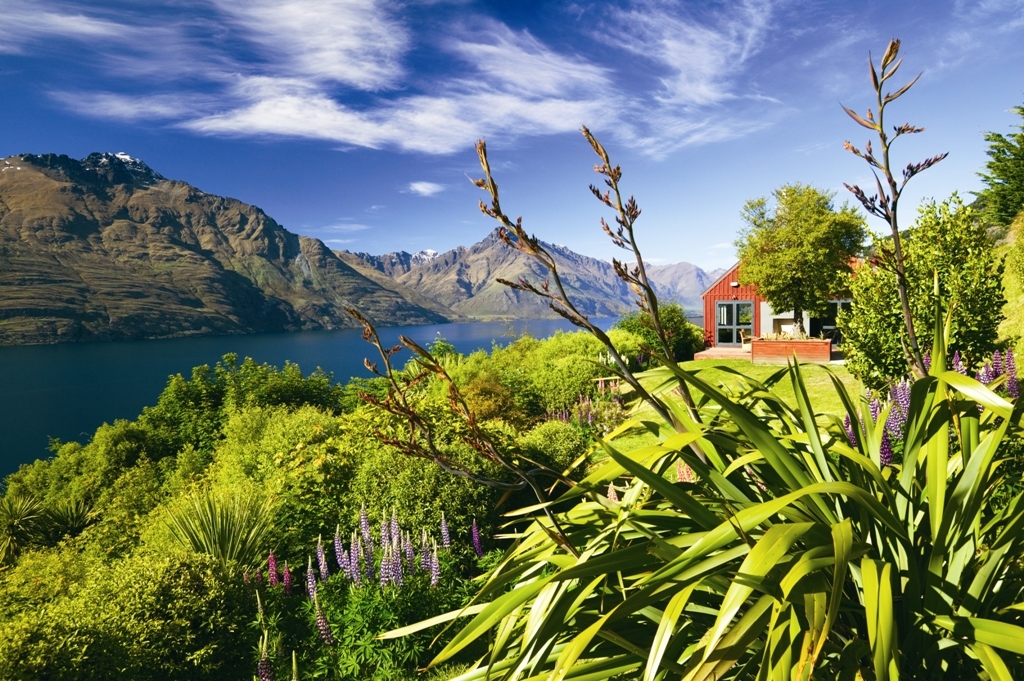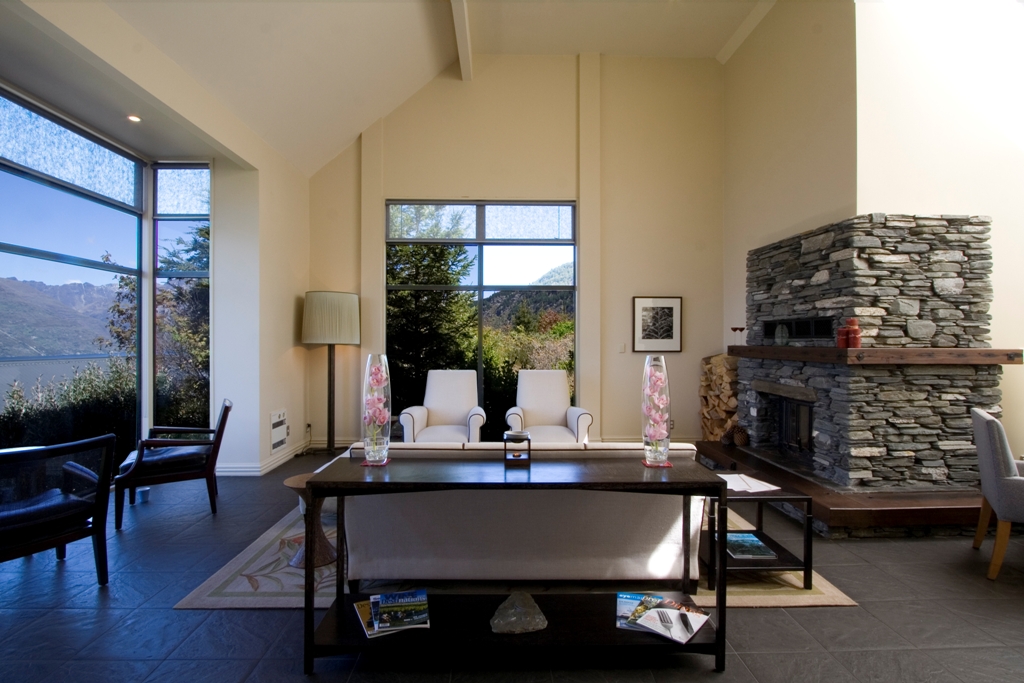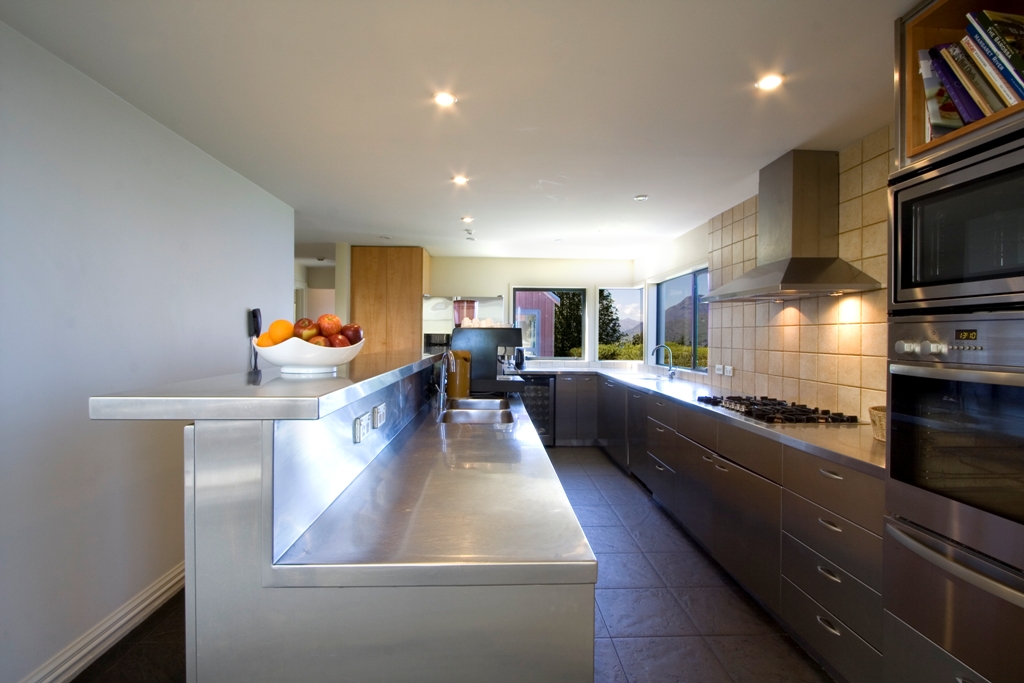 The last 3 nights I moved to town and stayed at The Spire, where I have stayed many times before. I love it there as it feels like my home away from home. Amelia and Lucy Gain, two New Zealand sisters purchased the business last year and are doing an incredible job at enhancing what was already a first class experience (See Ian's Anniversary Trip, in which he spoke about the Spire).
The bar, named No 5 Church Lane, is as trendy as ever and the girls have reopened the restaurant 4 nights a week while having evolved the menu to reflect a more local fare which changes frequently – a great addition for our clients. If you should want to dine elsewhere, all of Queenstown's restaurants are within easy walking distance. The team at The Spire can assist with any reservations, and I experienced one of Queenstown's newest restaurants, Rata, while there. Other favorites include of course The Cow (pizza), The Bunker and Flame. While staying at The Spire, you can depend on the team who will steer you in the right direction for a great night.
One of the latest additions to Queenstown experiences is Zip Trek. Here you take the gondola to the top of Bob's Peak, don your harness and walk to the first line. The team hooks you up to the wire and off you go. There are 6 lines, and as you progress through them, they become longer, steeper and more scenic. I went upside down, sideways, backwards and had a terrific time. At each stage, the team leader shares tips about how we can all be more sustainable and look after our planet. In fact, they built this whole experience so that it would have no negative impact whatsoever on the area.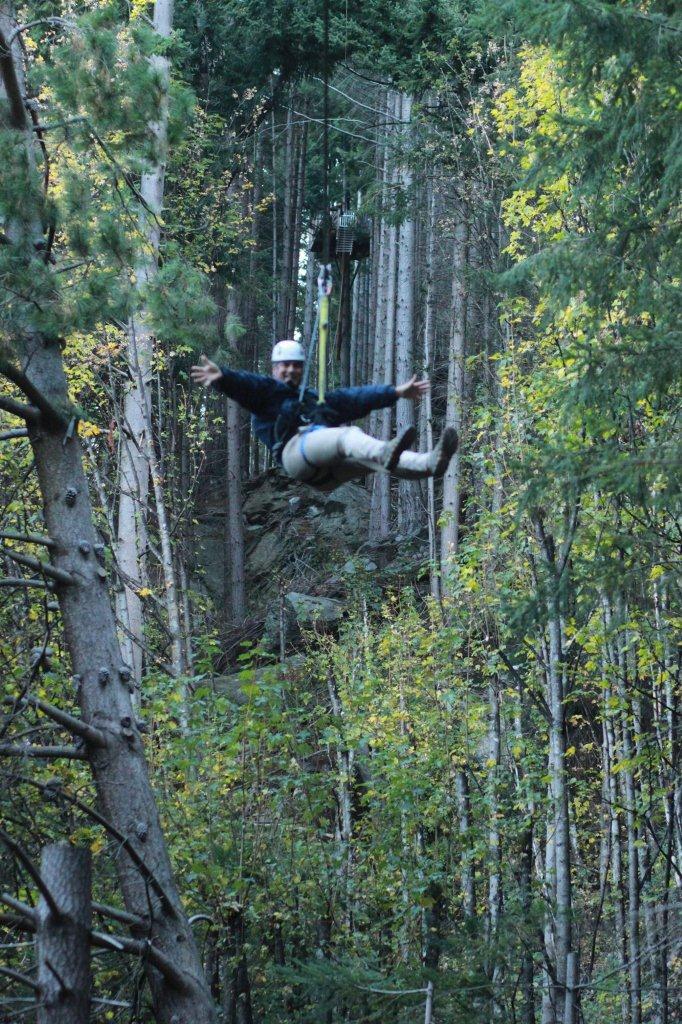 Helicopter flying is synonymous with Queenstown and is something I always look forward to when down there.  Our good friend, Choppy (who owns Over The Top helicopters) took me with some other travelers to Wanaka (about a 10-minute flight). A special day had been arranged for us by New Zealand Tourism, and it started as we landed at Oxbow Lodge. This is a large farm owned by a local New Zealander who loves life and enjoys sharing what he has created.  After landing, I was greeted by Lloyd and his family and was immediately invited to "hop in the back of the ATV," and off we went down the hill. Stopping at the river bank, which has the highest concentration of trout in any New Zealand river, we opted to jump in the jet boat and headed upstream. Now I have been in many jet boats but never had I the chance to drive one. Loving boats as I do, this was a real treat, and being able to do my own 360 turns for which these boats are famous, was something I shall never forget.
We headed back to the lodge for a bite to eat and then tested our skills at hitting golf balls over the cliff and over the river. It is 260 yards to clear the river, but I wasn't in form that day. Clay pigeon shooting was next, with Lloyd letting go of 6 clay disks at a time. I did better at that as I had "mastered" that art at Grasmere Lodge on my last visit.
The "toy shed" was our next adventure, and here are some 30 ATV's, 30 dirt bikes, a couple of helicopters, off road racing cars in addition to fishing gear, shooting range guns and everything else you can imagine.
The great thing to come of this is that we can now provide single day experiences at Oxbow Lodge for our clients and create a great family experience.
My final day in Queenstown was a complete surprise. I finished the trade event I was attending and was invited by Matt from Minaret Station to visit the farm. The farm can only be accessed by helicopter, so I was on board straight away. I also invited my good mate Phillip Jenkins from Blanket Bay as we would be flying over his property on the way out. We took off from the event center as we had the day before with Matt's brother, Toby piloting, and headed over Queenstown and along Lake Wakatipu. We had great views of Azur and then Blanket Bay as we flew over the mouth of the Dart River and headed into the mountains.
Now a little of Matt's history: He is one of four sons of a New Zealand legend who was one of the first heli pilots in the area. They all grew up in the back of helicopters and probably flew before they could drive cars. These mountains are their backyard, where they grew up and you could sense that as Toby knew exactly where he was going the entire time.
As we followed one of the smaller rivers, we descended and then went round a tree-lined bend, coming up to a huge waterfall just ahead. Toby flew straight at it, almost letting the blades touch the waterfall (a similar experience to when we were on the True North vessel in the Kimberleys – but that was a boat!).
We backed out and then continued up over the east / west pass (on one side all the water flows to the lake and on the other, the water flows to the Tasman Sea) – which was thrilling, as Toby had to find a break in the clouds in order to go over.
We reached the Tasman Sea and then flew along the coast and suddenly turned left and hovered down to a small rock where we landed on a tiny clearing. Toby had said he had probably landed there over a thousand times, so we just relaxed and enjoyed it. The sea was rough and half the rock island was submerged by the swells as they rushed over the rocks. Seals were frolicking on the rock alongside of us. We left the chopper, and ducked outside of the rotor area as we then watched Matt put on a wet suit and scuba gear, attach a rope to the bottom of the helicopter and give Toby the thumbs up. He then lifted off and had Matt hanging in tow as he flew him out over the rock and lowered him in to the wild surf below. After dropping Matt off, Toby then returned and we waited. Matt was on a mission down there to catch some crayfish for us, and after about 20 minutes he re-appeared. Toby went back in the heli, dropped the rope to which Matt hooked before being lifted out of the water and brought back to the island. Inside his bag were five large crayfish, and after a short inspection of our catch, we all boarded the machine and lifted off. I was still in a state of amazement at this stage, and it wasn't stopping.  We flew over some of the most beautiful countryside and up alongside Mt. Aspiring where there are several glaciers in full view. We didn't have time to land, but knew that next time, we would add that to the agenda.
We finally landed at Minaret Station, a small lodge with 4 deluxe tents for accommodation situated in the high country on their 35,000 acre deer, sheep and cattle farm. A beautiful main lodge is where guests enjoy all meals and plan their activities which revolve around heli flying. Choices include mountain biking along incredible tracks, hiking, fishing, glacier viewing, skiing on private ski mountains, and just about whatever you can dream up.
The 4 tents are similar to the luxury tents in Botswana but are designed to keep warm inside whereas the African tents are designed to stay cool. They are double lined, have a more than adequate heating system, feature a great bathroom area, king sized beds and a deck with a private hot tub. This area often has snow through the winter, so I can just imagine sitting out there in the hot tub with snow falling.
The chef cooked the crayfish along with some oysters, fish and venison which we all enjoyed as a late lunch. We then re-boarded the heli and flew back to Queenstown. Minaret Station is an experience like no other – and should be on everyone's Bucket List while in Queenstown.
Cheers,
Ian Swain