Cities: Taupo, Palliser Bay
Eagerly, I planned this trip for my wife Linda and me to visit some of my favorite places in New Zealand, including some of the wonderful luxury lodges. Linda hadn't been to New Zealand in over ten years, so I was looking forward to sharing many new experiences with her since much has changed over the years.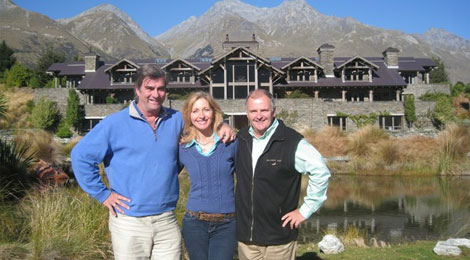 A leisurely trip is what we were after – to take our time and enjoy the lodges as well as our good friends we had met during our years of building SWAIN. I have visited New Zealand many times, but usually at a very quick pace so it was refreshing to be able to enjoy a relaxed driving trip between the lodges and the destinations where we love sending our clients. After arriving at the Los Angeles airport, we headed to our departure gate and boarded our QANTAS 747 nonstop flight to Auckland.
Slipping into the complimentary pajamas, I looked forward to resting and relaxing during the eleven and a half hour flight. After a couple of movies, dinner and breakfast, and some rest, we were ready to land in Auckland. QANTAS service is wonderful as is the choice of meals in their Business Class cabin.
After a cheerful greeting by the Customs folk, we collected our bags and were met by Alan, our local car service representative who drove us the short way to the domestic terminal. We then boarded our Air New Zealand regional airplane bound for Taupo. Many of our clients drive this leg (3.5 hours by car), but on this occasion, we opted to take the short flight. It was then onto the awaiting lodges!
We are greeted upon arrival in Taupo and then shown to our suite at Huka Lodge for the next 2 nights. The suites are of course wonderful and Huka Lodge is such a special place. We opted to take the walk to the Huka Falls and then the trail back to Taupo. They told us it was an hour and a quarter easy walk, which it was, but fortunately, Huka also offers a car to come and collect you to bring you home!
Back at the lodge, we enjoyed cocktails in the evening on the terrace and in the living room as we met other guests from all over the world. You just never know who you will meet there. The Queen has been there 3 times and Prince Edward just a couple of months ago. Tonight we met a great couple from Ecuador. Dining alone on a Butchers Table in the main living room was a treat for us tonight.
The next morning, Louie, the Relief Manager, suggested over breakfast that we try skydiving. Now this is something I never thought I would do – I have bungee-jumped and think of myself as adventurous – but to jump out of a plane, never appealed to me. Linda and I looked at each other and thought – why not? This was our anniversary and we wanted it to be memorable, so we booked for 4pm that afternoon.
We lunched with our good friends Colleen and Murray who have a delightful Bed & Breakfast in nearby Rotorua. Down on the jetty was a superb place for lunch at Huka.
Murray and Colleen dropped us off at Skydive Taupo (we did try to convince them to dive as well) and we met with our tandem buddies, Steve (for Ian) and as Linda says, her "Hunky Hungarian Buddy". They explain that we basically sit there attached to them and they do all the work, including pushing us out of the plane at 15,000 feet above Taupo.
We boarded the plane and the race was now on…
I jumped (or should I say, fell out of the plane) first and with my extra weight we took off quickly to 124 mph. Free falling for 80 seconds, we traveled from 15,000 feet to 5,000 feet. I lost sight of Linda once we left the plane, but knew she was in pursuit (we are quite a competitive couple). I did have the advantage of extra weight remember.
It was strange- neither of us ever felt scared. The crew at Skydive Taupo were so professional, yet funny which put us all at ease. As we fell quickly, and the 80 seconds does go fast, you couldn't hear much, and the depth deception didn't change much until we got to 5,000 feet. It all looked the same during that free fall time. Steve then tapped me and explained that he was pulling the shute, and with a small jerk, we slowed down considerably. All of a sudden, we could talk again, and just take in the view. Steve then said he has to make an adjustment to the harness, making me hold the top straps, he then stands on his feet and says "OK let go", and of course, I dropped about a foot again! A little joke they played on us…
As we drifted down, Taupo and the lake looked beautiful. I couldn't see Linda but knew I had to be ahead (or actually below) her so my first-down position was quite secure.
As we got closer to the ground, Steve told me to lift my legs and be ready to sit down, at the same time telling me we will be coming in fast (another crack at my weight). Easy soft landing and was I pumped – it was a great rush to do this and something I suggest everyone does, and particularly at Taupo. Linda followed me down about a minute later.
We left Huka the next morning and flew to Wellington where we were met by Paul from Dynamics Tours who drove us 10 minutes to the heliport for Helipro where we flew 10 minutes to Wharekauhau Country Estate. Our very good friends and Lodge Managers, Nico and Kristy De Lange greeted us on the lawn and showed us around. I have been here several times, but this was Linda's first time.
The suites here were fantastic and the view was even more amazing.
Anthony, the chef, came to us during the afternoon and asked if we had any special requests for dinner and explained what we would have that night. But first, we had to take a look over the 5,500 acre farm and no better way than by quad bikes. WOW, was this a great way to spend the afternoon. This is one of the many activities available to guests here at Wharekauhau.
Over the hills, down cliffs, through small streams and along the black sand beach.
We did get caught in a downpour and we scooted back to the lodge, me drenched as I didn't have a jacket. But, a warm bath awaited with views from the tub as the storm passed us by.
This marked the end of Day 3 of our trip.